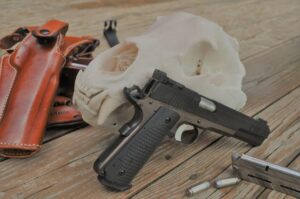 By John Markwell | Contributing Editor
We have to acknowledge that, at this point in our life, chasing hounds in pursuit of Black Bears here in the Alleghenies is not a favorite activity.
Our son Brock however looks forward to our two bear seasons every year and loves following the hounds; whether through the mountains and Laurel thickets or, sometimes, through the corn fields during the early season.
For quite a few years, after returning to the eastern mountains after guiding in Wyoming, Brock toted his old 6.5-inch Smith and Wesson Model 29-2 in .44 Magnum while chasing bears. Last year he asked to borrow our Guncrafter Industries 1911 in 10MM after he almost lost the 29. The GI 10mm has a lanyard loop and you all can fill in the details of that story. Brock decided he need a pistol with a lanyard loop, both for chasing the hounds and tree stand hunting and the Bruin got the nod, even though a lanyard loop is not a standard feature of the pistol. We have replaced the factory mainspring housing with a nicely checkered one with a lanyard loop provision from Nighthawk Custom; the only change made to this fine 1911.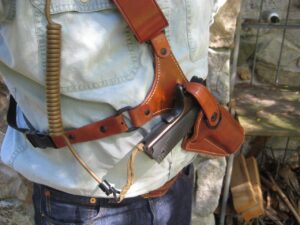 We have had the Dan Wesson Bruin 1911 long slide 10mm now for going on nine months and it is quite the pistol. Purpose designed as a hunting gun, the Bruin is an all steel 1911 pistol weighing in it at 2 lbs. 12 oz. The frame of the Bruin is stainless steel and is finished in DW's proprietary Bronze Duty protective finish.
Being a typical 1911 of the John Browning design, the frame houses all the normal controls and other parts; the slide lock, thumb safety, grip safety, hammer, and magazine release are all black Duty treated as is the mainspring housing and all the pins and grip screws. The trigger is aluminum, without any holes or slots, and it releases the sear with just 4lb. 3oz. of pressure after just a bit of typical 1911 take-up. There is almost zero overtravel which is adjustable by the typical set screw in the trigger. Both the front strap and the mainspring housing are precisely machine checkered at 25LPI and, in conjunction with the aggressive G10 grip panels, provide a very secure grip on the pistol during recoil.
The Bruin's slide is carbon steel with a matte black duty treat finish that contrasts well with the Bronze frame. The slide is 8 3/8 inches long (overall length of the pistol is 9.7 inches) and houses the 6.03-inch match grade barrel which is ramped and provides full support for the cartridge case head as well as enhancing feed reliability. The barrel has an eleven-degree crown and the bushing is hand removable. The barrel hood is well fitted, lock-up when in battery is solid and the overall fitting of the upper (slide to frame etc.) is typical of all the Dam Wesson 1911s we have had the opportunity to examine or own.
Especially notable is the detailed de-horning/beveling of all the sharp edges on the pistol; the gun is very easy on the hands during manipulation, even at speed. The top of the slide is wedge shaped with a flat top that forms a serrated rib for a sighting plain. The sight system consists of an adjustable rear with tritium dots and the front is a dovetailed blade with a combo tritium/ green fiber optic insert.
The long slide gives one a sight radius of 7 3/8-inches. The sides of the slide have both front and rear grasping grooves and the only roll mark is the tastefully engraved "Bruin" on the left side in front of the rear grasping grooves. The Bruin lacks any of the full-length guide rod silliness commonly used is some long slides and instead uses a lightly modified Browning recoil spring system with an elongated spring plug.
Shooting the Bruin has proven to be great fun although it's been limited in scope due to the current ammo and component situation shooters are facing. It is recommended that DW 1911s undergo a 300-500 round break-in. Honestly, we just stripped the pistol, gave it a thorough cleaning, and then reassembled it with copious lube in the appropriate places and just shot it, re-lubing when we thought about it. The Bruin has flawlessly digested somewhere close to 800 rounds over the nine months we've had it. The two enclosed Metalform magazines, and a couple from Wilson Combat, fed all the bullet configurations we tried, reliably locked the slide back on the last round fired and dropped freely when the mag release was pressed.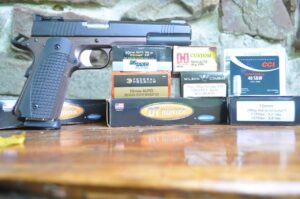 Our testing of the Bruin with factory ammunition over the last few months was limited in volume but not in variety, as we had some ammunition left over from a previous 10mm project. We shot ammunition from several manufacturers in bullet weights ranging from Hornady's 135-grain MONOFLEX in their Handgun Hunter line through the 230-grain hard cast solid from Double Tap. The results of our testing are summarized below. Of note is the fact that all of the ammunition tested functioned perfectly in the Dan Wesson Bruin. Feeding was flawless; which we attribute to the ramped barrel, properly tensioned extractor and quality magazines. Accuracy at 25 yards was more than acceptable for handgun hunting with all rounds fired falling well within our self-imposed "hand rule". We are sure that the 10mm's recoil had some effect on our group size as bench testing the Bruin with full house 10mm loads is not really our idea of fun.
Ammunition 5 shot Avg. Velocity fps Avg. group
Fed. 190 gr. bonded JHP 1008 2.75"
Hornady 135 gr. MONOFLEX 1395 2.85"
Hornady 155gr XTP 1397 4.75"
Hornady 180gr. XTP 1189 2.60″
Double Tap 200gr. HCS 1271 3=1.75" 5=3.5"
Double tap 230gr. HCS 1118 3.0"
Double Tap HP 1184 3.30"
Wilson Combat 180gr. JHP 1280 2.85"
Sig Saur 180gr. JHP 1254 3.80"
With the current ammunition situation across the country, shooting much of anything in the way of factory ammo is beyond the means of most folks, yours truly included. Fortunately, we had embarked on a 10mm loading program (for the new to us cartridge) with the acquisition of our Guncrafter Industries 1911 in 10mm a few years back. We didn't go whole hog, but did scrounge enough cartridge cases from a friend and from the factory ammo tested at the time to get us by. However, our son's Bruin project required that we re-think the 10mm ammo situation; especially if we both wanted to shoot the cartridge.
Performance wise, the first order of business was to develop a bear or back country load for the Bruin. When carrying our GI 10mm in big bear country in the west over the last few years, we stoked it with Double Tap 200gr. hard cast WFN bullets. Chronograghing at 1,271 fps from a six inch 1911 barrel, this is a popular load for those who carry 10mm Glocks or 1911s in big bear country; it has been proven to penetrate straight and deep. Our goal was to duplicate this load with a handload.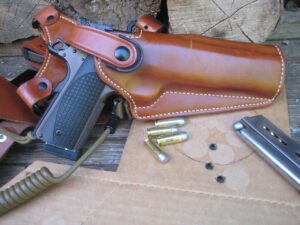 We ordered up some 200gr. hard cast WFN GC bullets from Montana Bullet Works shortly after returning from this year's Spring varmint shooting road trip. Fortunately, we had found a pound of Accurate #9 powder at the Rocky Mountain Sports store in Riverton, WY while travelling. A#9 is one of the best powders for full power 10mm loads and the fine grains allow for extremely accurate metering. So, with cases and primers on hand at home we were all set to work up a 200gr hard cast bullet load for both the Dan Wesson Bruin with its' 6-inch barrel and the GI 10mm. Our goal was to come close to the 1,271 fps of the Double Tap 200gr hard cast solid load. Working up in 0.3-grain increments of Accurate #9 we hit 1,262 fps at 12.5-grains and that seemed to be a convenient place to stop. We had our bear/backcountry load. The Bruin puts three of these rounds into 1.5-inches at 25 yards and feeds 100%.
Next, we set about developing a kind of do-all load for use here in the Alleghenies when out and about hiking, hunting white tails and for defensive use should the need arise. Bullet choice was the 200-grain XTP from Hornady. Hornady's XTPS are loaded by several other companies in their 10mm ammunition. Most notable is Wilson Combat; if the XTP is good enough for Bill it's good enough for us. We settled on the 200-grain XTP with a target velocity of 1050fps. Since we keep a LOT of Winchester 231 pistol powder around for other cartridges that's what we used for the 200-grain XTP load. Again, working up in .3gr. increments we hit 1074fps with a charge of 6.0-grains of 231 with no excess pressure signs. Again, the load is 100% reliable with the bullets seated to 1.25" OAL and shoots into a bit over 2-inches at 25 yards.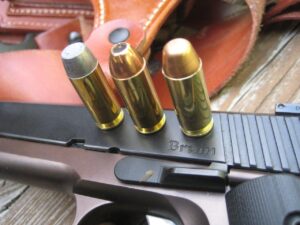 Finally, we needed what we refer to as a "blasting ammo" load. You know; good old range ammo for practice, plinking in the field and just plain old fun shooting. We had acquired a bunch of 180-grain FMJ FP (National Bullet Co,) bullets from a friend who no longer loaded .40S&W and found the same 6.0 grain charge we used with the XTPs gave us a velocity of 1092fps; that would work for us. Reliability of this load has so far been 100% and accuracy runs about 3.5"at 25-yards.
The Dan Wesson Bruin has now migrated to our son's battery of hunting firearms. Sheathed in a Galco Custom Shop Great Alaskan chest holster and with a Condor Outdoors pistol lanyard attached to the Nighthawk Custom mainspring housing, the outfit is ready for the Fall bear season here in the Alleghenies. Hopefully, by the time you are reading this, the Dan Wesson Bruin 10mm 1911 will have had a successful first hunting season and, with the Lanyard, has avoided a repeat of the previous mishap our son had with his old S&W model 29-2.
Specifications:
Model: Bruin Bronze 1911
Caliber: 10mm
Capacity: 8
Frame: Forged Stainless
Slide Finish: Duty Finish
Grips: G10
OAL: 9.7 in.
Bbl. Length: 6.03
Height: 5.8 in
Width: 1.5 in.
Weight: 43.9 oz
Front Sight: Tritium/fiber optic
Rear Sight: Adjustable Night Sights
Safety: Manual thumb & Grip Safety
MSRP $2,235