by Joseph P. Tartaro | Executive Editor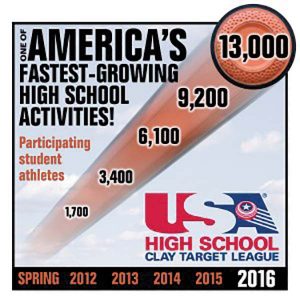 America's high school age youth are still attracted to the shooting sports. Whereas their parents and old siblings used to participate in indoors smallbore and air rifle school shooting programs, today's youngsters have moved outdoors. Given the opportunity, they are doing so in ever greater numbers.
This year, some 13,000 students representing 446 high school teams, guided by more than 3,000 coaches and volunteers, are participating in the 2016 USA High School Clay Target League (USAHSCTL) spring season, which launched on April 3.
Twelve states—Illinois, Kansas, Kentucky, Michigan, Minnesota, New Mexico, New York, North Dakota, Oregon, Pennsylvania, South Dakota, and Wisconsin—are participating this year, up from just three states last year, and an increase of more than 3,700 athletes nationwide.
Of that number, 10,361 student participants from 319 high school teams will participate in the Minnesota State High School Clay Target League alone. Those are the highest numbers ever for the state, according to league officials.
"We are tremendously excited to offer clay target shooting to high school athletes as a school-approved activity," said Jim Sable, executive director of the USAHSCTL, "Such high participation reflects the increasing demand for alternative high school activities related to America's longstanding outdoor traditions."
The league's co-ed and adaptive nature are key attractions to middle and high schools across the country. The league is fully Title IX compliant with both male and female athletes competing on the same team. Additionally, it's an 'adaptive' sport, which allows students with physical disabilities to take part. "We take pride in that athletes of all types are able to participate in clay target shooting," John Nelson, vice president of the USAHSCTL, remarked. "Our True Team® scoring system is designed so that everyone can compete, not just the top scorers on a team."
Upon completion of the Spring League, all student athletes are invited to participate in individual and team competitions at their respective 2016 State Tournaments.
The USA High School Clay Target League attracts student athletes that have earned their firearm safety certification to participate in shooting sports while creating a "virtual" competition among high school teams at no cost to the schools. Family travel costs are minimal because practice and competition are conducted at a shooting range near the school's location. The league is also the safest sport in high school, with no reported injuries since the inception of the League in 2001.
Conferences are determined by team size rather than geographic location for fair competition. Athletes in grades 6 to 12 earn True Team® scoring points as determined by their performance and ranking against all athlete scores within their team¹s conference. The team score and overall standings are calculated and posted on the League's website. Athletes and their families may track their individual and team performance on their computer via the League's website, and by the new Shooter Performance Tracker® mobile app.
The USA High School Clay Target League is a 501(c)(3) non-profit organization, and gets support from many businesses, not just in the outdoor or hunting field, but including many in the food and restaurant fields. The League is an independent provider of shooting sports as an extracurricular co-ed and adaptive activity for high schools and students in grades 6 through 12. The organization's priorities are safety, fun, and marksmanship – in that order.
The league is headquartered in Minnesota, where this scholastic shooting program first started just a few years ago, and where it has grown every year since.
"This League continues to be the fastest-growing activity in Minnesota schools," said Jim Sable, executive director of the that state's high school clay target league, "such high participation shows the continued demand for alternative high school activities related to Minnesota's longstanding outdoor traditions."
Upon completion of the Spring League's regular season, all student athletes are invited to participate in individual and team competitions at the 2016 State Championships. The Trap Shooting Championship—believed to be the world's largest shooting sport event with about 7,000 competitors expected—is scheduled for June 14th-21st at the Alexandria Shooting Park, while the Skeet Championship will be held at the Minneapolis Gun Club in Prior Lake on June 26th.
The State Tournaments provide the opportunity for the highest qualifying individuals and teams from the clay target league to compete for the ultimate recognition as Minnesota State High School League State Champions. The State High School League was the first state high school interscholastic athletic association in the United States to provide support and recognition for a high school trap shooting state tournament.
Perhaps the best news of all is that students who enjoy the shooting sports can participate not just in college but throughout their adult lives.