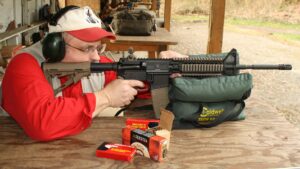 By Dave Workman
Editor-in-Chief
Fully half of all Attorneys General in the United States have submitted a brief to the U.S. Supreme Court asking the justices to hear a challenge to a gun ban in Maryland, in a case filed by a trio of gun rights organizations, one private business and three Maryland residents, as reported first by Fox News.
The brief may be read here.
The case is known as Bianchi et.al. v. Frosh. Plaintiffs in the case are the Second Amendment Foundation, Citizens Committee for the Right to Keep and Bear Arms, Firearms Policy Coalition, Inc., Field Traders LLC, David Snope, Micah Schaefer and Dominic Bianchi, for whom the lawsuit is named.
Brian E. Frosh is the Maryland Attorney General. Other defendants are Col. Woodrow W. Jones, III, secretary of the State Police; R. Jay Fisher, sheriff of Baltimore County, and Anne Arundel County Sheriff Jim Fredericks.
"We are truly gratified that the top law enforcement officers in fully half of the states in our country have signed onto this amicus brief," said SAF founder and Executive Vice President Alan Gottlieb. "The fact that all of these top legal officers support our challenge to Maryland's egregious law should carry considerable weight, and underscore the validity of our case."
The Attorneys General are led by Arizona AG Mark Brnovich and West Virginia AG Patrick Morrisey. They are joined by their colleagues in Alabama, Alaska, Arkansas, Florida, Georgia, Idaho, Indiana, Kansas, Kentucky, Louisiana, Mississippi, Missouri, Montana, Nebraska, New Hampshire, Ohio, Oklahoma, South Carolina, South Dakota, Texas, Utah, Virginia and Wyoming.
Ironically, the Attorneys General in Washington and California—where SAF, CCRKBA and FPC headquarter, respectively—are Democrats and are not part of the amicus brief.
The lawsuit challenges Maryland's "Firearms Safety Act of 2013." It's a gun control law regulating so-called "assault weapons," and in their brief, the 25 top state law enforcement officials are blunt.
"The other states' experience shows that the Affected Firearms are common to the point of ubiquity among law-abiding gun owners," the brief states. "Allowing their use promotes public safety. Meanwhile, calling the Affected Firearms 'assault weapons' is a misnomer. Law abiding individuals use them in a variety of peaceful civilian activities, and the guns are no more lethal than many other rifles chambered in similar calibers that Maryland's ban does not reach. There is nothing sinister about citizens bearing the Affected Firearms. Indeed, many of these firearms advantage individuals who find standard guns more challenging to operate. In short, law-abiding citizens bearing the Affected Firearms benefit public safety, counter-balance the threat of illegal gun violence, and help make our streets safer."
In a news release, AG Brnovich stated, "Americans do not require approval from a local jurisdiction to exercise their constitutional rights. We must vigorously oppose this type of misguided overreach at all levels of government."
Much later in the 37-page brief, the AGs note, "Numerous studies have found that guns aid crime victims. Robbery victims who resist with firearms are significantly less likely to have their property taken or be injured."
They specifically site TARGETING GUNS: FIREARMS AND THEIR CONTROL, by author and researcher Gary Kleck (1997)
"Robbery and assault victims who used a gun to resist were less likely to be attacked or to suffer an injury than those who used any other methods of self-protection or those who did not resist at all," Kleck wrote.
The brief further quotes Kleck, who said "victim resistance with a gun almost never provokes the criminal into inflicting either fatal or nonfatal violence," and that "rape victims using armed resistance were less likely to have the rape attempt completed against them than victims using any other mode of resistance,". "Yet Maryland's ban undermines this public safety," the brief states, "benefit because it targets firearms and features that make it easier for lawful gun owners to defend themselves."
If the high court takes this case, it could result in a ruling that defines whether modern semiautomatic sporting rifles are protected by the Second Amendment.