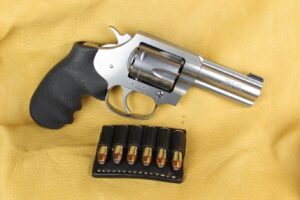 By Dave Workman
Editor-in-Chief
Capable of muzzle velocities exceeding 1,500 feet-per-second with the right bullet weight, the .357 Magnum just might be the most versatile of all handgun cartridges because it can be used for home and personal defense, competition, hunting, predator control and recreational shooting, with manageable recoil for most people and a broad range of ammunition choices.
Introduced way back in 1934, the .357 was the original "magnum" handgun cartridge. It also truly describes what it is, a cartridge launching a 0.357-inch projectile, while the equally-famous .44 Magnum actually fires a 0.429-inch bullet, for example. The .357 Magnum was the product of like-thinking minds such as Phil Sharpe, Elmer Keith and Dan B. Wesson. The .357 case is 0.135-inch longer than the .38 Special cartridge case it overshadowed to prevent the longer magnum cartridge from being used in .38 Special revolvers.
The .357 Magnum is a remarkably accurate cartridge, and I often carry a handgun chambered for it on the trail or while on wood cutting treks as I'm occasionally reminded there are "things with teeth" in my region. As a fight-stopper, the .357's capabilities are well-documented.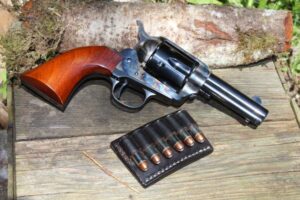 Literally any company that has manufactured a modern revolver has produced at least one model chambered for this legendary cartridge. Smith & Wesson introduced it in a double-action model, and nowadays one can find Sturm, Ruger single- and double-action wheelguns, plus Colt, Taurus, Kimber, Dan Wesson, Korth, Uberti and Rossi round guns in this caliber. Also, Thompson/Center joined the parade with single-shot Contender and Encore models that got pretty much everything out of the round that was possible.
A few companies have also offered rifles in .357 Magnum.
Likewise, virtually every ammunition company on the U.S. landscape offers loadings for the .357 Magnum including Remington, Winchester, Federal, Speer, Black Hills, Sig Sauer and Hornady.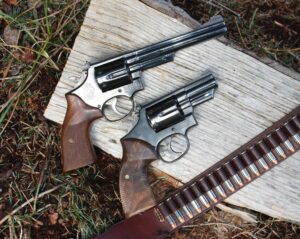 For the handloader, the .357 Magnum offers enormous potential with bullet weights and styles for literally every purpose one can imagine, and powder companies offer superb propellants for this cartridge. Bullets come from outfits including Nosler, Hornady, Speer, Barnes and others.
My personal preference is for the 125-grain JHP, but I've also loaded with 158-grain projectiles and 180-grainers, and my two favorite propellants are Hodgdon's H110 and Alliant 2400, but there are other great powders available that also deliver the goods, including 296, Power Pistol, Vihtavuori N110, Unique and Bullseye, depending upon the type and weight of a particular bullet. Best thing to do is consult a good loading manual and study the range of propellants that can be used to make this cartridge cook.
Be sure to follow the advice of the people who wrote those manuals because they've tested their recommended loads for pressures. For example, the Speer Manual on my desk (No. 14) advises, "Do not use magnum primers with the 2400 or Vihtavuori N110 loads shown here or high pressures will result." It's a polite way of telling people to not get creative!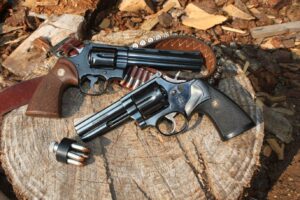 With fall hunting seasons just around the corner, it might be a good time to hit the range and find out just what the .357 Magnum is capable of downrange. I've known of and read about people taking medium-to big game with handguns in this caliber. Deer, black bear, elk, mountain lion, coyote, raccoon, rabbit; all have been taken down by the .357 Magnum. I suspect people have used handguns in this caliber for pronghorn, caribou and, in emergencies such as grizzly encounters. Back in my youth, I recall a story in one of the popular outdoors periodicals of that era with a story about a black bear hunt in northern Idaho. This was a hunt with hounds and the dogs managed to corner a hefty bruin that was dispatched by shot from a .357 Magnum which, as I recall, simply impressed me.
Over the years, I've had the opportunity to shoot various revolvers in .357 Magnum, and cannot recall a single time when the cartridge was a disappointment. Metal chickens and rams, bowling pins, water-filled jugs, falling steel plates or hanging gongs don't stand a chance against someone skilled with .357 Magnum.
If you keep your ammunition in a traditional cartridge belt, use the nickel-plated variety because they won't turn green and crud-up if left in the loops over a long period like brass cartridge cases are prone to do.
September will be upon us in a blink, and then comes October with its wonderful colors. Hunters will be taking to the woods, and in states where bowhunters are allowed to carry a sidearm for personal protection, the .357 Magnum is a logical choice for several reasons, in this writer's opinion.
I always carry a sidearm while hunting, and the .357 Magnum has been on a number of my treks. There are moments when you just can't have a rifle within reach, and a handgun can always be there.
If you're thinking of a good outdoors handgun, the .357 Magnum has a lot to offer, and this writer can think of no downside.