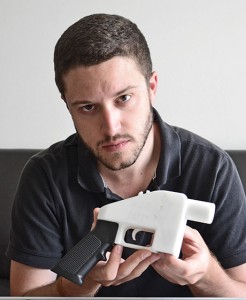 The Second Amendment Foundation and Defense Distributed, a Texas-based company, won what they consider a major court victory in a long-running battle to allow online publication of information related to the 3D printing of firearms, thanks to a ruling by the Fifth U.S. Circuit Court of Appeals that returns claims against the New Jersey attorney general (NJAG) to its jurisdiction.
According to a SAF announcement, the Fifth Circuit ruled that a lower court order releasing the NJAG from an earlier lawsuit filed by the plaintiffs—transferring it to a federal court in New Jersey—was wrong. The Fifth Circuit has directed the district court in Texas to "request retransfer from its counterpart in New Jersey."
"It's a huge victory for us," said SAF founder and Executive Vice President Alan Gottlieb, "because New Jersey wanted to be severed from our legal action in their effort to prevent publication of the information by Defense Distributed, thus violating the company's and SAF's First Amendment rights to promote the exercise of Second Amendment rights."
The case dates back several years to when Defense Distributed published information online about manufacturing 3-D firearms.
In an effort to derail an agreement between Defense Distributed and the Department of State authorizing the release of the files on the internet, anti-gun-rights attorneys general, led by Washington State Attorney General Bob Ferguson, filed suit in the Western District of Washington to enjoin the State Department from following through.
Ferguson has earned a reputation for being an anti-gunner, having pushed for a ban on so-called "large capacity magazines" in Washington State over the past few years. His wish was finally achieved last month when the state legislature passed a ban limiting magazine capacity to 10 cartridges, while allowing for currently-owned full capacity magazines to be retained by their owners.
Ferguson also wants to ban so-called "assault weapons," but that effort has fallen short in the Democrat-controlled legislature.
Writing for the majority in the federal case, Circuit Judge Edith H. Jones stated, "Correctly assessed, the NJAG did not carry its burden to clearly demonstrate that transfer is clearly more appropriate than the Plaintiffs' choice of forum. The district court erred legally and factually in virtually every aspect of this issue, and its decision, which has unnecessarily lengthened this litigation even more, represents a clear abuse of discretion for which mandamus is an appropriate remedy."
Under the Fifth Circuit panel's ruling, the district court is directed to:
Vacate its order dated April 19, 2021 that severed Defense Distributed's claims against the NJAG and transferred them to the United States District Court for the District of New Jersey;
Request the District of New Jersey to return the transferred case to the Western District of Texas, Austin Division; and,
After return, to reconsolidate Defense Distributed's case against the NJAG back into the case still pending against the State Department.
"NJAG wanted their case severed and transferred," he added, "and now that will not happen. It's unfortunate that justice has been delayed so long. It's time to move forward. This is a case we fully expect to totally win."