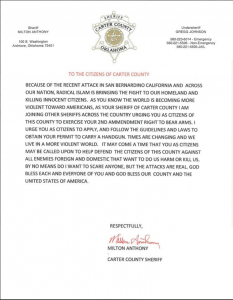 By Dave Workman | Senior Editor
An Oklahoma sheriff's note to his constituents about exercising their right to bear arms as a precaution against terrorist attack has fired up lots of support on Facebook, and offered a stark contrast to officials pushing for more gun control.
Sheriff Milton Anthony of Carter County told TGM that with 854 square miles that his commissioned and reserve deputies patrol, the terror attack in San Bernardino taught everyone that "the world has become more violent."
The sheriff's note to Carter County residents was shared more than 5,000 times within 24 hours of being posted. It was viewed more than 367,000 times. Anthony has received calls and "Friend" requests from all over the place, along with some opposition, typically from people living out of state.
A municipal police officer for 35 years, he retired to join the sheriff's office in 2008 and became the undersheriff. Two years ago, he was elected sheriff, and he plans to run again.
What Sheriff Anthony posted on Facebook hit a nerve, and he joined other lawmen around the country in encouraging citizens to start carrying their handguns. Here's the sheriff's message in its entirety:
"Because of the recent attack in San Bernardino, California and across our nation, radical Islam is bringing the fight to our homeland and killing innocent citizens. As you know the world is becoming more violent toward Americans. As your sheriff of Carter County I am joining other sheriffs across the country urging you as citizens of this county to exercise your 2nd Amendment right to bear arms. I urge you as citizens to apply, and follow the guidelines and laws to obtain your permit to carry a handgun. Times are changing and we live in a more violent world. It may come a time that you as citizens may be called upon to help defend the citizens of this county against all enemies foreign and domestic that want to do us harm or kill us. By no means do I want to scare anyone, but the attacks are real. God bless each and every one of you and God bless our county and the United States of America."
Sheriff Anthony told TGM that he has about 22 commissioned deputies and several reserve deputies. He said there has been increased interest in concealed carry classes since San Bernardino.
"We have a lot of armed citizens," he said.
The San Bernardino attack may have served as something of a "wake-up call" that jarred previously complacent citizens to action. Increasing numbers of people have been heading to gun shops and sporting goods stores, and according to law enforcement agencies around the country, there has been a spike in applications for carry licenses and permits.