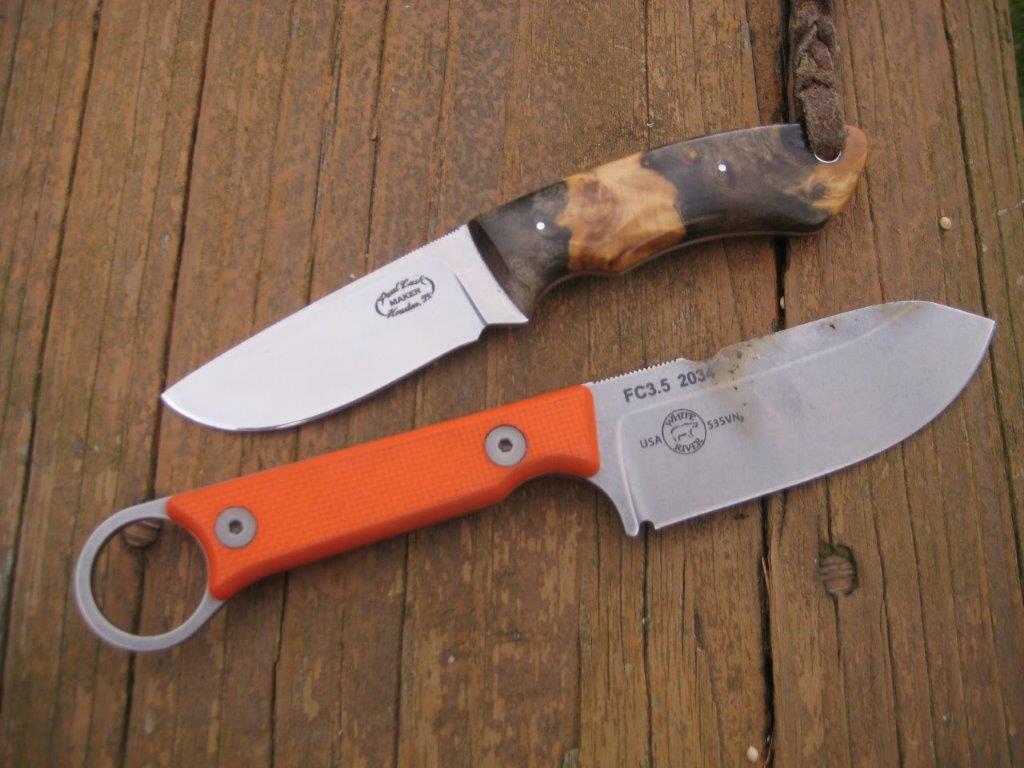 John Markwell | Contributing editor
We don't know if it's a harkening back to the time of the muzzle loader and the Bowie knife or not, but it has always seemed to us that those interested in firearms also have a predilection for knives: we are no different.
It's always been nigh on impossible for us to just pass by a table of knives at a gun show; the two knives reviewed below are indicative of that weakness.
Rambling around the Wanenmakers Tulsa gun show is a daunting task and at times it gets hard to actually stay focused on the available "stuff" on display. That was the case when I first spied a small table with some custom knives on display.
The maker was a Texan; Paul Lusk from Houston. The knives that stood out most were rather small; there were also a couple of artful Bowies and a few stunning folders, but the svelte, reasonably sized utility blades were truly delightful in execution and were what really caught our eye. Even the leather sheaths were beautiful. We lingered a bit and then walked on only to return for another look. Picking up one of the delicate little knives was our first mistake; it felt good in the hand. The Buckeye burl handle scales with their red fiber liners were totally devoid of edges of any sort and were precisely fitted to the tapered tang. The scales were held in place with two delicate stainless pins and a ferule for a lanyard. The little knife was comfortable in the hand and we knew we were in trouble.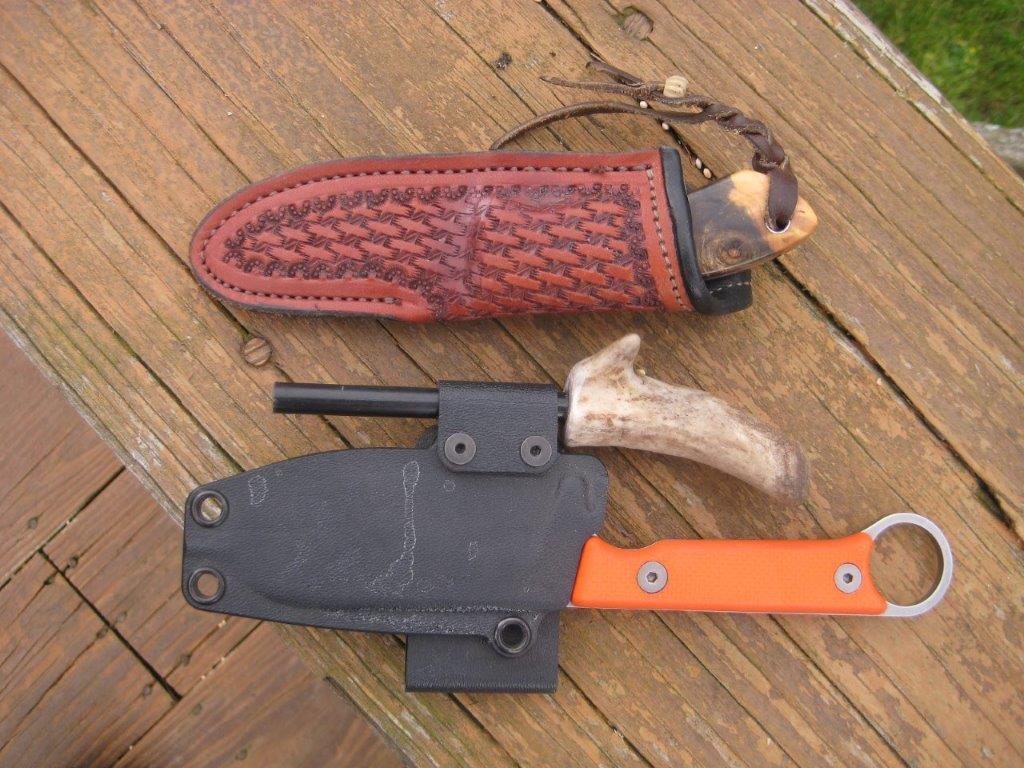 Paul uses the stock removal method for crafting his blades. Although Paul uses some Damascus, most of his utility type blades are made from AEB-L stainless. We ended up buying the first knife we had picked up off of Paul's table. Called the Little River Pocket Skinner, it has a 2.75-inch semi-drop point blade with an overall length of just a hair over 6.25 inches and a weight of just over a couple of ounces. To say this is a handy and easily carried knife is an understatement.
However, the horizontal sheath that came with the Little River Skinner was not to our liking. When you have 34-inch waist there's not a lot of real estate on your belt for carrying a knife horizontally. We returned the knife to Paul for a vertical sheath which we got in pretty short order. However, we found the new sheath to be a bit long for sitting in the truck so we crafted a higher riding sheath for the Little River Skinner (see the photo). Our home made sheath is not as attractive as the original but it does ride higher on the belt.
We have not used the Paul Lusk knife for processing any game as of yet. We have however used it for camping chores and food preparation on a couple of month-long road trips. In November 2018 we made a trip to the Big Bend country of Texas for some camping and hiking in the Chihuahua desert. This is rugged country and no place for gear to fail as one is a long way from help or stores at times. The Little River Skinner was the only knife we took with us and it proved to be up to all the tasks we put to it.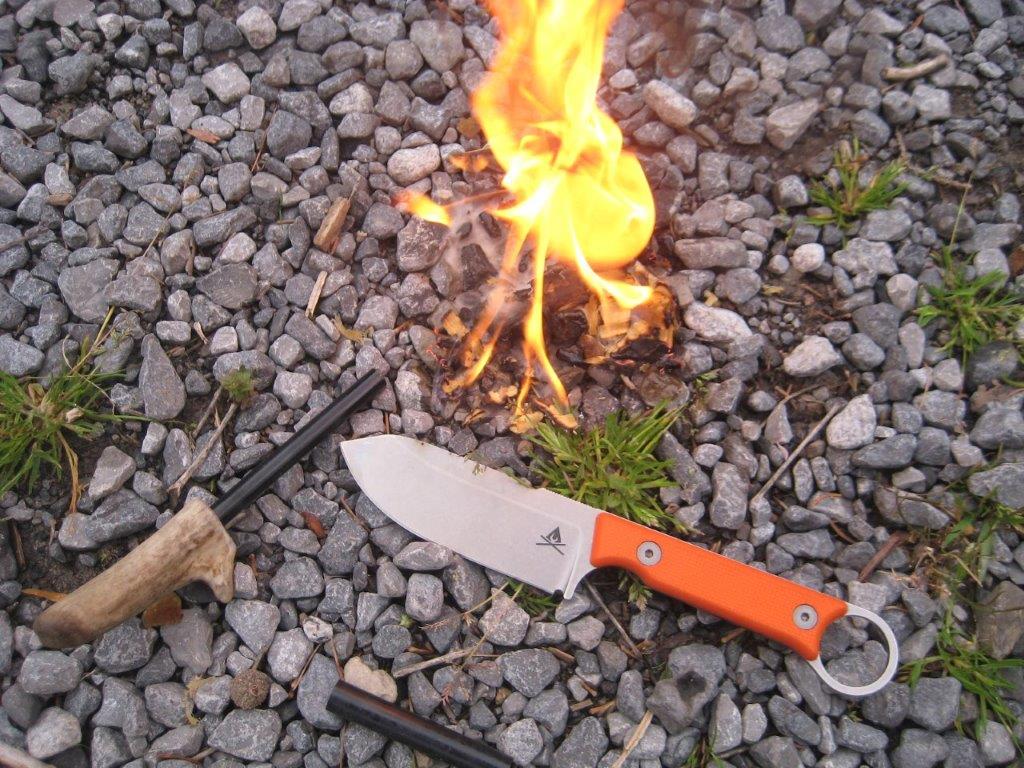 Making fire, general camp chores, prepping food and scraping out a few cactus thorns were just some of the little knife's tasks during our almost month in the desert. The AEB-L stainless blade holds an edge extremely well and is pretty easy to touch up when necessary. The jimping on the blade's spine provides good traction for the thumb while the hollow ground blade profile allows for effortless slicing. Hollow ground blades are the hallmark of truly high-quality custom knives allowing for easy sharpening and extending the useful life of the blade seemingly forever. The hollow grid is also the most difficult to execute well, thus the higher the price of most hollow-ground custom blades.
Paul runs a one-man shop. As well as crafting knives, he offers knife making classes and how-to videos. Paul's knives run from a few hundred dollars up into the four-digit range for some his artful folders. Generally, orders are shipped within three to five months depending on demand although there are almost always some knives available for immediate shipment. If you are looking for a once in a lifetime truly custom knife, for using or collection enhancement, we suggest you look at Paul's website at www.Paulluskknives.com. When you do, look through the gallery of photos to get a true feel for the work of this Texas bladesmith.
White River's Firecraft FC 3.5 Pro
We first saw the White River Firecraft series if knives in the flesh, so to speak, also at the Tulsa gun show. John Camenga has historically had a display there (as well as at SHOT and NRA) and we always stop to chat and ogle his wares. Although not into the Bushcraft thing, we arranged for a sample of the Firecraft FC 3.5 Pro. to be sent to us. This is the smallest of the Firecraft series of Bushcraft knives designed by Jason Tietz and produced by White River Knife and Tool. We have been looking for a stout blade to stick in our emergency/get-home-bag that we carry in our truck and the Firecraft FC 3.5 Pro looked like a good candidate for that niche.
Although designed for heavy duty use in the field the, the FC 3.5 Pro is small enough to be used for EDC, hunting, camp use, backpacking, or general outdoor utility chores. The FC 3.5 Pro is 7.75-inches in overall length with a blade width of 1.25- inches and a thickness of 0.130" at the spine and through the full tang. Crafted from CPMS35VN steel with a Rockwell hardness of 58-60BN, the Firecraft 3.5 Pro weighs just 6.6 ounces (with sheath) and has a blade length of, you guessed it, 3.5 inches. The drop point blade has a high, flat, saber grind with a sharpened, square-edged, 90-degree spine. The spine has aggressive jimping just forward of the handle for thumb placement and a notch for the striking of the included Ferro Rod. The blade is ground with the point on the centerline of the knife for good balance and, it "drills" well.
The removable handle scales of our sample FC 3.5 Pro are textured orange G10 and are attached to the full tang with stainless bolts. Scales are also available in black, Hi-Vis (green), and green/orange. Unique to the Firecraft 3.5 series is the loop pommel of the handle. We found all sorts of reasons/uses for this feature being espoused in YouTube reviews of the 3.5 Pro; some, pretty ridiculous. We asked Camenga about the loop and he said it was for hanging the knife up around camp or in the field when dressing game; simply hang it on a twig. It is not a finger hole for twirling the knife in some sort of combative dance or gyration as in twirling a butter fly knife. We think this round pommel should be a bottle opener!
As one of the Firecraft series of knives, the 3.5 Pro comes with a 5/16- inch Ferro rod for fire starting. As received, the rod had a simple rubber cap on one end that provided no purchase what so ever. This would not work well with our arthritic hands so we fashioned a more functional handle from a piece of deer antler which gives us something to really get a grip on when striking the ferro rod. The ferro rod is stored in a loop that is mounted on the side of the Kydex sheath. The Firecraft 3.5 Pro's sheath is nicely thought out and can be reconfigured for carrying in several different attitudes on the belt or on a pack. A nice touch is the drain hole, which many sheath designers today seem to overlook.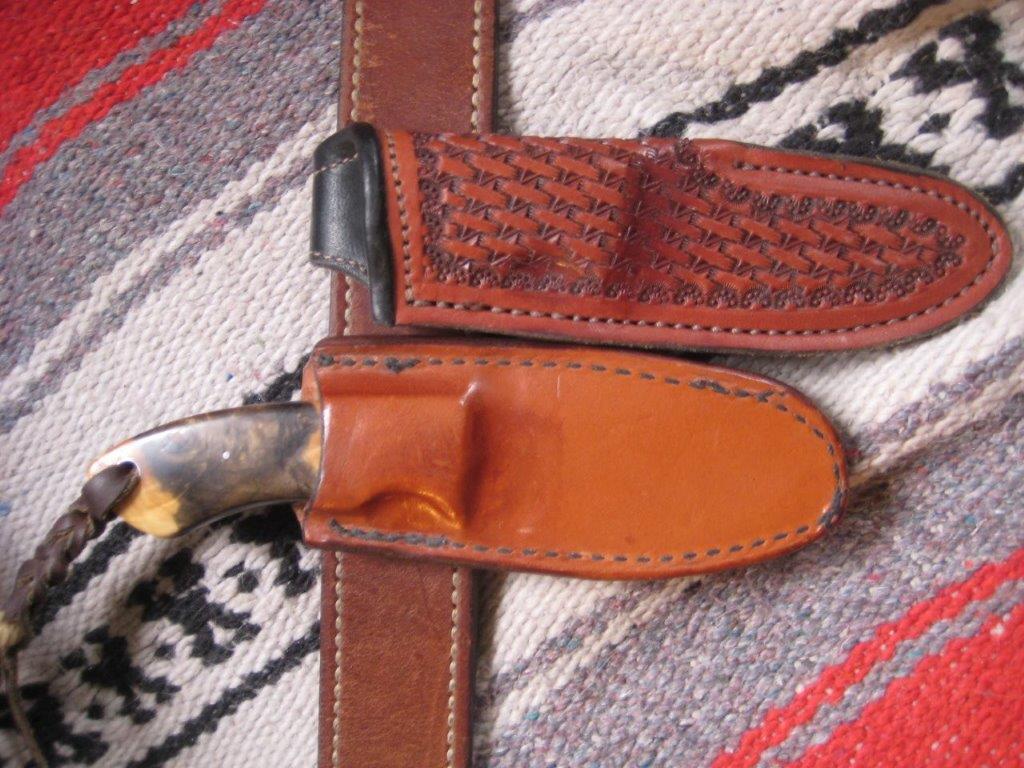 We haven't had the Firecraft 3.5 Pro for very long but have used it for some food preparation and for a bit of fire building with our Grandson (a 5-year old thinks this is a very big deal!). Chopping/slicing vegetables was a simple task as the 3.5 Pro's blade is extremely sharp as it comes from the factory. Same for cutting up some Kielbasa. The jimping on the spine allowed us to apply good power to the edge for carving feather sticks and making pine shavings. As to fire making, the sharp edges of the spine allowed us to strike a significant spark shower on tinder giving us a good flame after a very few tries; and, we are NOT expert at this primitive fire-starting method; we MUCH prefer the simplicity of a disposable lighter. However, in a pinch, the Firecraft 3.5 Pro outfit should be a valuable tool and is easy to use. The Firecraft FC 3.5 Pro outfit comes in a really cool fitted wood box with a dovetailed sliding lid. The White River Logo is branded on the top. Inside, as well as the knife, sheath and Ferro rod, one finds a warranty/spec card and instructions on re-configuring the sheath. This is possibly the neatest packaging arrangement we've seen used by any knife maker! At $145 MSRP, the White River Firecraft FC 3.5 Pro isn't cheap but it represents quite a good bargain in the world of Bushcraft knives. With a 100% satisfaction guarantee, this rugged FC 3.5 Pro is unlikely to ever be returned to the factory. We are sure the FC 3.5 Pro will serve us well in the event that we should ever have to rely on our Get-home -bag and its' contents. Check out the entire White River line of blades for all applications at; www.whiteriverknives.com