By R.K. Campbell | Contributing Editor
I own many handguns, a half dozen shotguns, and a few rifles.
The rifles have a specific chore and I choose examples that perform a certain duty well. I was recently in the market for a new AR 15 rifle. I have heard positive comments concerning the Palmetto State Armory line of rifles, despite a modest price. But then all are not so inexpensive, there are some models with more features and this costs a little more.
I obtained a carbine length 16-inch barrel rifle with a nice forend at a fair price, a neat trick in these times of shortage and panic buying. The rifle isn't top end but sets squarely in a good affordable slot for most shooters. The rifle's build quality is good. If you desire a top end rifle the PSA is a fine base for adding custom trigger assemblies, stocks, and forends.
Internally the rifle looks like most any other AR 15 in the price range of less than one thousand dollars. The parts seem Mil Spec, which isn't a bad thing at all. Trigger polish is above average and the fit of internal parts is good. The anodized receivers fit together well. The bolt is well finished.

The first thing I inspect on an AR 15 rifle is the carrier keys. If the gas key isn't properly staked, then I pass on the rifle. I have to admit it has been a while since I saw a poorly staked key but it was once common. PSA sells parts to build your own rifle. I have seen quite a few very expensive custom builds with PSA internals. You know they will fit your rifle and perform consistently. It is difficult to predict at what point the phosphate coating might begin to wear. I make this observation- abuse, dropping and gouging the rifle, is far more likely to damage the rifle than tons of firing. A few thousand rounds is a tremendous amount of ammunition for most of us. The chrome moly steel barrel is fine as far as accuracy and long wear are concerned. If you wear it out order a new Brownells barrel and be done with it! It isn't a difficult chore.
The trigger is surprisingly tight. There is a little take up and then you break the trigger action. At 4.5 pounds this trigger is lighter and cleaner than many- including the factory trigger on my Springfield Saint. Few factory AR 15 rifles have a truly nice trigger action. The beginner is best served with a heavier trigger action- but then I did not feel limited by this factory trigger. When you know you need something better you will be able to purchase a quality after market trigger. The PSA rifle trigger tested does not need replacement!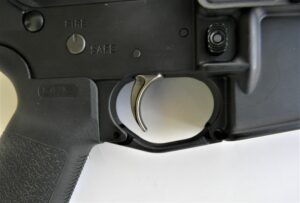 In personal defense practice I press the trigger quickly, straight to the rear, allow reset, and then send another round flying down range. The PSA factory trigger works well in this regard. The PSA handguard offers easy M Lok mounting if needed. The stock has some wobble but then most do. The six position adjustable butt stock is well suited for all around use. There is plenty of real estate on the flat top rifle for mount red dot sights or an optic.
I fired the rifle with the factory installed iron sights and found the PSA rifle reliable and as accurate as I could perceive with iron sights. I fitted one of my favorite rifle scopes, the TruGlo Omnia 6 rifle scope, which features an illuminated reticle. This is an important advantage in small game, predator, and medium game hunting. The TruGlo Omnia is also well suited to personal defense.

The Omnia 6 offers 1-6X power adjustment with a 24mm objective lens. On the lowest setting the Omnia 6 may be used with both eyes open. Hits come quickly and easily. This is one of the best values in a rifle scope I have used. The Omnia is easily sighted in and the turret knobs are large and do not require a cover to be removed to set elevation and windage. The versatility of an optic with a setting of one to six power is appreciated by the all-around shooter that may own only a few rifles.
Settling down to fire for accuracy at a long one hundred yards was pleasant. The .223 Remington is a mild recoiling cartridge but America's cartridge has plenty of power. I dipped into a dwindling cache of Black Hills Ammunition. Among the more interesting loads is the 36 grain Varmint Grenade. At 3,750 fps this is a load guaranteed to vaporize varmints. The 52-grain match at just over 3,000 fps has been a favorite for many years. This loading consistently placed three rounds into 1.1 inch at 100 yards. That qualified the rifle's accuracy.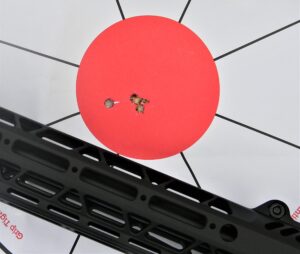 Another load I have used as my go to personal defense loading for decades is the Black Hills Ammunition 60 grain JSP. At 3020 fps this is a fine all around loading for personal defense and even deer sized game. Accuracy is outstanding. Finally I fired a few rounds of one of the most proven anti-personnel loads every fielded. The Black Hills Ammunition 77 grain OTM has been used operationally by our snipers with excellent results. I am no steely eyed marksman but results were good to excellent. I fired three groups of three shots each with the best group settling into just under an inch, the largest, 1.3 inches. I had a good shooting day. During the test period there were no failures to feed, chamber, fire or eject. The rifle never stuttered.
I conducted off hand drills at combat ranges of 25 to 50 yards, with the rifle scope set on 1x magnification. Results were good. The rifle is fast on target, handles well, and offers good hit potential. The shooter is the most important part of the equation but this is a good tool. The PSA rifle not only provides good value for the money it is an excellent overall performer.
PSA PA 15 specs:
Barrel Length: 16"
Barrel Material: 4150V Chrome Moly Vanadium Steel
Barrel Finish: Nitride
Barrel Profile: A2 Style
Chamber: 5.56 NATO
Twist Rate: 1 in 7"
Extension: M4
Gas System: Mid-Length
Gas Block Type: Low Profile .750" Diameter
Upper Receiver: Forged 7075 T6 Aluminum
Receiver Style: M4 Flat top with feed ramps
Receiver Finish: Hardcoat Anodized
Forward Assist: Yes
Dust Cover: Yes
Handguard Style: PSA 13.5″ Lightweight M-Lok Free Float Rail
Bolt Steel: Carpenter 158
Bolt Carrier Steel: 8620
Staked Gas Key: Yes
Lower Receiver: Forged 7075 T6 Aluminum
Receiver Finish: Hardcoat Anodized
Fire Control Group: PSA AR-15 Enhanced Polished Trigger (EPT)
Buffer Tube: 7075 T6 Aluminum Mil-Spec Tube
Adjustment: 6-position collapsible
Stock: Magpul MOE Carbine Stock, Black
Magazine: (1) 30-Round Magazine (where available by law)
Backup Sights: Magpul MBU
Black-Hills.com
Palmettostatearmory.com
TruGlo.com