By Mike Nesbitt | Contributing Editor
A special .44 Special (redundancy intended) recently came my way.
It's a replica of the very nice old Smith & Wesson #3 New Model, the single action top-break that was introduced back in 1878. Uberti (in Italy) makes these replicas and this version is brought into the USA by Taylor's & Company. To me this gun is special both in its appearance and in its performance.
Smith & Wesson made their #3 New Model revolvers for just over 30 years, counting all of versions of this gun. There were some changes made such as in 1885 they lengthened the frame and the cylinder so the gun could accept the .44/40 Winchester cartridges. That version was called the #3 Frontier, tagging it with almost the same name that Colt used on their Single Action when offered in .44/40. Then, the next year, in 1886 Smith & Wesson made a version of their #3 New Model with very nice target sights. The target version was the supreme of the #3 New Models and that is what Uberti is copying today, the target version of the #3 Frontier.
For one reason or another, the .44/40 was not popular in the #3 single action Smith & Wesson but it was accepted rather well in the double action models. The long cylinder guns were often returned to the factory to be "re-issued" in .44 Russian caliber. And the long cylinder and frame models were still available after 1900 when they were able to accept the "long" .38 Special and .44 Special cartridges. At least a few of the top-breaks were made in both of those "Special" calibers.
The original #3 New Model target versions were highly respected and when used in .44 Russian caliber they turned in some very high scores. They were often put to use by very well-known shooters such as Frank Butler who was an exhibition shooter in Buffalo Bill's Wild West Show. Frank Butler's wife probably also used the #3 target version, at least now and then, and she is better remembered as Annie Oakley.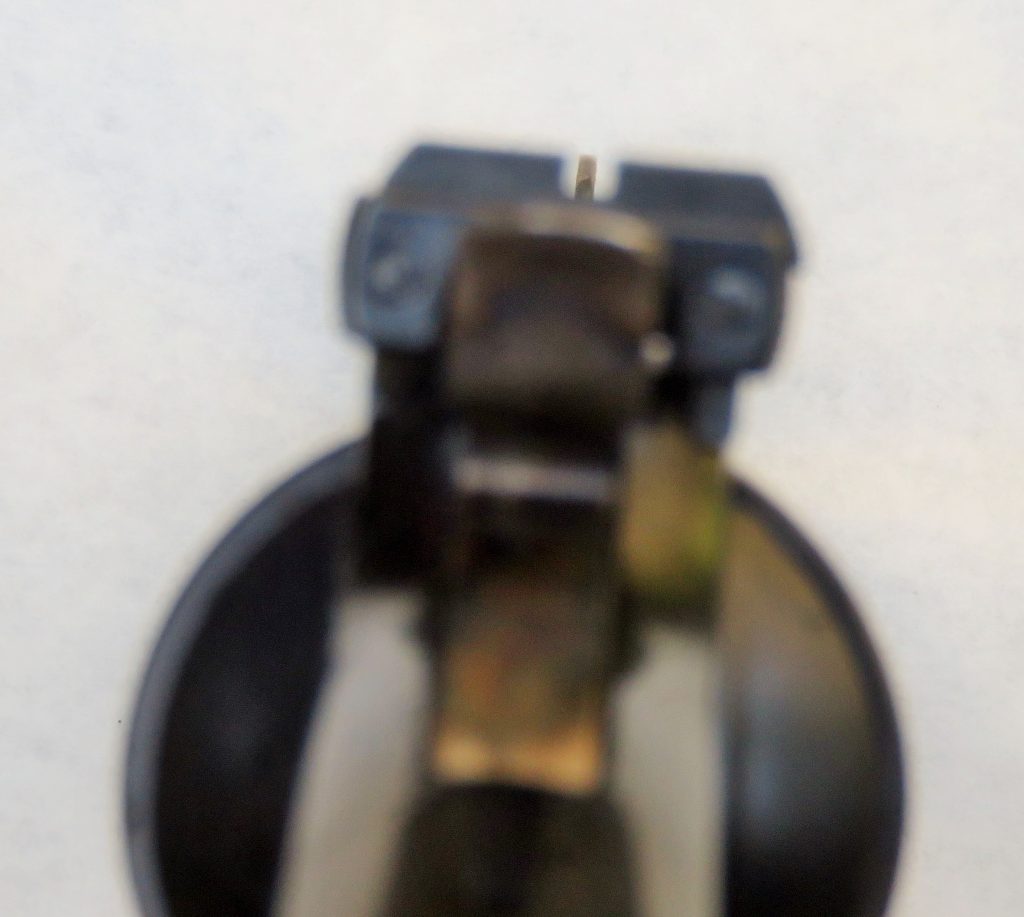 The new Taylor's Uberti-made copies of the New Model #3 follow the old originals very well. One feature they have which was borrowed from one of the earlier Russian Model revolvers is the top of the frame screw that holds the cylinder retainer. I'd rather have the cylinder retainer that was part of the frame latch like the original New Model #3s if I had the choice but we can't have any complaints about the "Russian-style" retainer.
Today's imported versions of the #3 New Model are available in .45 Colt caliber and, much more recently, the .44 Special. At this time, however, the .45 is available with both 5-inch and 6 ½-inch barrels while the .44 is offered only with the 6 1/2-inch long barrel. We'll have to see if the .44 caliber guns are welcomed enough by the buyers to make adding the shorter barrel to the "available" list in the time to come. Frankly, I'd like to see that shorter barrel become available for the .44 Special although the longer 6 ½-inch barrel will still remain my personal choice.
This Uberti replica is a copy of an old black powder cartridge revolver and it is intended for shooting with ammo that "copies" the old black powder loads, or smokeless powder loads that are equivalent to the standard velocity .44 Special loads. Cowboy action loads generally are even lighter so they fit the bill very well. For myself, I got this gun to shoot with black powder loads. Most of my rifle shooting is with black powder, both with cartridge guns and muzzle-loaders, so a black powder cartridge revolver is just the thing to complete my array. Shooting black powder in this top-break is not a necessity but avoiding the high loadings for the .44 Special really should be maintained.
The .44 Special, by the way, was our last cartridge designed to be loaded with black powder. So using it with black powder and mentioning it in this story are both very appropriate. But my first shots with this revolver were taken using smokeless ammo, with .44 Specials loaded with 250 grain cast bullets from Lyman's old #429251 over 6.0 grain of Unique smokeless powder. (Lyman no longer makes that mold but a very similar bullet is #429383 which weighs just slightly less.) A bullseye target was posted at 50 feet and my group, with five shots, printed in an acceptable size but obviously to the left. Without changing targets, five more shots using the same bullet with black powder loads, 18 grains of Olde Eynsford 2F in .44 Russian cases, were fired into the same group. I was very pleased to see that the black powder and the smokeless loads were printing at the same elevation on the paper but the group had to be moved to the right.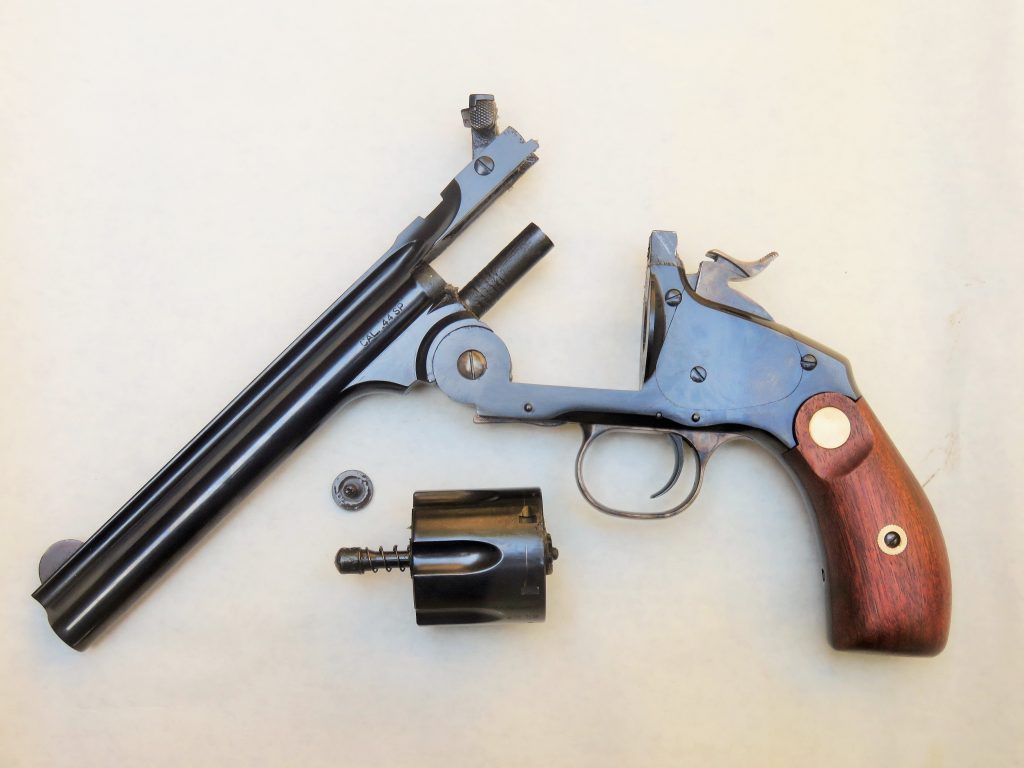 Being a .44 Special means this revolver can be fired using the shorter .44 Russians with ease. Actually, the ammo I'll probably be using the very most, especially with black powder loads, will be with .44 Russian brass, by Star Line.
There is no "click" adjustment to the gun's rear sight, simply loosen the two set screws that hold it and slide it right or left, to the right in this case. So, the sight was moved a 'guestimated' amount and tightened again. The rear sight was moved while back at home, when the gun was being cleaned. It would have been just as easy to move at the firing range but I didn't have a properly fitting screwdriver with me. That was of small concern at the time because I was also out of ammo.
Shooting black powder in any revolver does get the gun dirty and the moving parts all need to be lubricated. To effectively lube this sixgun, remove the cylinder and put some good grease on the 'base pin' that the cylinder revolves around. There are some grease-holding threads on that part (not as many as on a Colt percussion) and make sure it is covered with all of the grease it will hold. The grease I use is "Bumblin Bear Grease" from October Country and I do prefer a natural oil or grease rather than a petroleum. Without being well greased, a revolver shooting black powder loads, either cartridge or cap and ball, will simply bind up and become non-operable. And be sure to lubricate the cylinder retainer too or removing the cylinder after shooting will be very difficult.
Back at the range, I tried some .44 Russian black powder loads again. Those five shots were fired offhand with a two-hand hold. Wow!! The target's scoring rings are just large enough to be slightly generous and I did get one bullet somewhat to the right but still a 10. The score of those five shots adds up to a 50-4X.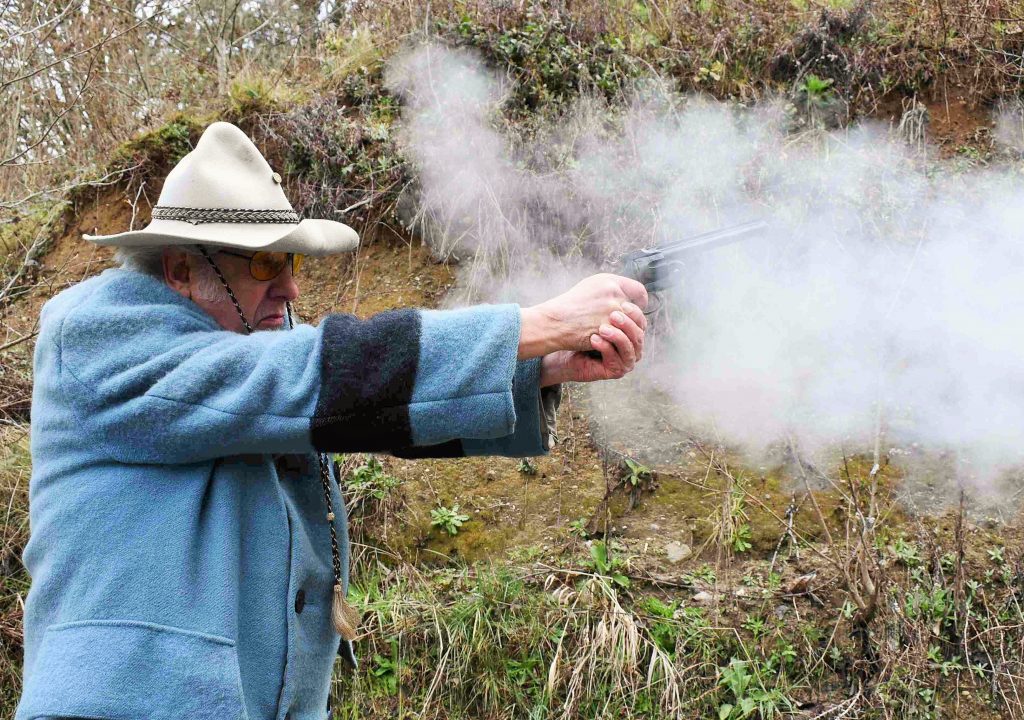 Paper targets always tell the real story about how well (or how poorly) a gun is shooting but firing at paper targets simply isn't as much fun as banging on silhouettes or "reactive targets." So, with the .44 Special holstered and on the cartridge belt, I went to the trail where the pistol match is held during our Buffalo Camp events. There this gun began to really shine and I hit most of the two-hand and the one-hand targets while shooting black powder loads.
My shots on the trail were not all hits. There is the antelope target which is about 35 yards away and I usually hit that with regularity. Not this time, I missed! In fact, I missed it three times! That certainly can't be blamed on the gun. The gun is doing its part very well and I simply need more practice before 'going to the woods.'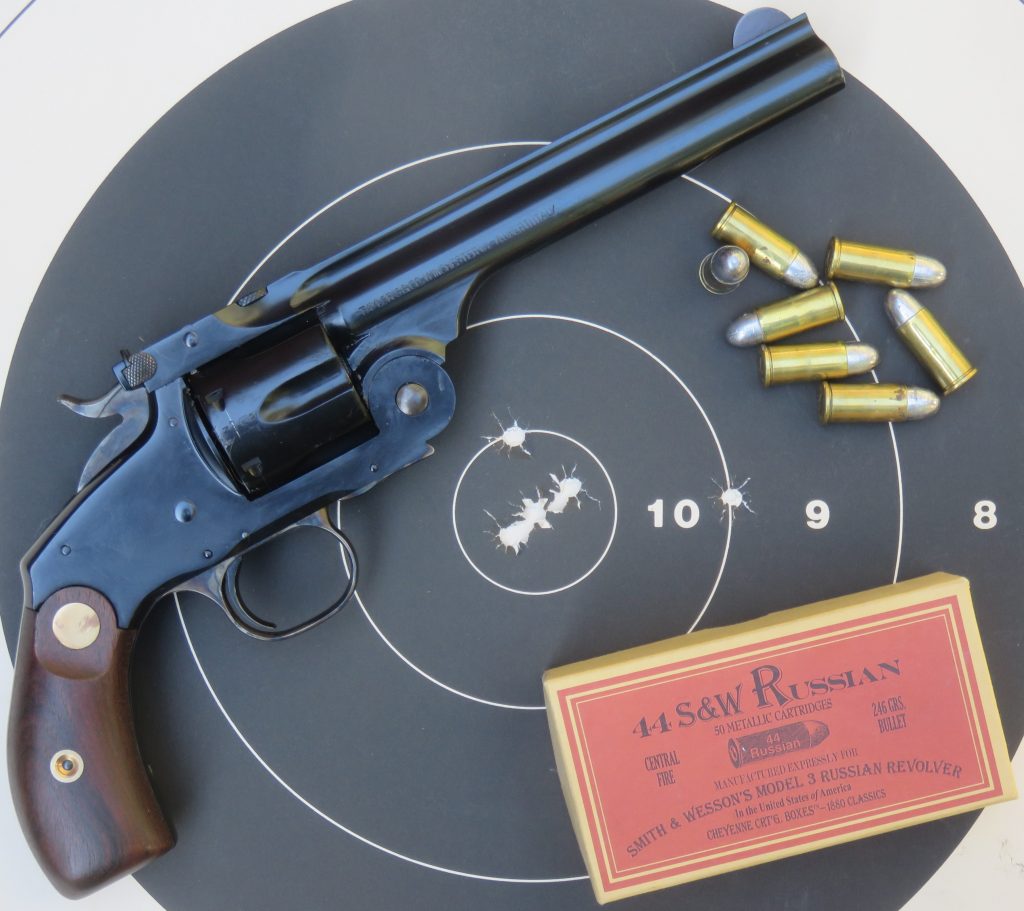 This story can't be concluded without tell you how getting one of these new .44 Special revolvers proved to be almost difficult. After some failed attempts, I asked my friends at C. Sharps Arms Co. if they could get the gun for me. They quickly became dealers for Taylor's and Co. and my .44 Special was delivered just as quickly. So, if you want more information about this gun, go to www.taylorsfirearms.com. Look in their "Top Break Revolvers" section and Taylor's suggest retail price for the .44 Special is $1170.00. My best recommendation about getting one is to order it through C. Sharps Arms and they'd be able to forward it to your favorite FFL. Contact C. Sharps Arms at info@csharpsarms.com or call them at 406-932-4353.