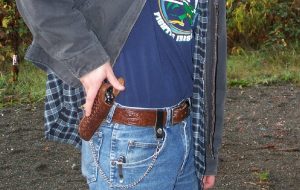 After Alabama Gov. Kay Ivey signed permitless carry into law, it didn't take long for opponents to come up with arguments that amounted to word games.
According to WZDX in Huntsville, State Sen. Bobby Singleton, a Greensboro Democrat, tried to spin the story to suggest Republicans want to take money from law enforcement.
"The conservative party wants to defund the police," he reportedly stated, "I can't believe it."
The allegation was based on an estimate that local sheriff's offices stand to lose an estimated $5 million in revenue from concealed carry license fees.
Another Democrat, Sen. Bill Beasley from Clayton, argued that requiring carry permits allows local sheriffs to see the applicant to perhaps provide lawmen the opportunity to see each individual.
"They could be a danger to themselves. They could be a danger to their family. They could be a danger to their neighbors" Beasley asserted.
But majority Republicans who voted for the measure, and Gov. Ivey, were having none of it. When she explained reasons for signing the legislation, the governor noted in a statement, "Unlike states who are doing everything in their power to make it harder for law abiding citizens, Alabama is reaffirming our commitment to defending our Second Amendment rights. I have always stood up for the rights of law abiding gun owners, and I am proud to do that again today."
According to WSFA News, the permitless carry legislation "was championed by gun rights advocates who argue people should not have to get a permit to carry a concealed handgun." But several county sheriffs opposed the measure, contending that allowing people to carry without a permit could endanger public safety.
With Ivey's signature, Alabama is the latest state to adopt what is generically called "constitutional carry," which is a reference to earlier times when citizens didn't need a permit to carry a firearm. No permits were required when the Second Amendment was signed.