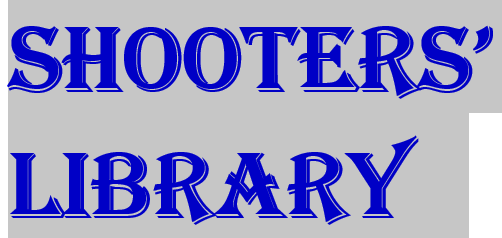 By Chris Kyle. Published by Harper Collins Publishers, 10 East 53rd Street, New York, NY 10022. Price: $26.99 at most bookstores.
This hardbound 400-page volume is the autobiography, in co-operation with Scott McEwen and Jim DeFelice, of the late U. S. Seal sniper Chris Kyle.
It features a brief Author's Note, a single page map of Iraq, a short Prologue, a list of acknowledgments, and an assortment of 27 black and white photographs In a section about midway. There is no bibliography, nor index, or notes. (The gray-colored end-papers do feature a scoped bolt action sniping rifle.)
In fourteen chapters, from Bustin' Broncs and Other Ways of Having Fun to Home and Out this volume is difficult to put aside. The language is raw, as might be expected among a group of young men whose lives are on the line in kill or be killed situations when on duty stations. (The Prologue details his first kill, a woman with a Chinese grenade attempting to blow up a troop of patrolling U. S. Marines. Some mention is made here of his SEAL training.)
The first few chapters deal with mainly with Kyle's early life, SEAL training, and the meeting of his future wife, Taya. (Several pages of comments by Taya appear throughout this book, providing insight to situations not often noted in books of this type or nature.)
In Chapter 5, Sniper, Kyle discusses the various small arms and ammunition he used, including the Mk-12, Mk-11, and several customized rifles based on the Remington 700 actions with new barrels and Accuracy International or MacMillan stocks. The rifles were usually topped with a 32-power Nightforce scope, and a separate Leica rangefinder was used to determine target distance. He also sometimes used a .50 designed by Accuracy International, but hinted he could do what was required using a smaller caliber with less recoil and muzzle blast. (Most, but not all, of the rifles were fitted with suppressors to deaden, but not eliminate, the sound.)
The calibers Kyle used included the 5.56mm (.223) NATO, 7.62mm (.308) NATO, .300 Win Mag—his favorite for most of his shots, .338 Lapua, and the big .50 or 12.7x99mm. He also carried an issue 9mm SIG-Sauer P226 on early deployments, but later bought himself a Springfield TRP Operator in 2004. This pistol, chambered for the .45 ACP round, and based on the M1911 frame, served well until hit by a frag in Fallujah. He got it repaired, but replaced it with a .45 caliber SIG-Sauer P220 carried in a hip placed holster; his gear included three loaded pistol magazines.
Kyle earned at least two titles—The Legend and the Devil of Ramadi—while serving as a sniper, plus a bounty on his head. He also was awarded, for bravery in battle, five Bronze Stars with Valor, two Silver Stars, two Navy and Marine Corps Achievement Medals, one Navy and Marine Corps Commendation, plus the Grateful Nation Award given by the Jewish Institute for National Security Affairs. (Chris Kyle was shot to death, along with a friend, Chad Littlefield, at a shooting range near Chalk Mt., Texas, on February 13, 2013. Both men were walking down range to set up targets when 25-year-old Eddie Routh, a Marine with PTSD, shot them both. (Chris and Chad had been taking Routh with them to the range.) When questioned later, Routh stated "I was just sitting in the backseat of the truck and no one would talk to me…so I shot them." Kyle was 38 years old and was killed with one of his own .45 caliber pistols Routh found in the truck.) Kyle left behind his wife, Taya, plus his young daughter and son.
A movie, directed by Clint Eastwood, was made of Kyle's life based on his autography, with which it took a few liberties, and his death. His funeral must have had actual newsreel film included as the scenes showing highways, including overpasses, had what appeared to be thousands of people lined shoulder-to-shoulder as the hearse went on its way. It had to be one of the largest funerals ever held in Texas.
This is a difficult book to lay aside, so keep a bookmark handy. It tells the story of a Bible carrying Navy SEAL who loved his country, and who did his best to protect what she stands for. It may read like fiction, but 150 plus confirmed kills, including one at 1,600 yards, plus even a longer one at 2,100 yards, are real. From the Prologue: in The Crosshairs, through Chapter 14: Home and Out, the reader has the rare opportunity to read about a hero's life. (This reviewer once able to meet, and thank for his service, another legendary sniper with 93 confirmed kills from the Vietnam War, the late Carlos Hathcock III; Hathcock's medals include the Silver Star and Purple Heart. They, Hathcock and Kyle, cannot be compared, as the terrain, gear, weapons, ammunition, etc., and even the enemy were different. Both men performed extra-ordinarily well in the service of our country.) — Larry Sterett