By Dave Workman
Senior Editor
Seattle-area billionaires Paul Allen, owner of the Seattle Seahawks and co-founder of Microsoft, and venture capitalist Nick Hanauer have each donated a million dollars to a local gun prohibition lobbying group to finance its latest gun control initiative campaign in Washington State.
The money will support the Initiative 1639 campaign, sponsored by the Alliance for Gun Responsibility, the Seattle-based gun prohibition lobbying group that has also rammed through other gun control measures.
According to the Seattle Times, the Alliance has "a stable of well-heeled Washington residents." They also helped bankroll Initiative 594 back in 2014. That was the measure mandating so-called "universal background checks" ostensibly to prevent guns from falling into the wrong hands.
However, 18 months after it took effect, a teen that passed a background check killed three other people at a Mukilteo party in the summer of 2016. A few months after that, another teen skirted the law by taking a rifle from his step-father and killing five people at a Burlington mall.
The Times alluded to the anti-gun group as "gun-regulation advocates." KING's story on the contributions refers to the measure as a "gun reform initiative."
In a Twitter message, Allen said, "Initiative 1639 is a reasonable and necessary measure that will improve the safety of our schools and our communities, which is why I have contributed a million dollars to the campaign."
While Allen is getting support for his donation via Twitter, Second Amendment rights activists have a far different outlook, perhaps exemplified by this comment from one furious gun owner: "His team can't stand for the National Anthem and he donates to infringe upon our rights?"
The initiative ballot title is facing four different challenges. Two were filed by individuals, including one that is being supported by the Second Amendment Foundation and Citizens Committee for the Right to Keep and Bear Arms. A third challenge came from the National Rifle Association, and a fourth came from a legal group.
In order for the initiative to get on the November ballot, it needs to collect 259,622 valid signatures by July 6, and depending upon how long the ballot title challenge process takes, that may not allow much time to gather those signatures.
But with an additional $2 million in their campaign war chest, the Alliance might be able to hire professional signature gatherers.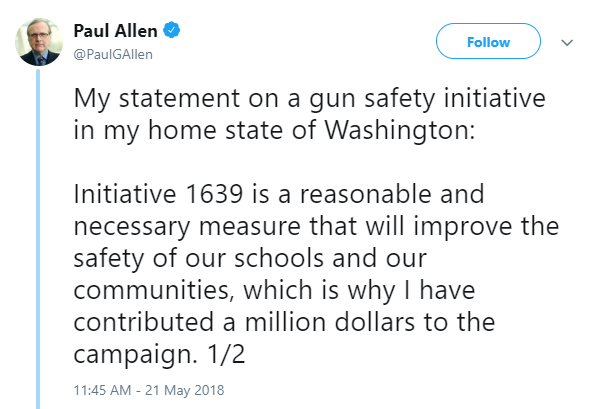 I-1639 will raise the minimum age for purchasing semi-auto rifles to 21, and require so-called "enhanced background checks" and a ten-day waiting period. These restrictions are in reaction to the February school shooting in Florida, and on Monday – as reported by Liberty Park Press – CCRKBA's Alan Gottlieb challenged gun prohibition lobbying groups, asking when they will "blame the murderers."
"Time after time," he said in a news release, "with endless fund raising appeals and inflammatory rhetoric, we've seen these anti-rights lobbying groups immediately try to shift blame to the NRA, or the Second Amendment, or the firearms industry, or some mythical loophole in the law. But they never seem to point their fingers at the culprit, and we think it's time for the American public to ask why?"
Allen, Hanauer and other billionaires, including Michael Bloomberg, Bill and Melinda Gates and Steve Ballmer all heavily supported I-594 four years ago.
Hanauer was taken to task by a Seattle radio personality for being a hypocrite. Seattle's Jason Rantz at KTTH wrote at MyNorthwest.com:
   "Hanauer previously donated a hefty sum to the Honest Elections/Democracy Vouchers initiative, which aimed to get 'wealthy and political elite' from having such influence over elections.
   "I-122 is a good first step toward campaign finance reform," Hanauer posted on his Facebook page.
   "Hanauer doesn't practice what he preaches. He donated $1 million to Initiative 1639, which would raise the minimum age to purchase semi-automatic rifles to 21 and mandate training and waiting periods. It addresses a problem that doesn't exist in Washington state and the latest from Progressives to weaken our Second Amendment rights."
When the Tacoma News Tribune reported on Allen's generosity to the anti-gun Alliance for Gun Responsibility, it ran another story that underscored what has always been wrong with gun control laws that target law-abiding citizens: criminals don't comply.
The report was about two brothers, ages 16 and 19, who were arrested after opening fire at the Tacoma Mall parking lot several days ago. When the cops searched their car, they reportedly found "methamphetamine, marijuana, pills and a drug scale" along with a handgun stashed under the passenger seat.
They were charged with first-degree assault, drive-by shooting and unlawful possession of a controlled substance, the News Tribune reported. And the younger brother also got sacked for unlawful possession of a firearm. In the Evergreen State, driving around with a handgun in your car as a teenager is prohibited, especially if shots are fired.
Other wealthy Seattleites are supporting this new initiative effort, according to the Seattle P-I.com, did the following:
"The event yielded three donations of $100,000, two givers of $50,000, three people donating $25,000, seven gifts of $10,000, plus 13 givers coming in at $5,000.
"More than 80 people came in at $1,000," the story continued, "with their gifts being matched to the tune of $3,000."