By Dave Workman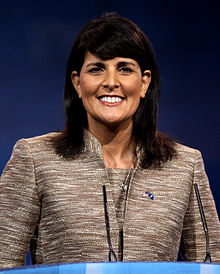 Senior Editor
When pro-gun South Carolina Gov. Nikki Haley, a Republican with a pro-taxpayer rising star, revealed on Facebook that her husband had given her a new Beretta Px4 Storm semiautomatic pistol, anti-gunners reacted with vitriol.
An image of the pistol was posted along with her Facebook note about the new Christmas gun.
The report crew more than 17,600 "likes" and generated more than 2,000 comments, and it has been shared more than 1,700 times. Among her supporters are hundreds of people who said something on the order of "Nice gift" and others who wished Haley was their governor. They thanked her for "sticking up" for the Second Amendment.
Gov. Haley is the American-born daughter of immigrants who came here from India. A graduate of Clemson University with a B.S. in accounting, she is also a wife and mother. She has been honored in the past by the South Carolina Association of Taxpayers for working to lower taxes, and has supported strong immigration policies that crack down on illegals.
Yet all of her positions did not appear to attract the kind of nasty reactions from the Left as did her Facebook entry about her Yuletide Beretta. One woman wrote,  "Nikki Haley and her husband are completely insensitive to the children and adults who are shot by guns – every day in the US. I am sickened by this total insensitivity to the coalition of Moms for Gun Sense. Once again, it is not a nice day in South Carolina. It will – never – be a nice day in SC. – until we get some real leadership that does not treat SC like some backwoods hillbilly state that invites ridicule on national comedy shows."
Another anti-gun woman wrote, "You are one sick cookie, Nikki H. Ditto Scott. Jesus preached love not violence. Guns are meant to do one thing, kill something. I am proud to be a part of the effort to rid SC of Nikki Haley and the embarrassment she causes. We will elect a new governor in 2014 and begin to make South Carolinians proud to be part of South Carolina again."
However, it appears such critics are in the minority. One man wrote, "Gov. I think what you should do is hold a press conference and go on the record, explaining to the women of your state the importance of being able to defend themselves from harm. Tell them get trained. Get your CCL. And refuse to be a victim."
Women loved her gift, as well. One noted, "I love the fact that you have taken the bull by the horns, and not worry about the people that are living in a dream were everybody is a gentle soul. Me a woman, previous military whom have seen war know better the same for my husband he have the good mind to encourage and help me get my conceal weapons permit and is the first to insist on me carrying my gun any were me or us go. Congrats (on) getting one of the same guns we have. My vote is your(s)."
Another woman wrote, "Gov., I so support your right to want and receive a way to (protect) yourself and your family!! I hope you enjoy shooting your gift. I know it must give your husband a sense of peace to know that you can protect yourself!"
And a third woman posted, "I for one love your present, every woman should have one and know how to use it!!!!!"
Haley's gift gun made headlines on several network and cable news broadcasts.
The gun flap may help define her during the 2014 re-election campaign.