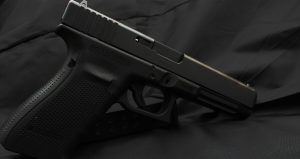 Although they were silent in the immediate aftermath of Sunday's quick action by a legally-armed private citizen who fatally shot a gunman inside the Greenwood Park Mall in Indiana, anti-gunners evidently got their wind back well enough to objecte on social media when the good guy was identified as a "Good Samaritan."
And it didn't stop there.
Shannon Watts, founder of the Moms Demand Action gun prohibition lobbying group, posted a nasty tweet stating, "I don't know who needs to hear this but when a 22-year-old illegally brings a loaded gun into a mall and kills a mass shooter armed with an AR-15 after he already killed three people and wounded others is not a ringing endorsement of our implementation of the Second Amendment."
Reaction to that message was so overwhelmingly negative that Watts subsequently removed the tweet.
Jay Kollar, a traffic anchor for CBS4 tweeted, "The term, 'Good Samaritan' came from a Bible passage of a man from Samaria who stopped on the side of the road to help a man who was injured and ignored. I cannot believe we live in a world where the term can equally apply to someone *killing* someone… my God."
Kollar subsequently tried to backpedal by posting this: "Let me be clear, my thoughts are not meant to discredit the heroic, life saving (sic) action an individual took in stopping the shooter. While I'm no biblical scholar I believe the Christ coined term, G S, misses the mark in this context, especially after Christ's action in Luke 22:49."
Indiana State Rep. Mitch Gore, a Democrat, tweeted, "It's too soon to assess what could've been done to prevent this specific incident, but what should be abundantly clear is that as a society – AND AS A GOVERNMENT- we are utterly failing at addressing gun violence. Clearly, new approaches are urgently needed."
To which came this response: "An armed bystander saved God knows how many people because he had a gun. Does this not make you realize that criminals aren't gonna follow your laws? All more gun control could have done in this situation is potentially disarm the good Samaritan and caused more unwanted death."
Perhaps the "new approaches" Gore mentioned include dropping "No Guns" policies at shopping malls, so visitors aren't victims.
Brady United, the gun prohibition lobbying group named for the late Sarah Brady, finally issued a statement, from Brady President Kris Brown:
"This shooting underscores the danger that the nation's unaddressed gun violence crisis poses to all Americans as we attempt to go about our daily lives. No one should fear for their safety on a Sunday trip to the mall; yet hundreds of people in Indiana are now traumatized, and three are dead and two are injured, because we have failed to take action to address gun violence for decades. It is a stroke of luck that a fellow visitor at the mall was able to neutralize the shooter – as we know that multiple studies over numerous years show that the that a 'good guy with a gun' is a myth pushed by the gun lobby and that vanishingly few active shooter situations are resolved by armed civilians. That does not minimize his heroism. He saved many lives with quick and brave action.
"However, the lives and safety of the general public cannot be subject to the possibility and probability that someone around them is armed and able to intervene in an active shooter situation. Any lives taken unnecessarily due to unfettered access to firearms shows a systemic failure by our leaders to enact upstream solutions to prevent these tragedies before they occur. By preventing gun violence in the first place with common-sense policies that are shown to work, we can avoid these crises and tragedies entirely.
"Those are solutions that Americans want and that is the safe future and reality that we all deserve."
Actually, the "good guy with a gun" factor is hardly a myth. Earlier this year, a West Virginia woman fatally shot would-be mass shooter Dennis Butler at a party with her legally-carried 9mm pistol. Butler was armed with a rifle.
Gun rights veteran Alan Gottlieb co-authored "Good Guys With Guns," with Liberty Park Press editor Dave Workman. It is loaded with stories about the defensive use of firearms.