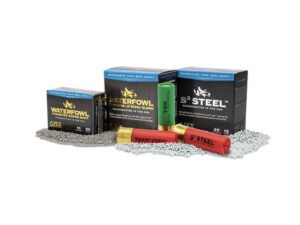 With waterfowl seasons on the horizon, Delta Waterfowl is gathering for its Duck Hunters Expo this weekend in Little Rock, Ark., and APEX Ammunition will be exhibiting its Waterfowl TSS and Waterfowl S3 shotshell selections.
The Expo runs July 29-31 at the Little Rock Statehouse Convention Center. The event is open to the public and will feature top line duck hunting gear. There will be seminars and duck calling contests, plus decoy demonstrations and more.
APEX waterfowl loads feature an advanced Tungsten-grade wad system to deliver the tightest patterns and best barrel protection possible, according to a company press release. The lineup includes:
Waterfowl TSS
APEX's hard-hitting TSS shotshells are handloaded for ultimate consistency and patterning. Made from 18.1 g/cc density tungsten alloy, TSS is denser than lead (11.34 g/cc), Bismuth (9.8g/cc), Copper (8.8 g/cc) or Steel (7.84 g/cc). TSS allows the use of smaller-sized shot and significantly more pellets in TSS loads than other shotshells. More pellets per ounces means a more powerful payload with higher pattern density and superior knockdown power at extended ranges. Available in 12-, 20-, and 28-gauge loads.
Waterfowl TSS / S3 Steel Blend
These handcrafted "duplex" loads combine No. 9 or 7.5 Tungsten Super Shot with APEX's S3 zinc-plated steel shot (available in sizes 2, 4 or BB in 12 gauge and size 4 in 20 gauge).
The zinc-coating on the APEX S3 steel ensures perfectly uniform pellets with optimum patterning in a steel load, and when combined with ultra-high-density TSS, helps deliver a harder hitting payload and improved terminal performance to reduce crippling.
Waterfowl S3 Steel
APEX's Waterfowl S3 Steel is zinc plated for improved performance in a steel load. Normal steel shot has tiny voids and uneven surfaces from the manufacturing process. APEX's zinc-coating fills these voids and imperfections creating consistently rounder pellets. The zinc also acts as a lubricant resulting in more consistent pellet drop when loading and greatly reduces the chance of pellet "bridging" where one pellet becomes locked with another. The reduced friction also allows for better movement of the pellets against each other in the firing process, resulting in fewer stray pellets known as fliers. The same Tungsten-grade wad system used in the TSS line is also used in the S3 shotshells and, when combined with APEX's premium zinc-plated steel, delivers superior patterning in a steel load.