In Belgium, civilians are not allowed to possess military weapons, automatic firearms, and their ammunition, concealable firearms, silencers, laser sights, etc. But apparently, there is no law against dangling the highest money bait to thieves, who are usually armed in spite of the law.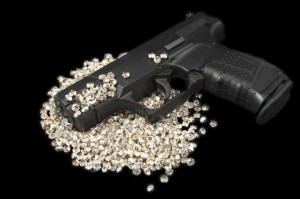 To underscore that fact that gun bans don't deter crime, The Guardian of London, reported that police forces in Europe, and especially Belgium, were searching for eight masked gunmen who took less than five minutes to pull off one of the most spectacular diamond heists in recent years, stealing precious stones worth about £30million (US$50 million) from the hold of a Swiss-bound plane on a Brussels runway.
In case you want to add this to your Guinness Book of Records, the biggest diamond theft in recent years took place at Brussels airport just before 8pm on February 18, according to the prosecutor's office.
The men, who were armed with machineguns and dressed in police uniforms, broke through a hole they had made in the airport security fence in two vehicles, a Mercedes van and a car, and they made straight for a Swiss passenger plane operated by Helvetic Airways.
Staff from a high-security van operated by Brinks had just finished unloading the diamonds that were to be transported on the plane bound for Zurich.
The men flashed machineguns but no shots were fired as they took 120 parcels from the plane's hold, stacking them in their vehicles. They fled at high speed through the hole in the security fence. The van believed to have been used in the raid was later found burnt out just outside Brussels.
Ine Van Wymersch, spokeswoman for the Brussels prosecutor, said: "They were well prepared. There were passengers on the plane but they saw nothing of what was going on." The prosecutor would not comment on the exact value of the stolen parcels, believed to contain rough and polished diamonds intended for different handlers in Switzerland.
The Antwerp World Diamond Centre, a trade body for Antwerp diamond businesses, estimated the value at close to £30million. "What we are talking about is obviously a gigantic sum," its spokeswoman Caroline De Wolf told the Belgian VRT TV network. "In any case, it's one of the biggest robberies we've seen," she told Associated Press.
Antwerp has been a leading diamond center for centuries, with about eight in Armed thieves steal gem fortune despite strict Belgium gun laws every 10 rough diamonds and five in every 10 polished diamonds passing through it.
In 2003, Antwerp was the scene of one of the biggest diamond heists in history, when thieves took precious stones, jewels and gold from the high security vaults at its diamond center.
Police estimated the value of that haul to be £64 million.
The latest heist, like something out of a caper movie, was a fresh blow to the Antwerp diamond industry.
"This is causing quite some unrest," said De Wolf. "It was incredible how easy it all went. This is worrying in terms of competitiveness, since other diamond centers are ready to pounce and take over our position." The consignment of diamond parcels being delivered by plane was not extraordinary; on any given day, about US $200 million in polished and rough stones go through Antwerp's diamond center. Air transport is a common means of delivering precious stones and thought to be the safest.
An airport spokesman, Jan Van Der Crujsse, said the gunmen made a hole in the perimeter fence. Van Der Crujsse could not explain how the area could be so vulnerable to theft.
'We abide by the most stringent rules," he said.
In 2000, British detectives foiled what was described as potentially "the world's biggest robbery" when they stopped a gang who used a bulldozer to break into London's Millennium Dome in an attempt to steal £350 million worth of diamonds that were on exhibit.