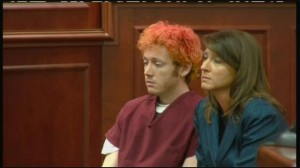 By Dave Workman
Senior Editor
Colorado movie massacre suspect James Egan Holmes appeared in court July 23 in maroon jail fatigues and bright red-orange hair for the first of what will be several appearances in the wake the mass shooting at an Aurora theater.
Holmes will be arraigned later in the month after being ordered held without bail. He is being kept in solitary confinement at the Arapahoe County jail.
District Attorney Carol Chambers confirmed that her office may seek the death penalty against the 24-year-old suspect, who was arrested outside the theater minutes after the deadly rampage. A dozen people were killed and dozens more wounded or otherwise injured in the early-morning attack that happened at the premier of the new Batman film.
In addition to possible first-degree murder charges, Holmes could also face multiple counts of aggravated assault and various weapons violations, although it has been revealed that he legally purchased all four guns recovered by police after the attack.
Holmes was allegedly armed with a Smith & Wesson semiautomatic rifle, a Remington Model 870 pump shotgun and two Glock .40-caliber semiautomatic pistols. All of those firearms are legal to own in Colorado.
Gun control advocates are out in force, demanding reinstatement of the ban on so-called 'assault weapons" along with large-capacity magazines. There are also indications that the gun prohibition lobby will seek legislation regarding on-line ammunition sales, since the suspect allegedly purchased more than 6,000 rounds of ammunition for his four guns from on-line sources.
On Tuesday, the Center for American Progress is scheduling a panel discussion aimed directly at the National Rifle Association, which has remained silent since the shooting. The program is called "After Aurora: Dispelling the Myth of NRA Power."
The program runs 2-3 p.m. and will feature Mark Glaze, director of Mayors Against Illegal Guns; Paul Waldman, contributing editor at The American Prospect, and Lowell Baker, president of Luntz Global LLC.
Authorities still have no idea what motivated the suspect to unleash the deadly volleys inside the theater. His residence on the upper level of an apartment building, was heavily booby-trapped. Aurora police said it appeared the traps were set up to kill anyone going into Holmes' apartment.
When he was arrested, Holmes was decked out in so-called "tactical gear" including a ballistic helmet and body armor.