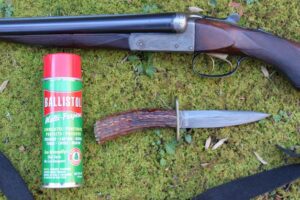 By Jim Dickson | Contributing editor
The most versatile gun oil ever made, Ballistol has been serving shooters since 1904.
Today it has NATO Supply Number 6850-12-346-6978 for one container size of it as it still serves as a military issue oil. In the U.S. it has different National Stock Numbers (NSN) for different sizes. Unlike most gun oils, Ballistol has an unbelievable amount of uses.
Ballistol was formulated by Dr. Helmut Klever, professor of chemistry at the technical university of Karlsruhe, in 1904 to meet a German Army requirement for one oil for all of the soldier's equipment whether it be metal, wood, or leather. He succeeded beyond the army's wildest expectations and soon the oil was adopted and being manufactured by his family's firm, the Klever Company in Cologne which had been founded in 1874 by his father, Friedrich Wilhelm Klever, to produce oils and greases from coal. It would remain the standard German Army's oil throughout both World Wars.
Named Ballistol, its name derived from the words ballistic and the Latin word for oil, oleum.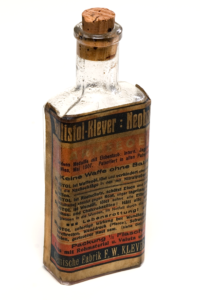 Most gun oils float on top of water while a few are water soluble. Ballistol is neither. It forms an emulsion in water and so long as that emulsion is 5% Ballistol the water will evaporate without causing rust leaving the Ballistol behind. That is very important for those who don't let the rain stop them from hunting.
Ballistol does not wash off in the rain as easily as other oils and it can be reapplied effectively during a rain. This is the oil we needed in the Pacific in WWII and in Viet Nam but we didn't have it. It's also a big deal when guns are brought in out of the cold into a warm place and moisture starts to condense. When storing machinery outside under a tarp Ballistol is the only sure way to prevent rust.
Ballistol does not freeze at 20 degrees below zero but does turn into a light grease after that. For Alaskan trap line work, just mix three parts Ballistol to seven parts kerosene just like the German troops did on the Russian front in WWII. There is no reason to hunt with a dry, unlubricated gun at 60 degrees below when Ballistol and kerosene are available.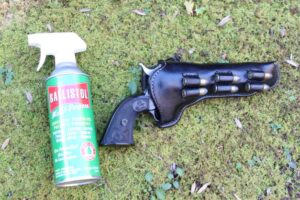 Resinification, the thickening and hardening of oils with age, does not occur with Ballistol so guns treated with it are instantly ready for duty. The U.S. Navy found out when mothballing ships that light oils preserved better than heavy grease which often had rust forming under the grease. Ballistol is the king here as it's PH of 9 not only helps neutralize the acid in fingerprints it helps protect against galvanic corrosion, acidic corrosion, and salt water corrosion. It has very low surface tension enabling it to creep into the smallest cracks and crevices even uphill.
A lot of men use Ballistol as a patch lube when shooting muzzle loaders. It also makes a great bore cleaner for all guns by mixing 10% Ballistol and 90% water. This is a sure way to deal with black powder fouling as well as the old fashioned corrosive primers for corrosive primers leave salt residue and according to the U.S. Bureau of Mines salt is ONLY soluble in water. Bore cleaners that do not contain water are no more effective on corrosive primers than plain lubricating oil as they cannot dissolve the salts lodged in the pores and microscopic irregularities in the bore.
In WW1 the German Army used a 20% Ballistol and 80% water mixture in their watercooled Maxim machineguns which prevented the rust in the water jackets that plagued the Allied powers.
Older high quality guns like Luger pistols and Mauser Military pistols often exhibit a rust blue finish that is extremely tough and Ballistol preserves these finishes perfectly. Some modern oils like WD40 have ingredients to attack rust and over time these can degrade the rust blued surfaces lowering the gun's value.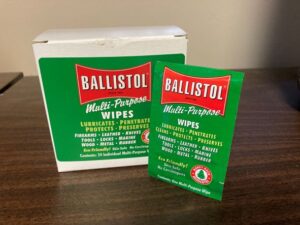 Ballistol is safe for electroplated gold, chrome, nickel, zinc, and all finishes. It should be noted that if a plated surface is damaged that any type of oil soaking in and under the plating can lift the plating at that spot.
When used on wood, Ballistol waterproofs the wood preventing swelling and cracking in the rain while giving it a nice sheen. It effectively prevented wood fore ends swelling and changing the bullets point of impact for the troops.
On leather it waterproofs it and makes it supple without the danger of rotting old leather that neetsfoot oil presents. I have repeatedly used Ballistol on leather well over 100 years old to restore it to usable condition. Soaking new shoes and boots with it makes the breaking in of them much faster and more comfortable.
Ballistol is one of the few oils that can be used on rubber and plastic safely. Put it on the weather stripping of your vehicle and you won't have rain water freeze it shut in the winter. It is the only oil that I know off that is safe for all parts of an air rifle including the seals. For use on fishing tackle it is unsurpassed.
As you would expect, Ballistol is an excellent lubricant for aluminum. It finds wide use on precision machinery and electronics today as well.
Ballistol is composed of medicinal grade components and all of these ingredients are natural substances or their chemical equivalents. This oil is safe around children and pets and it is fully biodegradable.
Ballistol is not only safe it has been used as both an external and internal medicine in Europe ever since 1904. It is not sold for medicinal purposes in the U.S. because getting FDA approval would cost far more than would ever be recouped in sales. It was used like regular drug store mineral oil with a spoonful taken for constipation. It was applied to small wounds, bug bites, athletes foot, and trench foot. Trench foot is also known as immersion foot or jungle rot, and is caused by keeping the feet soaking wet for prolonged periods of time resulting in capillary damage which in turn leads to tissue death and gangrene. The feet lose feeling and turn red or blue. Treatment involves removal of the dead tissue or even amputation of the feet in extreme cases.
As you can see, Ballistol does more things and does them better than any other gun oil. It is truly the most versatile gun oil ever made.
Ballistol USA, P.O.Box 900, Kittyhawk, NC 27949 phone # 1-800-253-2460