By Joseph P. Tartaro | Executive Editor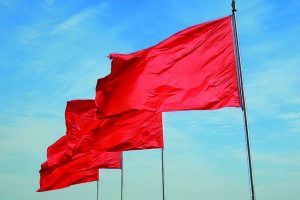 Red flag laws – also known as Extreme Risk Protection Orders (ERPOs) or Gun Violence Restraining Orders (GVROs) – have been filed in a majority of states as a response to the failure of local police and social services as well as the FBI to respond to multiple warnings about the Parkland, FL, shooter before his Valentine's Day school murders. Authorities claimed their hands were tied, saying they needed new laws.
Gun rights activists have been opposing most of these state legislative proposals to prevent confiscation of guns without due process of law. As always the case with gun control proposals, the devil is in the details. A further problem is posed by the legal expense required for anyone who is seeking court relief.
Though supporters say the bills can prevent tragedies, critics say they have the potential to deprive gun owners of due process and their Second Amendment rights.
The judge can issue an emergency, temporary order—without the gun owner being present— to prevent immediate danger. But a full hearing must be scheduled quickly, offering the gun owner the ability to respond.
A longer order can be issued during the full hearing if there is enough evidence that the person is dangerous.
Connecticut, Indiana and Florida allow law enforcement to petition the court system, while California, Washington and Oregon also allow petitions from family and household members in addition to law enforcement.
The basic idea is a variation of the "see something, tell someone" theme. In the case of most red flag laws the onus is usually on family members and other concerned parties, including police and even teachers and other school employees to initiation the action. In some variants of the law, the police are required to confiscate the subject's guns, including any the subject may have access to regardless of who owns them. In other variants, the complainant must first petition a judge to remove guns from individuals who pose a threat to themselves or others.
California, Connecticut, Indiana, Oregon, and Washington all had versions of a red flag law before 2018. But new state red flag laws started being enacted almost immediately after the Florida school shooting.
Florida's red flag law was one of the first to be signed into law less than four weeks after the Parkland school shooting. That state's came bundled in the Marjory Stoneman Douglas High School Public Safety Act. In the weeks following the bill's passage, Florida judges have issued numerous risk-protection orders, including one against Zachary Cruz, the brother of the Parkland gunman.
Delaware's HB302 passed in March and was signed into law on April 9. Known as the Beau Biden Gun Violence Protection Act, it is considered by some to be among the narrowest red flag laws introduced in state legislatures this year. It allows law enforcement to remove firearms from an individual only after a mental health professional has deemed the person a danger to themselves or others.
New Jersey's law was signed by Gov. Philip Murphy on June 13 along with a package of other anti-gun measures, among them A1181, a separate measure that requires law enforcement to confiscate a person's guns if a mental health professional has determined the person may harm themselves or others.
The Rhode Island measure, signed by Gov. Gina Raimondo on June 1, was opposed by the American Civil Liberties Union for its broad scope and "lenient standards for both applying for and granting" protective orders, in addition to the opposition of pro-gun organizations.
Vermont's red flag law was signed on April 11. Of all the red flag laws that state legislatures have taken up this year, Vermont's is one of the narrowest: Only a State's Attorney or the Office of the Attorney General can request that a court issue a risk protection order.
States where similar bills are still under consideration include: Illinois, Massachusetts, Michigan, New York, North Carolina, Ohio, and Pennsylvania. The New York bill, in which teachers and school administrators were added to the list of people who could cause firearms to be seized, did not pass during the regular session. However, given Gov. Andrew Cuomo's proven record on gun control, it could resurface during any special session later this year.
"Red flag" bills were introduced in 14 states but failed to pass for a number of reasons during the regular session of the state legislatures. Those states include Alabama, Alaska, Arizona, Colorado, Hawaii; Iowa, Kansas, Kentucky, Louisiana, Maine, Minnesota, Missouri, Tennessee and Utah.
At the federal level, Rep. Salud Carbajal (D-CA) and Sen. Dianne Feinstein (D-CA) introduced legislation last May that would encourage states to adopt the approach.
Mental illness, escalating threats, substance abuse and domestic violence are among the circumstances in which a judge can order weapon restrictions under the statutes.