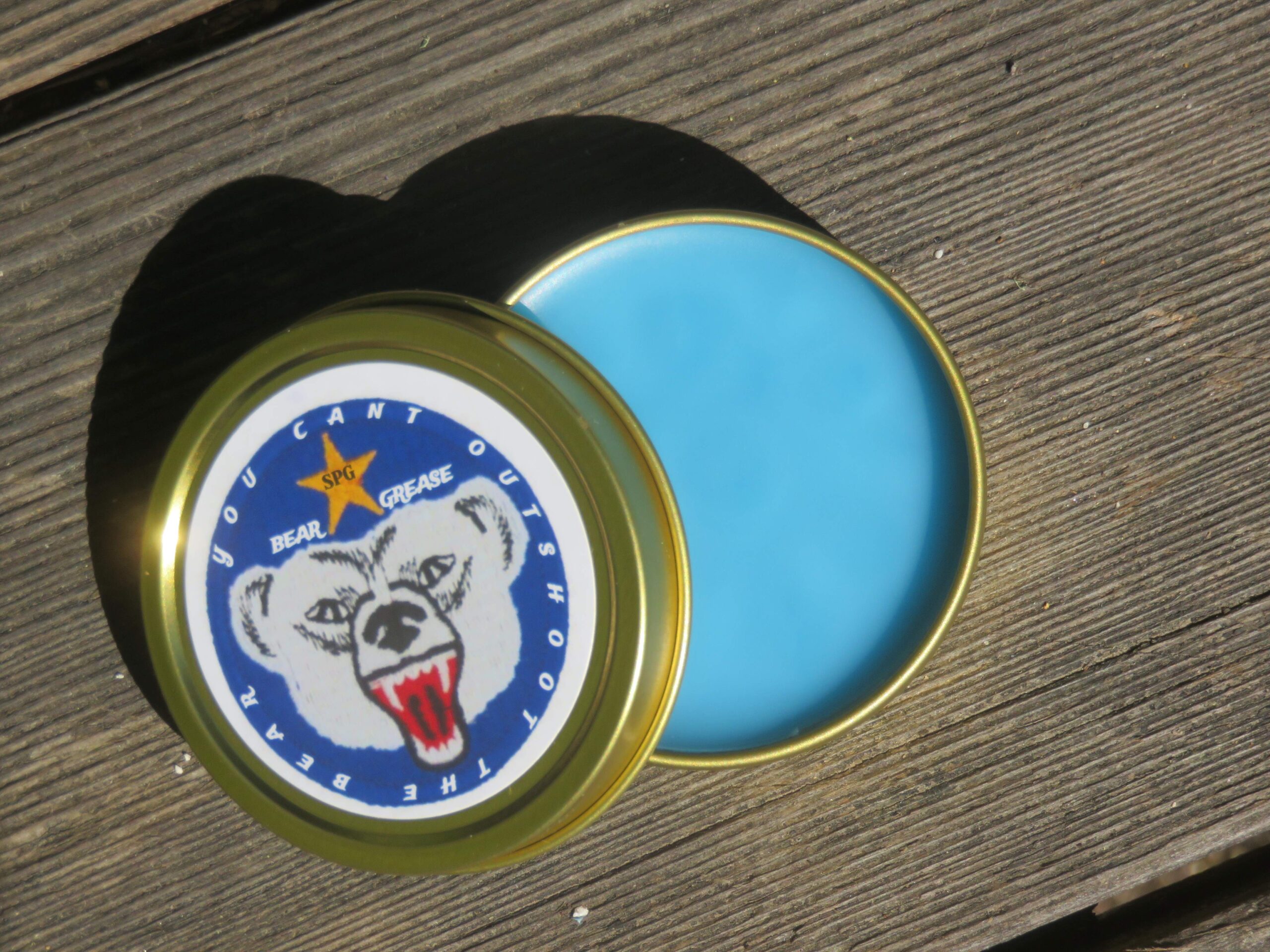 By Mike Nesbitt | Contributing Editor
SPG Sales is well known to black powder shooters for their continuing sales of SPG bullet lube.
A year or so ago, they brought out a "hot weather" SPG called SPG Tropical and that bullet lube has a certain number of followers for competition during the warm seasons.
Now, to address the colder areas and seasons, SPG Sales has introduced "Bear Grease" for cold weather black powder shooting. "Bear Grease" is intended for all black powder shooting, for muzzleloaders using either patched round ball or elongated bullets, and for black powder cartridges.
With such variety to think about, I wanted to so some test firing with "Bear Grease" while using both a muzzleloader and at least a couple of the black powder cartridges. So, my first choice was a flintlock .50-caliber rifle, shooting patched .490" round balls. I used patches from October Country; their "daisy" shaped patches of .015" thickness. And, mainly for this test, the patches were dry and lubed only with the new "Bear Grease."

I keep putting "Bear Grease" in quotation marks because that is the trade name SPG Sales has selected for this product and I don't know if it actually contains any real bear grease. The image on their label shows the face of a polar bear and they say that "Bear Grease" will not freeze. That can be a real benefit while on the hunt with a muzzleloader. While I can't claim to know any of the ingredients in "Bear Grease," I can say that I did some good shooting while using it.
Back to that .50-caliber flintlock rifle and the shooting done with it, the dry patches were simply rubbed on the grease to get some of the lube into the patch fibers, then they were loaded and fired. The temperature that morning was just over 50 degrees and the lube was working very well, both in getting the patches loaded with lube and then shooting.
My powder charge in the .50-caliber was not a heavy one, just 45 grains of GOEX 3Fg. And my target was not posted at long range, this was just a shooting test to check on the new lube and the target was posted at just 25 yards. The first patched ball, going down the clean barrel, was certainly easy and, in the picture of the group, that shot was the furthest to the right.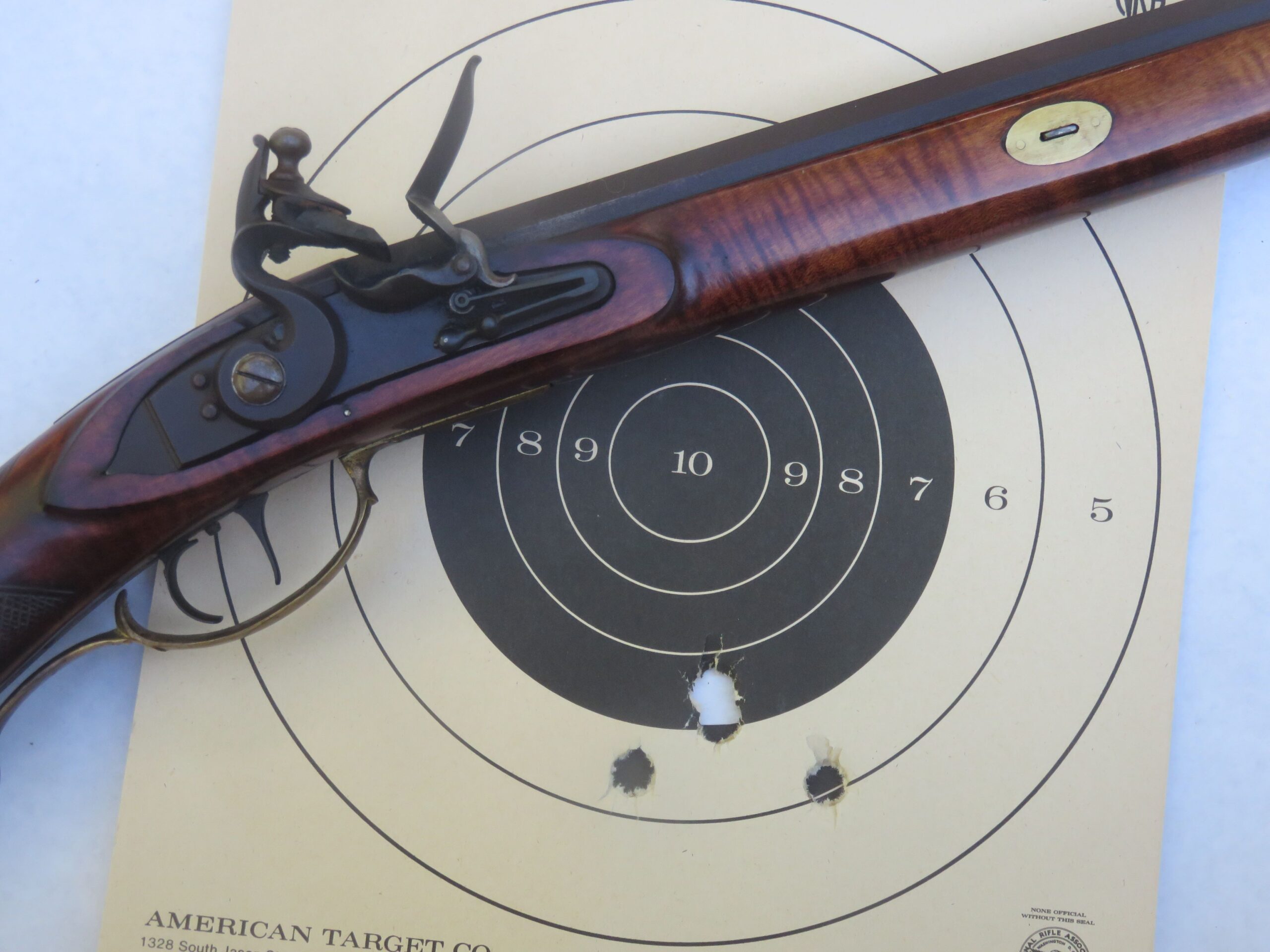 Then the second ball was rammed down the 42-inch barrel and it was just slightly harder to push but not a problem. And that ball started the three-shot gaping hole in the middle of the group.
Patched balls were loaded for shot number three, followed by shots four and five and the loading continued to be on the easy side, no harder to ram down than for shot number two. And I certainly can't complain about the 5-shot group. I will explain that the rifle's sights were held at 6 o'clock on the target when I really should have held dead-on for centering hits in the bullseye. So, the rifle was hitting right where it was aimed. With result like that on my very first try, I must give "Bear Grease" some high marks, for sure.
One thing I must include; at least two of the patches I had used while doing this shooting with the muzzleloader could be seen in the grass smoking and smoldering away. I don't know if the patches are prone to burning, or if the new lube is more subject to burning, or was this purely coincidental. This is being mentioned because I see burning patches rather rarely, although I've certainly seen them before. So, with this in mind, I hope that all shooters of muzzleloaders will be careful and be advised that patches, lubed or un-lubed, can burn when the guns are fired.
Next, I wanted to try "Bear Grease" in at least a couple of black powder cartridges. To do this I pan-lubed the bullets, rather than refill my bullet luber-sizer with this new product. The pan-lubing was easily done right in the metal can that it comes in. Bullets for the .44 Russian and for the .44-40 were both lubed in the lid of the metal can while longer bullets for the .50-70 were lubed in the taller bottom of the lube's can. That was quick and easy, and soon enough I had ammo ready and loaded with bullets greased using the new lube.

The 250-grain bullets for the .44 Russian, using the old Ideal #429184 (discontinued), were loaded over my favorite 18 ½-grains of Olde Eynsford 2F revolver load, and only 18 cartridges were loaded, just enough to see how they'd work. And nothing special was done for shooting those loads, so my test could have been more precise. All I did was to post a target at 30-feet, where most of my handgun shooting is done, and fire offhand for "score" to see how the ammo with this lube performed. Those ten shots all went into the black which was very pleasing and I'll likely be using "Bear Grease" again.
At the same time as when the .44 Russian bullets were being pan-lubed, I made sure that a similar number of bullets for the .44-40, from Accurate Molds' #43-205C, got their large single grease groove filled with "Bear Grease." Those bullets were then loaded, un-sized because they drop from the Accurate mold with a diameter of .430", into Starline .44-40 cases over 35.0 grains of Olde Eynsford 2F powder.
Those loaded .44-40 were all fired in my Model 1873 lever action from Cimarron Fire Arms with the 30-inch-long barrel. The target was posted at 50 yards and shooting was done from a benchrest. My shooting was probably the weak link in the chain for that group because the gun and the loads worked just fine. The group was a pretty good one but not as nice as what I'd like to show, so no pictures were taken.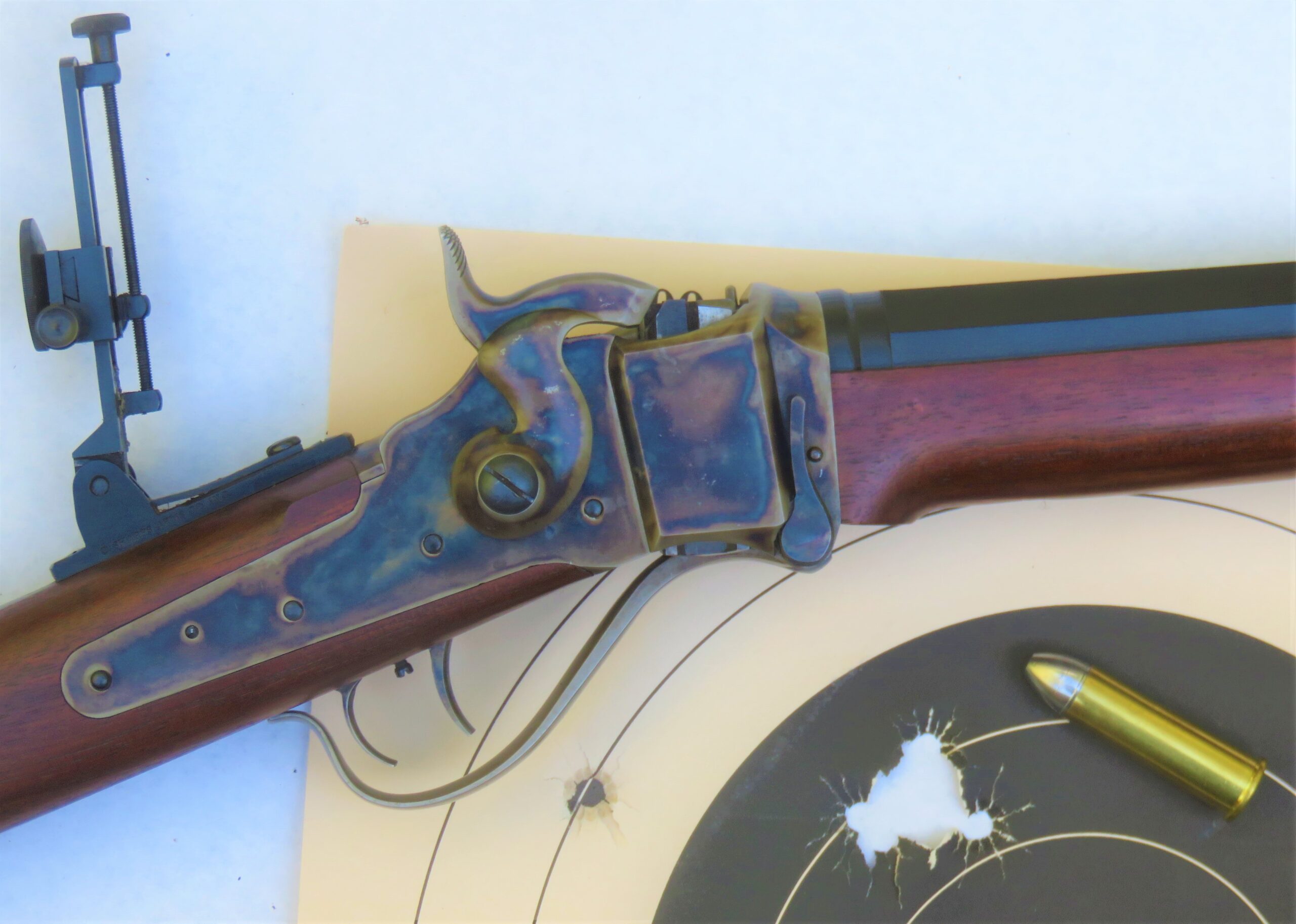 What did make it into the pictures was a group fired at 100 yards with my heavy-barreled rifle from C. Sharps Arms in .50-70 caliber. I mentioned how the bullets for these loads were pan-lubed but the bullets for the .50-70 were also sized after being lubed to .512" diameter. Then those bullets were loaded into Starline cases over 65.0 grains of compressed Olde Eynsford 2F powder before the loads were run through a taper crimp die which made them ready for shooting.
Also worthy of mention is that the .50-70 loads were primed with CCI large pistol primers. Several black powder cartridge shooters believe that modern large rifle primers are "too hot" (for lack of a better description) for consistent ignition in black powder loads. I tend to be one of those shooters and I'm using large pistol primers with my black powder loads more often.
For this shooting test, two targets were posted at 100 yards. The shooting began with five shots being fired at one target, then the sights were adjusted to bring the group to the left and following that, five more shots were fired at the second target.
Shooting at the second target brought back some loud echoes of my shooting, so many years ago, on the Air Force rifle team. With our M-1s, we'd make sight adjustments, then tap the peep-sight to help that adjustment 'sink in.' Then we'd fire one or two shots before determining if the sight adjustment was proper because those two shots would help the sight "settle down or grow accustomed" to the new setting, just in case anything was binding in the sight. When I fired the first shot at the second target, it hit too far to the left. So, a second shot was fired and that one was more favorable. Three more shots were fired at the same target and those produced a ragged hold where the second shot had been. Something held the rear sight too far to the left for the first shot on that target but then the four-shot group with the .50-70 is a nice reward.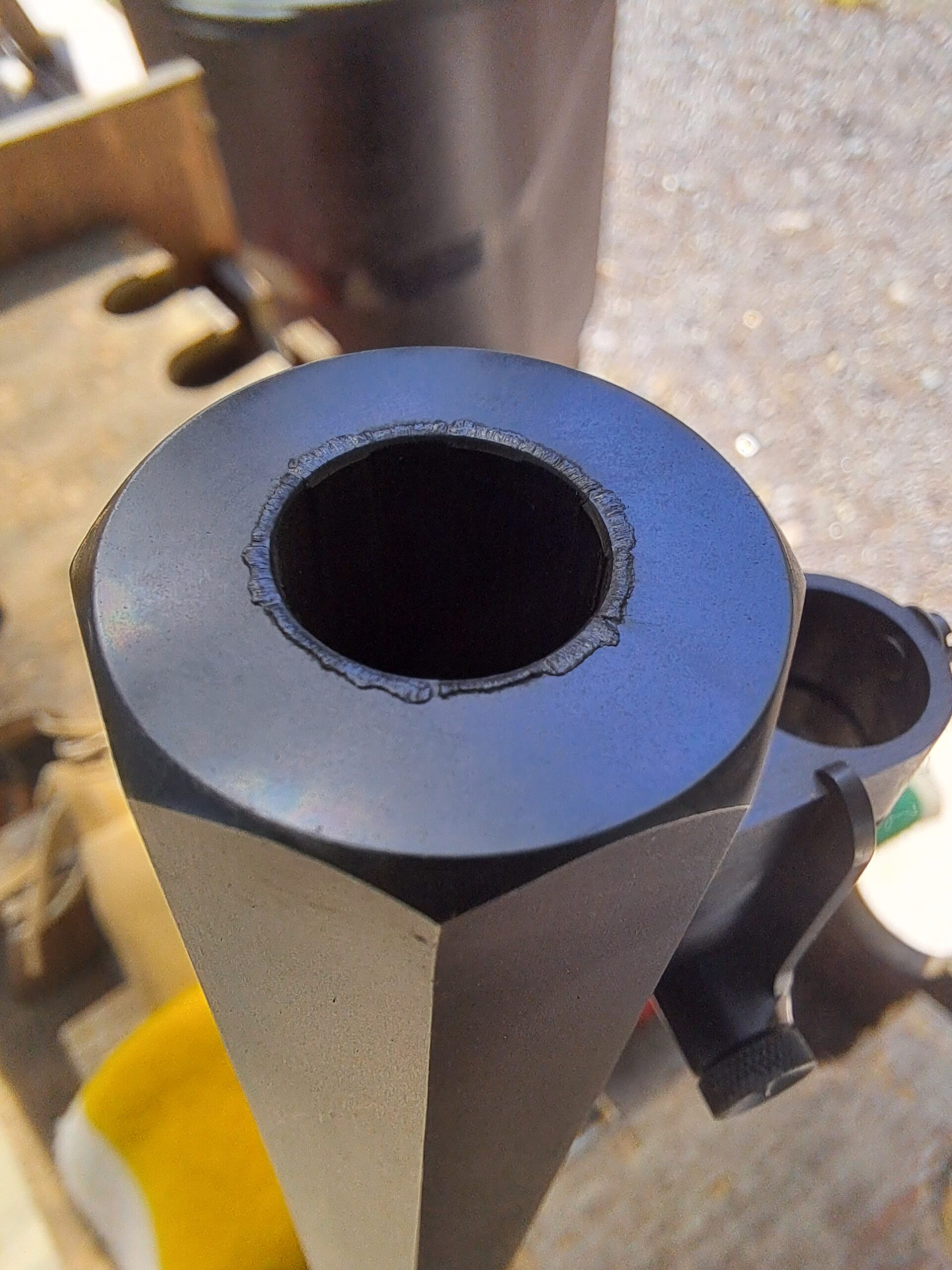 Following that, more adjustments were made in both windage and elevation, and my attention went back to the first target. Seven more shots were fired with the .50-70 Sharps, all with the "Bear Grease" lube, and those seven shots centered rather well in the bullseye, where scores of 9s or 10s could be claimed. Then, after firing seventeen rounds without wiping the bore, the muzzle of the .50-70 rifle was looked at. There was what we call a "lube star" and in black powder cartridge shooting, if you don't have a lube star at the muzzle of the rifle, you simply don't have enough lube. In this case the lube star looked quite nice.
My shooting tests with the new "Bear Grease" black powder bullet lube were rather informal. I only tested it in the way that I'll be using it in the near future. Let me say that I like it and I do feel fairly sure that I'll be using it again. Right now, this new bullet lube is so new that SPG Sales doesn't have a price listed for it but that will be coming soon. If you are interested in "Bear Grease," be sure to contact SPG Sales, at https://www.blackpowderspg.com, for more information.