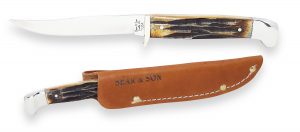 Bear & Son Cutlery, manufacturer of premium made-in-the-USA knives, has introduced a new fixed blade designed for big game hunters, the 563 Small Stag Bone Hunter.
The new knife, according to Bear & Son literature, is an American-made knife "built for hunters and trailblazers."
It features a 2-7/8-inch 440 stainless steel clip point blade that holds an edge, is easy to sharpen, and resists rust. The blade design allows users to cleanly cut hard-to-reach places and serves as a general-purpose cutting tool. It's also lightweight, hitting the scale at 1.7 ounces, according to the specs.
The genuine India Stag Bone handle provides a traditional look, yet offers confident control with or without gloves, the company said. A nickel silver finger guard provides additional control for toughest jobs. A handmade leather sheath is included with the knife, and it comes with a limited lifetime warranty.
The knife carries an MSRP of $59.99.