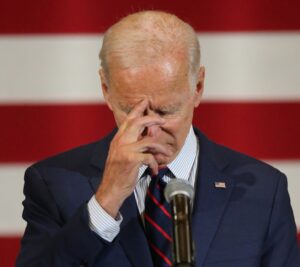 By Dave Workman
Editor-in-Chief
President Joe Biden botched it again on guns and the Second Amendment, during a scheduled stop in Durham, N.C., where he wrongly referred to modern semiautomatic rifles as "weapons of war," and mistakenly also declared citizens are not allowed to own fully-automatic firearms.
As reported by Fox News, the National Firearms Act of 1934 "imposes strict limits on machine guns, it allows for exceptions, though minimal."
In states where machine gun ownership is permitted, citizens who are properly permitted can own them.
Biden's biggest gaffe during his short remarks on guns came right up front when he declared, "I'm a Second Amendment guy. I have two shotguns. My sons have shotguns."
Second Amendment activists routinely laugh at such arguments. As one gun rights advocate recently told TGM privately, "That's like saying my dad gave me a guitar, but that doesn't make me Jimi Hendrix."
"You're not allowed to go out and own an automatic weapon," Biden said in what were probably unscripted remarks. "You're not allowed to own a machine gun. You're not allowed to own a flamethrower. You're not allowed to own so many other things. Why in God's name do we allow these weapons of war on our streets and in our public schools?"
Biden's previous claims about the Second Amendment have been roundly debunked by fact checkers, most notably Glenn Kessler at the Washington Post.
During remarks to the press earlier in the week, Biden admitted he is unable to take any further action on guns, essentially declaring his gun control efforts dead in the water.
As noted by the New York Times, Biden told reporters, "I have gone the full extent of my executive authority to do, on my own, anything about guns."
A few paragraphs later in the story, Biden was quoted again, "The Congress has to act…The majority of the American people think having assault weapons is bizarre; it's a crazy idea. They're against that. And so, I think the Congress should be passing the assault weapons ban…I can't do anything except plead with the Congress to act reasonably."
For Biden, it was a surprising admission considering his history as a gun ban advocate. He campaigned on a platform of gun control, and has pushed for a ban on so-called "assault weapons" at every opportunity since taking office more than two years ago.
However, with control of the House by Republicans who are uniformly cool to what many consider Biden's extremist gun control strategies, the president's program is likely out of gas. The Times story suggests this may have been an effort by Biden to spur Congress to take some sort of action.