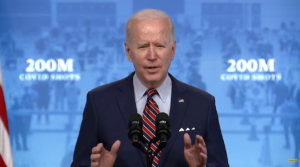 By Dave Workman
Editor-in-Chief
A new ABC News/Ipsos poll released Sunday shows Joe Biden's approval ratings are continuing to plummet on several important subjects, including his inability to deal with rising violence and gun-related crime.
According to ABC News, there is "lagging support for his handling of rising rates of violence in many places across the country."
"As the national murder rates see historic jumps," ABC News reported, "only a little more than 1 in 3 Americans (36%) approve of Biden's handling of crime, down from 43% in an ABC News/Ipsos poll in late October. Similarly, approval of Biden's handling of gun violence is 32%, down from 39% in the October poll."
Of particular importance, the poll results show a decline in confidence among the ever-important Independents, among whom only 1 in 4 approve of his handling of so-called "gun violence."
The Daily Mail calls it a "devastating new poll" for Biden, showing "Americans disagreeing with his handling of nearly every issue currently plaguing the United States." The Daily Mail also says Biden is "losing Americans' faith on the foreign policy front as well."
"In the poll taken December 10 to 12, two-thirds of Americans said they disapprove of the way the president handles gun crime," the Daily Mail said.
The Citizens Committee for the Right to Keep and Bear Arms reacted to the ABC News poll by calling Joe Biden's presidency "an unmitigated disaster."
"We're seeing criminals running rampant in our cities and police unable to do their jobs," said CCRKBA Chairman Alan Gottlieb. "It should be no wonder why millions of Americans have bought guns for the first time, just to protect their homes and families. And what has been Biden's response? He wants to ban semiautomatic rifles and 9mm pistols for law-abiding gun owners. He's taking absurd to a new level."
Biden's numbers have been tanking for many weeks. Back on Oct. 11, pollster Scott Rasmussen—writing at Ballotpedia.org—revealed that 53 percent of American voters "believe having the police crackdown on gang activity would be more effective than placing restrictions on gun ownership."
He said a "national survey found that 35% take the opposite view and 12% are not sure."
In that survey, Rasmussen said 78 percent of Republicans supported getting tough on gangs while perhaps unsurprisingly, 57 percent of Democrats prefer adding restrictions on gun ownership.
Another revelation from Rasmussen on that October survey showed that "By a 50% to 39% margin, those with an advanced degree believe restricting gun ownership is the best way to reduce violence. All other voters, by a 56% to 32% margin, take the opposite view."
Rasmussen's polling data reinforces the widely-held opinion that Democrats have become the "party of gun control" or outright confiscation. Democrats want to restrict private firearms ownership, while Republicans and independents want to get tough on criminals. In survey after survey, this same pattern has emerged over the past several years.
The survey, released over the weekend, shows only 36 percent—slightly more than 1 in 3 Americans—approve of Biden's handling of the deteriorating crime problem. As for his response to violent crimes in which firearms are used, the data is even worse, with only 32 percent approval, and that's down from 39 percent recorded in an October poll.