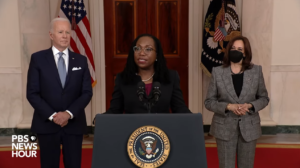 By Dave Workman
Editor-in-Chief
As promised by Joe Biden to fire up his far left base during the 2020 campaign to fill a Supreme Court vacancy with a Black female, the president on Friday nominated Judge Ketanji Brown Jackson to replace retiring Associate Justice Stephen Breyer.
According to Fox News, Judge Jackson—currently serving on the D.C. Circuit Court of Appeals—has a degree from Harvard Law School and a clerked with Breyer himself.
But for Judge Jackson, any question about her perspective on the Second Amendment was erased by a statement from the Everytown for Gun Safety gun prohibition lobbying group.
"The Biden-Harris Administration has already proven to be the strongest gun safety administration in history, but we expect the gun lobby to pull out all of the stops to oppose Judge Jackson's nomination.
"We can't allow the gun lobby to stack the Supreme Court against gun safety. Who we confirm now could have far-reaching effects on our gun laws for years or decades to come.
"That's why we're going all out to support Judge Jackson's confirmation in the Senate and working every day to end gun violence."
Judge Jackson has served as vice chair of the U.S. Sentencing Commission (2010) and she was a public defender from 2007 to 2010, according to Fox News. She was confirmed to the D.C. Circuit Court 53-44 to her current post.
Fox News said Judge Jackson will begin visiting members of the Senate next week.