By Mike Nesbitt | Contributing Editor
As we continue with recommendations on reloading with black powder in cartridges, I find that my intentions of going from revolver cartridges to rifle cartridges might be too big of a jump.
The reason is because little details, which really should be mentioned, seem to pop up and suggest it is time to cover them. Thoughts like those are what led me to add this "chapter" about reloading black powder in the intermediate rifle cartridges.
The term 'intermediate rifle cartridges' is all mine. Please don't bother looking for that term in reloading recommendations by others because I'd be rather surprised if you find it. Of course, I mean intermediate in size so maybe the medium sized cartridges would be more descriptive. The cartridges I have in mind are certainly small or medium in size, and the three cartridges we'll focus on are the .44-40, the .32-40, and the .38-55.
   While our discussion here will be limited to those three cartridges, this information might also be used for reloading similar cartridges, such as the .38-40 Winchester, the old .32 Ideal, and even the .38-50 Remington. My notes about the three cartridges we'll be talking about here are quite specific but the generalities of loading for those rounds could be used to help find good loads for other similar sized cartridges.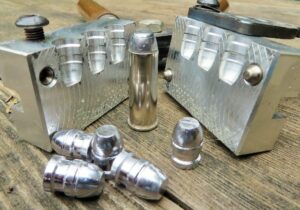 Let's begin this conversation with the .44/40 and remember that we're talking about rifle cartridges. The .44-40 is also a popular revolver cartridge but in a handgun that can be a real handful when we're talking about full or almost full black powder loads. It isn't that black powder loads in the .44-40 shouldn't be used in revolvers, not at all. I have friends to use them and love them. Personally, I favor revolver loads that produce less of an "earthquake" when they are fired. So, use black powder loads in a .44-40 revolver if you like but for now, we'll do our talking about rifle loads for the tried-and-true .44-40.
With black powder loads, good lubrication (and lots of it) is needed for accurate shooting. That's why my bullet of choice is #43-205C from Accurate Molds. This bullet has a large single grease groove which holds enough grease to completely satisfy the 30-inch barrel on my Cimarron '73. The lube I use is from C. Sharps Arms, called BPC Lube (black powder cartridge lube) and I like that enough to recommend it with repetition. Bullets with smaller lube grooves might not carry enough lube and if so, you'll often find a couple of inches of bore near the muzzle which show that the bullet had run out of lube. If that happens, accuracy is gone.
   After trying several different powder charges as well as a few different black powders, the load I've settled on is 34 ½ grains of Olde Eynsford 2F. That powder charge almost fills up the new Starline cases and when the bullet is seated on top of it, the powder does get compressed. A charge of 35 grains of the same powder was tried, with success, but the "feel" I get while seating the bullets is enough to warn me that some deformity of the bullet could take place. With the 34 ½ grains of powder I've had no troubles with deforming the bullets in the seating die.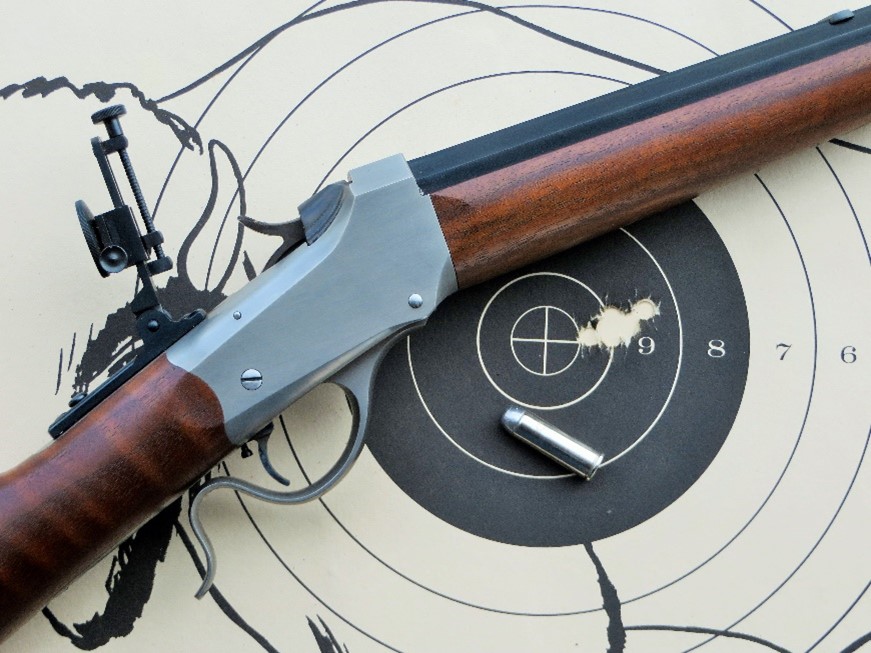 Another rather important feature about the 34 ½ grain loading in the old .44-40 is its performance. When shot in the 30" barrel of my Cimarron Model 1873 rifle, those bullets were chronographed at 1300 feet per second. That's not much by today's standards but remember, we are talking about black powder loads and 1300 fps is what the old .44/40 was originally listed at. Of course, speed is not the only thing and that load gives me the accuracy I asked for, mainly shooting either paper targets or gongs in our informal shooting matches.
ICYMI:
Black Powder Cartridge Reloading: Pt. I, Revolver
Back to loading for a bit, shooting black powder loads in the old .44-40 is a natural thing to do and loading black powder in this case is easy. I really can't think of any warnings to mention, just be sure to use cast or swaged lead bullets with a good black powder lube. Black powder loads will seem to be very fussy unless all the components are intended for black powder.
   Next, I want to talk about the .32-40, the version used by Winchester and Ballard. This has a straight tapered case about 2.13" in length and I mention that specifically because there were other .32-40s back in the day which weren't as popular or as commonly encountered today. My own shooting now is done with two rifles, one is an old Marlin Model 1893 carbine and the other is a currently available Highwall by C. Sharps Arms. Both of those rifles perform very well and the .32-40 cartridge is outstanding.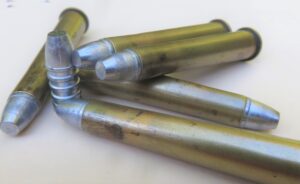 The .32-40 is a cartridge that I don't use very much these days but every time I do take one out and shoot it, I'm amazed all over again about how delightful rifles in this caliber are to shoot. Recoil is very slight and the report from the muzzle, shall we say, isn't outspoken. The .32-40 is certainly a pleasant cartridge to shoot.
It is also a pleasant cartridge to reload with black powder. Of course, the .32-40 was originally loaded with black powder but it also made the transition to smokeless powder very well and for a short time it was more popular than the .30-30 as a deer or medium game hunting cartridge. With today's brass cases, most black powder cartridges have trouble accepting the amount of powder that they held in the old days.
New brass is available from Huntington Die Specialties (www.huntingtons.com) which was made for them exclusively by Starline. That's the brass I use now instead of a mixture of old various headstamp cases.
My favorite loading for this cartridge uses a full 40 grains of Olde Eynsford 1 ½F powder. That much powder can easily be loaded into the case without a drop tube and the .32-40 is somewhat unique that it will easily accept the 40 grains like it used to but in modern brass. (Drop tubes will be mentioned as we get into following "chapters" in this black powder loading discussion.) Then come the bullets, cast from Lyman's #319247 (which is still being produced) and sized to .321" diameter. Naturally, the bullets must be lubricated with a good black powder lube. Again, like with the .44-40, the powder charge is simply compressed with the seating of the bullets.
This loading, with the bullets weighing approximately 160 grains, will give about 1,440 fps out of the 28-inch barrel of my Highwall and it is a very accurate load. Add the load's accuracy to how much fun it is to shoot and you'd all expect me to do more shooting with it. Well, sometimes I do and when I do, it gives me more added interest in shooting cartridges with black powder.
   Then that added interest seems to take me to other cartridges and one of those "others" is the .38-55. While the .38-55 is still an intermediate cartridge, by my own definition, it does require some more specific attention.  Perhaps that is because it is a straight case instead of a bottleneck or tapered case. Let's just get into it and you'll see what I mean.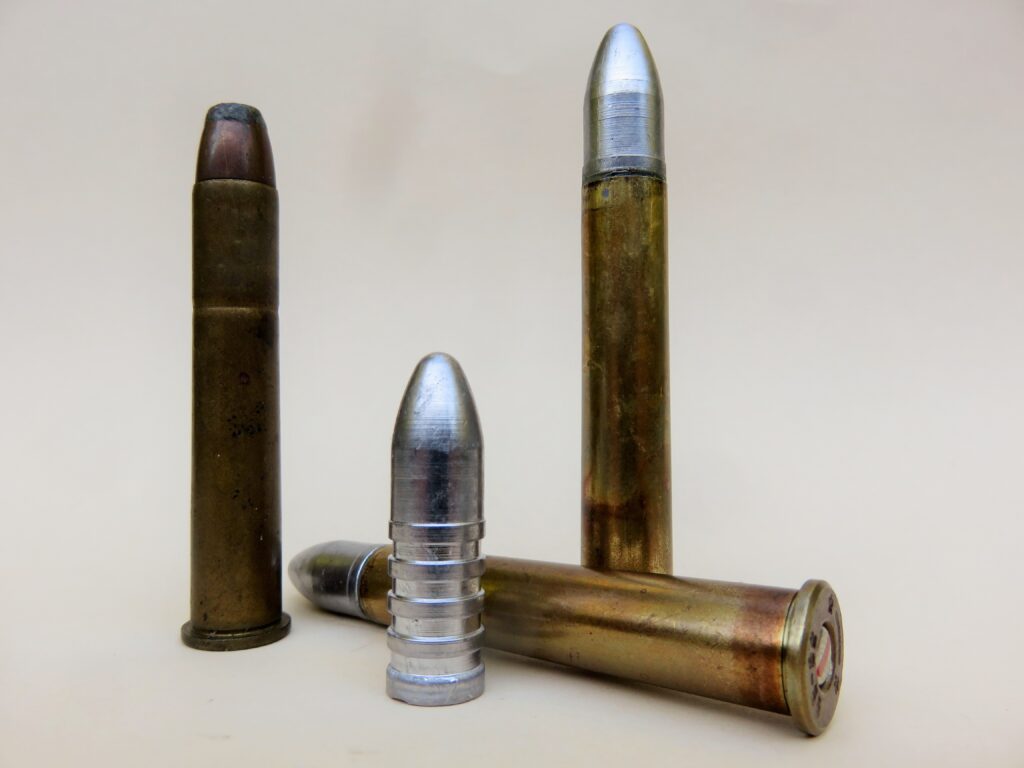 The rifle that devours my .38-55 ammo now is a re-built Remington rolling block with a rather heavy 30-inch barrel. Quite the rifle, if I might say so, and it has a recently made Green Mountain barrel with, I believe, a 1:14-inch twist in the bore although a 1: 12-inch twist is available from GM. This rifle was re-built for me by C. Sharps Arms which specializes in re-building old Remington rolling blocks. (Contact C. Sharps Arms at info@csharpsarms.com.)
Loading cartridges for this rifle begins with new Starline cases and bullets are cast from a Lyman #378674 mold which casts a Postell-style bullet of 335 grains. This bullet is intended for single shot rifles and not repeaters because the bullets protrude from the cases too far for use through a repeating rifle. Likewise, if one of these cartridges was chambered in a repeater, such as the Winchester Model 1894, it would have to be fired because it couldn't be ejected while loaded. So, my comments about the .38-55 for this discussion will be aimed at single shots.
   The load I put under that bullet is 45 grains of Olde Eynsford 1 ½F powder. In order to seat the bullet on that powder charge, a compression die is used. The compression die is much like the expander die but the compression has no taper and is not meant to expand anything.  (Compression plugs can be bought for most black powder calibers from Buffalo Arms Company to convert expander dies to compression dies, www.buffaloarms.com.)  One warning about using a compression die is don't expect your cartridge case to "find its own way." Be sure to get the compression plug entered into the die before you push the handle down on your loading press.  Otherwise, the compression plug, without being centered, will tear the brass case and ruin it.

So, re-size the brass, then expand the case mouths, and re-prime those cases. Next comes the powder. As mentioned, I use 45 grains of OE 1 ½F and that almost fills the case. Then the cases with the powder charge are run through the compression die, without an over-powder wad. A wad could be used but that's not necessary. The powder will then be compressed with a nice flat surface, allowing the bullets to be seated without the fear of deforming them. Be sure to compress the powder no further than where the base of the bullet will be, as an air space is not desirable.
Then seat the sized and lubricated bullets as usual, using the seating die. While loading these .38-55s, the bullets have no crimp grooves so I do not crimp the bullets with the seating die. Instead, a taper crimp die is used, making the loading of these cartridges a 5-die process.
These steps give us good, shootable, black powder loads for the .44-40, .32-40, and the .38-55 and I hope you can see how each cartridge can have its own likes and dislikes. I've tried to show those steps while recommending the loads that I like the best for each of those cartridges rather than to suggest a variety of different loads or different powders. Those variances you can look for yourself after getting the 'hang' of loading your rifle ammo with black powder. And in the next installment on this wide subject, we'll look at loading black powder for another group of rifle cartridges. Please tune in if you find this interesting.