By Dave Workman | Senior Editor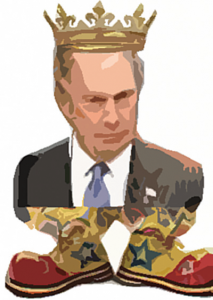 Billionaire former New York Mayor Michael Bloomberg's launch of a new big money gun control strategy called "Everytown for Gun Safety" struck a very sour note when, in an interview with the New York Times, Bloomberg contended that his anti-gun efforts had earned him a spot in Heaven.
"I am telling you if there is a God," Bloomberg boasted to the newspaper, "when I get to heaven I'm not stopping to be interviewed. I am heading straight in. I have earned my place in heaven. It's not even close."
The remark outraged gun owners across the country who blasted the ex-mayor for his arrogance.
Designed to "outmuscle the National Rifle Association," according to the New York Times, Bloomberg's new $50 million effort is "a restructuring of the gun control groups he funds, Mayors Against Illegal Guns (MAIG) and Moms Demand Action for Gun Sense in America (MDA)." The first phase appeared as an on-line video link appeared in the on-line main page of the Seattle Times.
That advertisement coincided with a gathering at the Seattle Center which was designed to boost Initiative 594, the 18-page gun control measure advertised as a so-called "universal background check" proposal. As revealed by an April Elway poll, support for this measure is above 70 percent.
However, the Elway poll also revealed that support for the competing measure, Initiative 591, is at 55 percent so it appears both will pass in November.
I-591 is supported by a coalition of organizations including the Citizens Committee for the Right to Keep and Bear Arms and the Washington State Law Enforcement Firearms Instructors' Association. It is a grassroots effort that has raised about half the money, but gathered slightly more signatures, than the "universal background check" initiative campaign.
I-594 is funded by other deep pocket Seattle-based gun control proponents, calling themselves the Washington Alliance for Gun Responsibility. They have so far pumped more than twice as much into their effort as have grassroots gun rights activists into I-591, according to reports filed with the state Public Disclosure Commission.
I-591, sponsored by Protect Our Gun Rights (POGR), prevents government gun confiscation without due process – a tenet that recalls the gun-grabbing chaos that followed Hurricane Katrina in 2005 – and requires that background checks in Washington comply with a uniform national standard. Supporters say this measure does not, as alleged by anti-gunners, "roll back" existing gun laws or prevent background checks.
The national background check currently in use is mandated by the federal Brady Law, passed in 1993. No state initiative can roll that back, nor could it prevent background checks.
I-594 has received $30,000 from Bloomberg's MAIG. That's small change in the total of more than $1.6 million that has been raised and already largely spent in the WAGR campaign.
Evergreen State gun rights activists are already raising alarms about the appearance of Bloomberg's advertising on the Seattle Times website. They are particularly incensed that I-594 is beginning to look more like an effort by wealthy Seattle elitists to buy an election and thus erode their civil rights.
Blistering remarks about Bloomberg were posted on Facebook page belonging to the Second Amendment Foundation and other gun rights forums, and in reader feedback sections of various newspapers. Many suggested that in the hereafter, the former mayor will be "headed in the other direction."