Boss Buck, manufacturer of the patented Non-Typical Wildlife Feeders and Feed & Seed Attractants, has introduced two new premium food plot blends – Fatal Funnel and Final Destination, as well as a new Cottonseed Deer Attractant.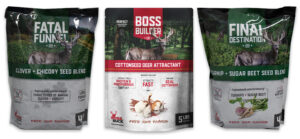 Fatal Funnel
High-yield and diverse seed mix for do-it-yourself whitetail plots, the Fatal Funnel is made in the USA using only the best hand-selected blend of four types of annual clover and chicory! The drought tolerant and disease resistant mix was developed to create lush, nutrient-dense forage fields. One 4-pound bag covers ½ acre or approximately 22,000 sq. ft., according to a company news release. It offers attractive forage from early fall through early spring, providing big game animals with quality forage during the early, mid, and late season. Feed your passion with the new Fatal Funnel Clover & Chicory seed blend!
Final Destination
This formula is designed to keep big bucks browsing all winter long. Final Destination is also made in the USA using only a professionally selected blend of sugar beets and turnips. It is a premium food plot mix that will flourish in most climates as well as provide essential nutrients to your deer herd, the company said.
Cottonseed Deer Attractant
Also new for 2021 is Boss Buck's Cottonseed Deer Attractant.
It creates an irresistible, long-lasting mineral site that your deer herd will frequent all season long! The powerful high protein and phosphorus attractant works fast, lasts for weeks and most importantly, promotes antler grow and recovery after shedding. The new attractant is highly digestible by big game animals and is made with the best minerals available right here in the USA. All Boss Buck products are an ideal attractant for inventorying deer throughout the season using a Stealth Cam trail camera.