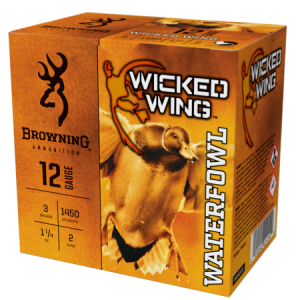 Just as fall waterfowl seasons are beginning to pick up, Browning has announced it is shipping its new Wicked Wing steel shot ammunition.
The company says this ammunition, available in 3-inch 12-gauge magnum in two loads, is designed for the serious waterfowler.
According to Browning literature, Wicked Wing "builds on the success of its predecessor, Browning BXD™ Waterfowl, by using the BXD wad system to improve pattern density."
"The aerodynamically stabilized wad system keeps shot together through the bore and then releases it in a controlled manner to produce dense patterns that put more pellets on target," Browning explained. "Wicked Wing also utilizes a proprietary steel shot that is treated for corrosion resistance to provide consistent patterns in varying conditions."
The two inaugural loads feature a 1 ¼-ounce payload in either No. 2 or No. 4 shot.