Review by Joseph P. Tartaro | Executive Editor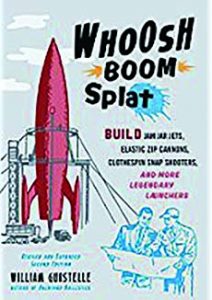 WHOOSH BOOM SPLAT, by William Gurstelle. ©2017. Published by Chicago Review Press, Chicago, IL. Well illustrated soft-cover book. 154 pages, including a Source of Materials list and Index. List price $16.99, also at lower prices from online book sellers.
The subtitle to this book is How to build jam jar jets, elastic zip cannons, clothesline snap shooters, and many more backyard ballistic devices.
This is a revised and expanded second edition of the title, featuring ballistic DIY projects alongside helpful and interesting historical context.
The author is an engineer by profession who is a ballistics historian who also wrote Backyard Ballistics. I believe he's also a kid at heart who revels in the amazing opportunities to help people build their own backyard rockets, catapults and other fun and educational projects.
The book also deals with important historical breakthroughs, such as Leonardo Da Vinci's steam cannon, or the origins of spud guns and other modern day backyard ballistics.
I reviewed an earlier and substantially different version of a Gurstelle book many months ago, and while I didn't actually make any of the ballistic devices detailed therein, I did see the enjoyment a neighbor with three little boys derived from actually doing so. And my neighbor is a computer geek, not an engineer of even a good craftsman. But he did have a lot of fun, and he learned a lot about ballistic weaponry. His kids had a great time, too.
The book contains a lot of how-to instruction for working, cutting, gluing and handling PVC pipe and other easily obtained materials, knowledge that may even come in handy for other more serious repairs around the home. In fact, this book provides a lot of useful how-to information, including where to economically obtain the necessary materials.
Just before the concluding chapter, the book contains a 10-page guide to building and shooting "Little Ludgar," the gravity-powered hurling machine. Before you get to that chapter, you'll learn a lot about sport science and building devices of varying sizes to hurl projectiles through your backyard space.
This is a fun book with a purpose.