Review by Joseph P. Tartaro | Executive Editor
Thank God I had a Gun
: 2ND EDITION, by Chris Bird. ©2014. Published by Privateer Publications, PO Box 29427, Dept. TGM, San Antonio, TX 78229; phone: 210- 308-8191. 369 pages with black and white photos, soft cover. Price $19.95. Available at some book outlets, as well as the
Second Amendment Foundation
, 12500 NE Tenth Place, Bellevue, WA 98005; phone: 425-454- 7012; online:
saf.org
.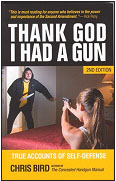 Seven years ago, Chris Bird, a displaced British journalist living in Texas, gave us an extraordinary book, the first edition of Thank God I had a Gun, featuring true accounts of self-defense by male and female Americans. In reviewing the first edition, I said it was more valuable than any polemic on the right to keep and bear arms.
Others, in the gun movement and politics, praised it because it was the definitive answer to any question like "Why does anyone need a gun?" Bear in mind that Bird is also the author of The Concealed Handgun Manual, and besides being a veteran police reporter for print and television news outlets, he was an officer in the Royal Military Police of the British Army, and active as a Texas concealed handgun instructor.
Now he has crafted a second edition to Thank God I had a Gun in which he has added several new analyses of actual encounters between armed citizens and predatory criminals, plus updated reexaminations of earlier studies. What is important is that Bird is a professional journalist who interviews the men and women who have successfully faced "the elephant" with firearms, in their homes and vehicles, in their businesses, and on the streets. He asks the questions most TV and newspaper reporters never ask and you seldom see in published or broadcast crime reports.
He actually interviews the intended victims of crimes, as well as the law enforcement professionals who investigated the incidents involving the armed victims. Then he interviews people weeks after the incident, and offers reflections on what went right or wrong during the encounter under study.
Some of the stories you may have heard about briefly in media reports, or even on the Internet, like that of the widowed 18-year- old mother in Texas in 2011, Sarah McKinley, who used a gun to protect herself and her baby from a determined intruder in her home. What you will not find anywhere except in Bird's Second Edition is the complete case study, the interviews and follow-ups, and the analysis of the encounter, including how and why McKinley acted as she did.
You'll learn a lot by reading Thank God I had a Gun in the Second Edition. And you'll probably want to lend your copy to anyone who questions how and why people need to own guns and should. The black and white photographs in the book are of real people whose adventures or misadventures are more exciting than any police drama.