The Citizens Committee for the Right to Keep and Bear Arms has released a a hard-hitting promotional message about Operation Fast and Furious that has a double-edged purpose: reach out to new potential members and build public pressure on Congress to act.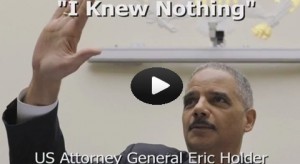 Incredibly, CCRKBA's video was released a few hours after the House Committee on Oversight and Government Reform revealed it would hold a June 20 hearing on the proposed contempt citation against Attorney General Eric Holder. Oversight Chairman Darrell Issa (R-CA) issued a draft of the contempt citation to his committee several weeks ago. The committee quickly split along partisan lines, and that is how the vote will likely be decided.
CCRKBA Chairman Alan Gottlieb told TGM that the timing was unintentional. Work began on the 60-second video about more than a week before Holder was grilled by the House Judiciary Committee, and at least two weeks before Issa, with the support of House Speaker John Boehner, announced the committee will finally take a contempt vote.
If the committee votes to hold Holder in contempt, then the full House of Representatives, which is controlled by Republicans, may act on the measure.
There are some powerful moments in the video, but perhaps none so pointed as this: "Now, imagine if you will, that you find out your own government has been selling guns to the Mexican drug cartel…"

Another spot that will likely be remembered is an image of Holder being sworn in to testify before Congress, with the overlay caption: "I knew nothing."
Issa's committee issued a subpoena to Holder and the Justice Department last October for tens of thousands of documents. To date, the department has released a fraction of the requested documents, including e-mails and memoranda, but other critical items have found their way into Issa's hands, including six wiretap requests that had been signed off by ranking Justice Department officials in the months prior to the slaying of Border Patrol agent Brian Terry in December 2010. Yet Holder and other officials maintain they did not know about the way the operation was being handled until later.
Gottleib called for Holder's ouster in the spring and summer of 2011 if he did not cooperate with the Capitol Hill investigation. The veteran gun rights advocate has reminded people that, unlike other government scandals, Operation Fast and Furious has resulted in numerous murders, including Terry's and an estimated 200 Mexican citizens.