By Mike Nesbitt | Contributing Editor
A few years back, I found myself with the burning desire to have one of the famous Remington rolling block sporting rifles in .44/77 caliber.
That's actually a famous combination and several target rifles as well as sporting rifles were made in that caliber. But my desires had some qualifications; my rolling block needed to be in very good if not new condition because I wanted to shoot it and have it give me top performance too, and it had to be something that fit nicely into my rather low or flimsy budget. Those qualifications meant I couldn't buy a collector's item and original Remington Number 1 Sporting Rifles are certainly commanding healthy prices. So, I'd have to build one. That's just what I did and here's how I did it along with mentioning the folks who helped me.
It all started with getting an original Remington action. That wasn't really hard to do, old military actions are certainly available. If you are looking for a rolling block action a good contact is Womack's Rolling Block Parts, to see their web site go to www.rollingblockparts.com.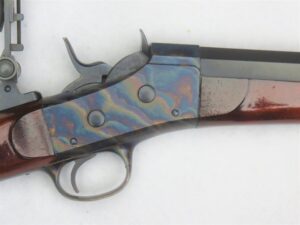 Added to that action was a .44 caliber barrel made for me by Oregon Barrel Company. To contact Oregon Barrel Company, visit the web site of The Gun Works in Springfield, Oregon, by going to www.thegunworks.com. That barrel was installed in my action by John Taylor of Taylor Machine, now working in Lewiston, Idaho, and John also reconfigured the action to give it the "octagon ring" of a #1 Sporting Rifle. The wood, nose cap and buttplate for this gun came from Treebone Carving in Nevada. Their web site is at www.treebonecarving.com. I'll tell you about each of these items, one at a time, but right now I want to focus on the bluing and color casehardening of this rifle, the finishing of the metal.
The bluing and color casehardening were done for me by Pat Dulin, one of the top craftsmen at C. Sharps Arms. The rolling block was sent to the shop at C. Sharps in pieces, fully disassembled, while the wood stayed home with me. The list of "to do's" that went with those metal parts included chambering the barrel, installing sights with a long-range Soule sight on the tang and a Globe sight with aperture inserts and a spirit level on the forward part of the barrel, knurling the hammer and block spurs, plus giving the barrel a good blue while the action got their standard color casehardening.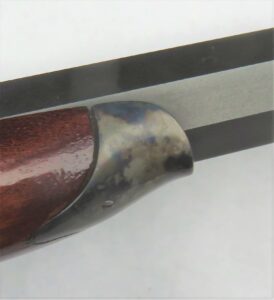 Pat contacted me to ask which type of bluing I wanted and my reply was to simply go for the standard job.  Sharps has fancier blue which requires a higher degree of polishing. Pat also asked me which color casehardening I wanted and, again, I went for the standard grade.  They also have pack hardening which I have selected on some of my Model 1874 Sharps but for this rolling block the standard color casehardening was my choice.
    To say that I was not disappointed is putting it mildly. I was delighted!! I didn't get to see the work done on the metal parts until I stopped in at C. Sharps Arms with the stock wood finished and ready to be put on the rifle. The job done on this rolling block was superb in every detail.  If these small pictures do the rifle justice at all, you will quickly agree with me.
     The cost for the bluing and color casehardening is one detail I won't tell you about.  The reason for that is because each job is different and if Sharps has a general price list for such doin's, I haven't seen it.  I will say this, if you have a bluing or color casehardening job you want done, give the folks at C. Sharps Arms a call at 406-932-4353to find out what the job will run for you. And C. Sharps Arms does specialize in work on the old Remington rolling blocks.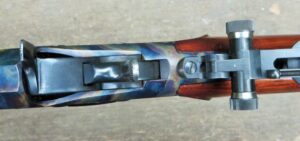 When my project to rebuild a military rolling block action into what should look like a Remington #1 Sporting Rifle began, one of the very first things that had to be found was a barrel in .44 caliber, to become this .44/77. My very first stop on that shopping trip was a good one and this rifle's barrel was ordered from Oregon Barrel Company in Springfield, Oregon.
Several things were considered before ordering the barrel and those included its weight and length in addition to the caliber. With those things in mind the barrel was ordered, outside dimensions were given for the breech and the muzzle for the 32-inch barrel in .44-caliber. Also specified was the bore diameter at .438" and the groove diameter at .446". Along with those spec's was the request for a rate of twist at one turn in 18 inches. The barrel was to be sent to me not threaded, not crowned and not chambered.
I might add that Oregon Barrel Company made special cutters just to make this .44 Sharps caliber barrel for me and now they are well equipped to make more .44 caliber barrels for the old Sharps cartridges.
Soon after getting the barrel, the action and barrel were taken to John Taylor in Puyallup, Washington to be fitted together. John is very experienced with rolling blocks and he put the pieces together just like they should be.
After getting the rifle assembled and completed, I spent a lot of time shooting it while looking for the load this rifle and its barrel would really like. That's when I decided to slug the barrel and, after doing it twice, the "slugs" were measured at .442". My findings alarmed me enough that I asked Kurt Altenburg and other old-timers if they had any experiences with "tight" barrels. It was Kurt who kindly pointed out how with a 5-groove barrel, getting .442" was right on the money for a .438/.446" bore and groove combination. Yes, I really felt like a fool!!
That's when I tried some 470 grain bullets from an old Lyman #446187 mold and immediately the groups were good. I wish that mold was still made today. The powder charge behind those bullets was 75 grains of Olde Eynsford 1 ½ F and that, for now, is my rolling block's standard load although I'll soon be trying some loads using Swiss 1 ½ Fg powder because the GOEX plant is closing.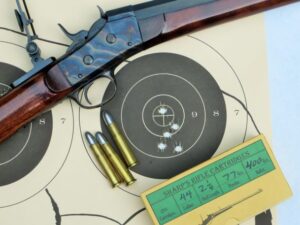 Now to mention the wood for the stocks and maybe this is where I should have started my tale but actually, I did start by getting the action. As already stated, the wood for the stocks came from Treebone Carving and George Peterson, owner of Treebone, was very patient with me as I hemmed and hawed about which butt plate style to get and so forth. Then I finally ordered the stock as you see it, with the shotgun butt. George quickly came back to me with, "Did you change your mind again? You said you were going for the crescent butt." Yes, a picture in Roy Marcot's book on Remington Rolling Block Sporting and Target Rifles shows a sporting rifle with a shotgun butt and that made it "legal" for me to try to copy.
Soon after my order was placed, the wood arrived and George did his best at sending me the grade of wood I wanted. I had asked for straight grain walnut and that's what I got but it is far prettier than a standard grade. In fact, Treebone no longer offers a "standard grade." He says he didn't have good luck in finding good quality standard grade wood so his bottom grade is "select standard grade" and that's what I asked for.
But George had a great thought when he remembered that he had just enough straight grain walnut left from the few pieces he had bought when the Axtell (Sharps) rifle shop was selling out. That was what my stocks were cut from and, as I hope the photos show you, I'm really delighted.
When the receiver for my rifle was modified to look like a Sporting rifle with the "octagon top," the front of the action was also milled to remove the small 'flange' that fits over the sides of the wood at the back end of the forearm. That made fitting the forearm easier but the similar flanges and angled fittings for the butt stock were not milled away.
Fitting the buttstock to the military receiver was an excellent exercise for an apprentice such as I. And, let me brag, I'm rather proud of the job I did on that. Fitting the forearm cap was actually easier and the butt plate and forearm cap were both supplied by Treebone. One more thing that makes me rather proud is that you can now see a picture of my rifle on the Treebone web site. Of course, Treebone has many more stock patterns than just for rolling blocks.
Now I feel like I should tell you about shooting with this .44/77 caliber rolling block. I have done some very good shooting with it and I have used it in competition. However, telling the shooting part will take more time and that will be another story.