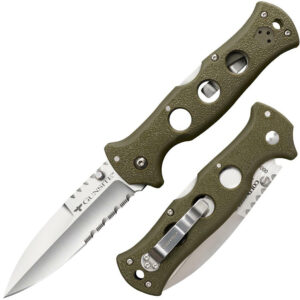 Cold Steel, manufacturer of purpose-built knives and blade tools for everyday carry, tactical, and hunting applications, has introduced the new Gunsite™ Counter Point 1 folding knife.
Featuring the Gunsite Raven logo across the blade, the Gunsite™ Counter Point 1 is the perfect addition to any range bag or for everyday carry needs, Cold Steel said in a news release.
Built around Cold Steel's heralded Tri-Ad® locking mechanism, the Gunsite™ Counter Point 1 stands ready for any task. The 4-inch stiletto-inspired spear point blade features a stylish false edge spine backed with jimping to ensure optimal blade control while an integrated thumb stud allows for smooth and quick blade deployment. Made of 3.5mm thick Japanese AUS10A stainless steel alloy to deliver exceptional corrosion resistance and edge retention in an easy-to-sharpen platform, the blade also includes an aggressive half-serration for expanded utilitarian performance.
Reinforced and heat-treated aluminum liners are flanked by Cold Steel's popular Griv-Ex™ handles in OD Green. The generous, highly tactile stippling found along the Griv-Ex™ handles offers a secure grip even with wet or sweaty hands. Assisting in the positive grip is an ergonomic contour with a prominent finger groove and integrated tang and butt profile to deliver a solid, comfortable hold for any cutting job.
With an overall length of 9 inches open and an ambidextrous pocket clip for tip-up carry, the 4.7-ounce Gunsite™ Counter Point 1 is a solid go-to folder that meets any challenge.
Specifications:
Item: CS-10ABV1
UPC: 813628005735
Weight: 4.7oz
Blade Thickness: 3.5mm
Blade Length: 4-inches
Blade Steel: Japanese AUS10A
Handle Length/Material: FDE 5-inches Griv-Ex™
Locking Mechanism: Tri-Ad® System
Overall Length: 9-inches
Additional Features: Ambidextrous Pocket / Belt Clip
MSRP: $129.99