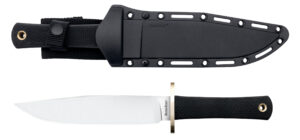 Cold Steel, manufacturer and innovator of purpose-built knives and blade tools for everyday carry, tactical, and hunting applications, has developed a new combat knife based on the company's popular Trail Master® Bowie.
Called the Recon Scout in 3V, this new platform delivers the broad-range function expected in a reliable, do-it-all fixed-blade but in a more compact size than traditional Bowies.
The Recon Scout in 3V is built around a modified Bowie blade profile. The 5/16th-inch blade has a broad yet subtle clip point with a 3.5-inch false edge, making it exceptionally strong and resistant to bending and breaking. The 7.5-inch overall blade length means the Recon Scout in 3V is comfortably manageable on the hip while delivering long reach for cutting and slashing.
Other features of this blade profile include a slightly curved edge and a modest belly. The gradual curve makes the Recon Scout in 3V suitable for draw cuts and chopping strokes. For more precise work, the belly curve presents optimal control for such tasks as skinning or field dressing.
Another advantage is the Recon Scout's 3V steel blade material. Known for its incredible toughness, edge retention, and corrosion resistance, the 3V steel blade makes it ideally suited for hard use in combat applications or any field work.
The Recon Scout in 3V offers a robust, ergonomic handle made of textured Kray-Ex™ to ensure a solid grip when hands are wet or slippery. The polished light gold colored quillon and lanyard bolsters provide elegant, functional accents to the black grip and satin blade finish.
For more information on this or any of the premium specialty knives from Cold Steel, visit ColdSteel.com.
Cold Steel Recon Scout in 3V Specifications
Model: CS-37RS
Weight: 9.5 oz.
Blade Thickness: 5/16 inches
Blade Length: 7.5 inches
Handle Length/Material: Kray-Ex™
Steel: 3V
Overall Length: 12.5 inches
Additional Features: belt sheath
MSRP: $474.99