Review by
Joseph P. Tartaro | Executive Editor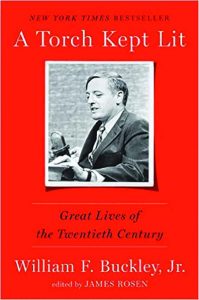 A TORCH KEPT LIT; Great Lives of the Twentieth Century, by William F. Buckley, Jr; edited by James Rosen. ©2016. Published by Crown Forum, a division of Penguin Random House. New York, NY. Hard cover, 324 pages. List Price $22, but less at Amazon.com and other storefront and other online retailers.
The late William F. Buckley Jr. was more than "the father of modern conservatism." He was a man of many talents and interests but, above all a writer of extraordinary grace and skill in his daily newspaper columns, his novels or polemics. Yes, he founded the magazine National Review, and yes, he hosted the long-running BPS talk show, "Firing Line." But in whatever he did, when it came to the use of words, he had an unusual eloquence, whether writing or speaking.
He also had a ringside seat at the last half of the 20th century, meeting with some of the most famous people and political people in US and world history, with many of whom he developed an unusual rapport.
Nowhere do the insights Buckley gained about prominent American and foreign leaders, or his special writing skills, show up so well as when he wrote eulogies for National Review on the passing of these people.
Now, another gifted writer and long-time observer of history, correspondent and journalist James Rosen, has edited a collection of 52 of these Buckley eulogies into a book that makes great reading, either in sections, by subject class or as a continuous read,
Buckley wrote about ten times as many eulogies in his time, but Rosen has chosen a great cross section, categorized as Presidents, Family, Arts and Letters, Generals, Spies and Statesmen, Friends and Nemeses. The presidents section includes Buckley's eulogies of Eisenhower, Kennedy, Johnson, Nixon and Reagan. The Generals, Spies and Statesmen section written by the former CIA operative includes Winston Churchill, William Colby, Princess Diana, Allen Dulles, Barry Goldwater, Richard Helms, E. Howard Hunt, Martin Luther King Jr., Golda Meir, John Mitchell, Jacqueline Onassis, and Vernon Walters.
The Nemeses section may be especially interesting to some GunMag readers because it includes Alger Hiss, John V. Lindsey, Ayn Rand, Nelson Rockefeller, Eleanor Roosevelt and Arthur Schlesinger Jr.
Of course, Buckley was a pro-Second Amendment guy, but not an activist for the right to keep and bear arms. Yet his perspectives on national issues of importance were always interesting, and they come out in his remembrances of those who preceded him.
Besides setting forth his approach to Buckley's writings on the great lives of the twentieth century, editor Rosen provides depth and perspective for each individual Buckley piece he has selected for this book. In doing so Rosen, who knew and interviewed Buckley and wrote for National Review as well as many other well-known publications, sets the background and personal color for each piece written by Buckley.
Anyone who follows contemporary politics, whether oriented toward the right or left, will find this a valuable and engaging examination of personalities that helped shape events in our recent history, without being a simple cut and dry history tome. You'll even get a few chuckles from Buckley's original eulogies or Rosen's editorial comments.