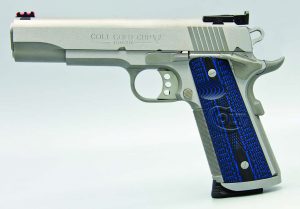 Colt, the company whose Gold Cup® has long been the pinnacle of performance in the world of competitive shooting, announced on April 13 the next generation Gold Cup® Trophy pistols.
Updated to meet the desires of today's elite shooters, the pistol is a modern take on the stalwart classic performance firearm that has helped so many competitive shooters achieve victory over the past century.
"We started the development of the new Gold Cup® Trophy when I decided to compete in the Bianchi Cup," said Mark Redl, Team Colt Shooter and Product Manager for Colt.
"Everything about this pistol was designed to make it an affordable option for the professional competitor to engage in the most elite shooting match in the world. We started with our standard Gold Cup® Trophy and upgraded it in the same ways that many enthusiasts and professionals do as they ship their beloved firearm around the country for costly specialty services. Now, for the cost of perhaps one or two of these services, you can buy a brand new Gold Cup® with the upgrades right from the factory."
This new Gold Cup® features Colt's competition ergonomics, including an undercut trigger guard and upswept beavertail grip safety, and Colt's Dual Spring Recoil System™ for improved recoil mitigation. Factory 25 LPI checkering on the front and rear strap of the grip, along with Colt branded blue G10 grips complete the stabilization package. Competitors will appreciate the firing system, which is now the Colt Series 70™ system, which reduces the number of moving parts in the trigger assembly, as well as reduces the length and weight of the trigger pull.
"Another big change for this model is that along with the traditional .45 ACP, it's also available in 9mm," said Redl. "The whole package makes this a really appealing handgun for world class competitors." The new Gold Cup® Trophy is available in 9mm and .45 ACP, both with an MSRP of $1,699.
For more information, visit online at: colt.com.
---
Winchester Model 1866 lever-action short rifle available

Winchester's Model 1866 lever-action "Yellow Boy" is now available as a short rifle, and it's an eye-catcher.
Featuring bright polished brass surfaces on the receiver and crescent buttplate, the Model 1866 has a Grade I American black walnut straight grip stock and classic rifle-style forearm.
Chambered in either .44-40 Winchester or .38 Special, the Model 1866 has a 20-inch round barrel and full-length magazine tube. The rear sight is a folding ladder type, and up front is a Marble Arms gold bead front sight dovetailed into the barrel.
This rifle features top ejection and a blue steel loading gate and action screws. The Model 1866 lever-action is aimed at the Cowboy Action crowd primarily, but may also be used for casual shooting and even hunting.