by Joseph P. Tartaro | Executive Editor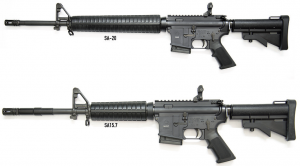 Colt Canada of Kitchener, Ontario, also the Canadian government's Center of Excellence for small arms and the Canadian military's sole supplier of the C7 rifle and C8 carbine, is reintroducing the popular Diemaco rifle brand to the Canadian commercial market, according to a July 2 announcement.
Through an exclusive distributor agreement with the Korth Group, a long established manufacturers' rep and distribution company, two Diemaco rifle models will now be available to the Canadian civilian market for the first time in the company's history.
"This is a historic step for our company and for sport shooters and collectors in Canada," said Matt Kirkpatrick, commercial sales coordinator for Colt Canada.
"After receiving all necessary licensing and approvals from the Royal Canadian Mounted Police and the United States government, we are thrilled to be able to provide Canada's firearms community with high-quality and respected firearms, made right here in Canada under the well-known Diemaco name. " The two models available to Canadian civilians are the SA20 and SA15.7. Both models are made to the exact quality specifications of their Canadian military counterparts, with the exception of having a semi-automatic-only mechanism. The SA20 is the consumer version of the C7A2. It features a 20-inch government profile barrel. The SA15.7 is the consumer version of the C8A3 carbine. It features a 15.7-inch heavy barrel with Special Forces Each Diemaco rifle features 1:7- inch twist rifling, 5.56 x 45 mm chamber, a fixed front sight with bayonet lug, six-position adjustable stock with butt pad, ambidextrous sling plate, a MIL-STD-1913 rail, and M4-style feed ramps for use with a wide range of commercial ammunition. Like military and law enforcement rifles, the barrels on both models are cold rotary hammer forged, and rifles feature Milspec forgings and components.
Each rifle ships with Colt Canada's new magazine block locking device, a folding rear sight, an Otis cleaning kit, a barrel cap and standard sling.
The rifles feature the maple leaf roll stamp and the iconic Diemaco proof mark on the side of the lower receiver. Both models are classified as restricted firearms under Canadian law. Colt Canada also expects to release five new Diemaco models to the Canadian commercial market this fall.
Dealers should contact the Korth Group for more information.
New Noveske CEO Tim Dillon, a familiar name and face in the firearms industry for over 25 years, has been brought on by company owner Lorina Noveske as president and CEO of Noveske Rifleworks LLC in Grants Pass, OR.
Dillon has previously played a wide variety of executive experience at such companies as Brownells, STI International and Springfield Armory. Tim will be responsible for the daily operations and continuing the legacy of the late Johnny Noveske's vision of producing the finest AR-based rifles, parts and accessories to a demanding customer base.
"Since the passing of my husband, the founder of the company that bears our name, it has been my goal to continue the strength, quality, and character of our company's impeccable product and brand," said Mrs. Noveske.
"I couldn't be more fortunate to bring Tim Dillon onto the team as President/CEO of Noveske Rifleworks LLC. Not only does he bring extensive knowledge of business within the firearms industry, he observantly respects and understands the history of Noveske." Noveske Rifleworks, formed in 2001 by John Noveske, is a leader in the industry, known for its rifles featuring an extended life competition grade barrel, improved 5.56mm chamber, KX3 muzzle device, the Switchblock gas block system and the NSR lightweight rail system.