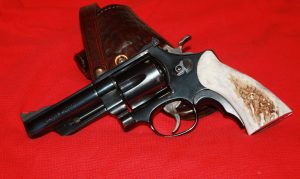 By Dave Workman
Editor-in-Chief
"Constitutional carry" appears to be on a roll, with three more states having adopted legislation in recent weeks, and the Guardian is reporting "momentum toward permitless (carry) is unmistakable, as new laws give millions of Americans increasingly unfettered access to firearms even as gun violence rises across the country."
While the Tuesday report focuses on passage of permitless carry in three more states—Alabama, Indiana and Ohio—there is more to this phenomenon than just returning to a time when no permits were required to exercise the right to bear arms.
As the story notes in its third paragraph, "the bills have been criticized by police and gun control advocates, who argue that removing permits poses a safety risk to citizens and law enforcement officers."
But proponents of constitutional carry without a license or permit challenge that thinking by asking what additional risk would peace officers face, considering that criminals already go armed without permits, and have been doing so for generations?
For example, in Washington State this month, two lawmen—Pierce County Sheriff's Deputy Dominique "Dom" Calata and Everett Police Officer Dan Rocha—were both murdered on duty allegedly by armed, convicted felons who were barred by existing law from having firearms.
The man who killed Calata was shot dead by other officers at the scene. The suspect in Rocha's murder, identified as Richard James Rotter, is being held in the Snohomish County jail on $5 million bail.
The Guardian quoted David Yamane, author of Concealed Carry Revolution: Liberalizing the Right to Bear Arms in America, observing, "It's really picked up steam in the last decade with the progression of the idea to make it easier for people to carry concealed firearms without restrictions."
However, contrary to what gun prohibitionists might want the public to believe, Yamane added, "It's not throwing out all restrictions. You still can't carry in federal buildings or on school property…" He also said only people who can legally carry a firearm are allowed to do so with permitless carry. If you've got a criminal record, you still can't possess a gun. That does not appear to deter criminals.
In the midst of this tidal change toward carrying firearms for personal protection, The Trace—a pro-gun-control news organ founded and supported by anti-gun billionaire Michael Bloomberg—is reporting the Biden administration exclusively provided a document to the publication regarding the administration's "comprehensive gun crime reduction strategy." 
According to The Trace, Stefanie Feldman, deputy assistant to the president and senior adviser to the Domestic Policy Council, says that council "has organized a 12-person team to drive a gun violence reduction agenda." Feldman's brief on Biden's gun control agenda may be read here.
According to Feldman, "We have made strong progress by rolling out and executing on the President's comprehensive gun crime reduction strategy. This strategy contains five key components:
Stemming the flow of firearms used to commit violence,
Supporting local law enforcement with federal tools and resources to put more cops on the beat and address violent crime
Investing in evidence-based community violence interventions
Expanding summer programming, employment opportunities, and other services and supports for teenagers and young adults to give them pathways away from crime
Helping formerly incarcerated individuals successfully reenter their communities instead of re-offending.
The Trade report repeatedly uses the term "gun violence" while carefully avoiding the term "gun control," instead calling it "gun reform." Likewise, Feldman's blog entry mentions "gun crime reduction" and "gun violence," but not "gun control."