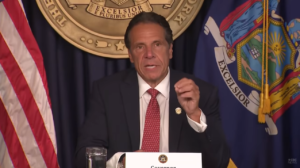 By Dave Workman
Editor-in-Chief
UPDATED: Scandal-plagued anti-gun Democrat Gov. Andrew Cuomo is stepping down in two weeks amid growing allegations of sexual improprieties, and ironically, his replacement will Lt. Gov. Kathy Hochul, a moderate Democrat from Buffalo in western New York.
She will be the first female governor inthe Empire State's history.
New York State gun rights activists have wanted to be rid of Cuomo for several years. Whether they fare better with Hochul, a former Congresswoman and municipal office holder, remains to be seen. But western New York is less hostile to gun rights than where Cuomo's liberal base resides in New York City.
Cuomo is bailing out in an apparent effort to escape impeachment, which was a growing possibility following serious allegations of sexual harassment of "multiple women" including executive assistant Brittany Commisso. She revealed an alleged incident with Cuomo in an interview with "CBS This Morning" and the Albany Times-Union.
It was not looking good for Cuomo, yet his resignation still came as a surprise to many people. His top aide Melissa DeRosa resigned late Sunday, according to CNN. The network noted this came "less than a week after the release of a report from the state attorney general that found Cuomo sexually harassed 11 women." Cuomo has denied the allegations.
Even the media, which has steadfastly supported Cuomo in the past, had turned on the governor in recent days, and high-caliber Democrats implored him to step down, including Sen. Charles Schumer and President Joe Biden.
Writing at Fox News, media analyst Howard Kurtz noted, "From major news organizations to liberal commentators, there is a remarkable unanimity of opinion that the governor must resign."
A few lines later, Kurtz quotes the New York Times—previously a staunch Cuomo supporter—which has called on Cuomo to quit. "Regardless of what may happen in a court of law," the Times said, "the governor has only one conscionable option left: He should resign …"
Likewise, the Washington Post "wants him out," Kurtz added.
"If there was any doubt about Mr. Cuomo's fitness to continue in office," the WaPo said. "it was removed with the details of his treatment of women and the toxic culture of the governor's executive chamber that enabled the harassment to occur. It is dispiriting to read in the report how the governor's staff, acting either out of loyalty or fear, cosseted the governor and enabled his behavior."
Cuomo is disliked by Empire State gun owners for signing the Secure Ammunition and Firearms Enforcement (SAFE) Act in 2013, and for championing other gun control efforts. Last month, he declared a statewide "gun violence disaster emergency" and created the "Governor's Council on Gun Violence Reduction."
may not be out of trouble, either, and his problems may be more immediate. According to the Associated Press, "Cuomo still faces the possibility of criminal charges, with a number of prosecutors around the state continuing to investigate him. At least one of his accusers has filed a criminal complaint."
Republicans want him impeached, anyway, to prevent him from running for political office again, the AP story said.
New York's Democrats have not been too successful in public office in recent years. Former Gov. Eliot Spitzer, who left office amid a prostitution scandal. Congressman Anthony Weiner landed in prison for "sexting" with a 15-year-old girl, the AP noted, and former Attorney General Eric Schneiderman quit in 2018 "after four women accused him of abuse."
In his article, Kurtz explains why his former supporters in the media want Cuomo to step down, and also notes that powerful Democrat allies including Joe Biden, Chuck Schumer, Kirsten Gillibrand and Nancy Pelosi have also apparently said he should go.
"The Cuomo brand is now so toxic," Kurtz wrote, "given the chilling details in the investigative report, that it's untenable for Democrats to support him — or even stay silent."
While it is not his extremist gun control policies that may drive him from office, a Cuomo departure is not going to bring tears to New York gun owners and activists.