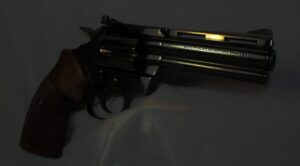 By Dave Workman
Editor-in-Chief
Just hours after the City Council in Tacoma, Washington reportedly "invested thousands of dollars toward cracking down on gun violence in its streets," a 29-year-old woman was found fatally shot, in a crashed car on the city's waterfront.
The scene was a grim reminder that it takes more than money and "creating work groups, and finding best practices of where to spend money toward gun violence prevention efforts."
According to KCPQ News, the Seattle-based Fox affiliate, Tacoma—nicknamed the "City of Destiny" and somewhat famous for its deep water harbor in Commencement Bay and the spectacular view of Mount Rainier on a clear day—saw a 37 percent increase in gun-related crimes between 2014 and 2018. Last year, the city reported a 47 percent increase in homicides over 2019, including 21 victims who died from gunshot wounds.
Earlier this year, KCPQ reported the city logged 18 slayings in 2018 and 21 in 2019. But last year the number spiked to 32, according to KIRO, the Seattle-based CBS affiliate. Some have suggested the higher number of murders in the region—Seattle racked up 52 murders, the highest number in many years—to the COVID-19 shutdown. But, as underscored by the Tacoma council's "investment" of $25,000 for "researching how to address gun violence," liberal elected officials are also blaming firearms.
Grassroots gun rights activists call this the "blame the gun" syndrome. When someone is murdered with a knife, the media doesn't call that "knife violence." When they are killed with hammers, clubs, crowbars, tire irons or other tools, nobody calls it "blunt instrument violence." But when bullets are involved, that somehow becomes "gun violence," a term activists say was invented by the gun prohibition lobby to demonize firearms.
According to KOMO News, the Seattle-based ABC affiliate, the mortally-wounded woman "was found unresponsive at the scene, with one or more gunshot wounds. Life-saving measures were attempted but they were unsuccessful, and the woman was pronounced dead at the scene."
The station noted there was "no immediate word on a suspect." So far, Tacoma Mayor Victoria Woodards, a Democrat, has not called for more gun control. It might become a toxic subject, since there are more than 80,500 active concealed pistol licenses in Pierce County, where Tacoma is the county seat. According to the state Department of Licensing, as of March 31, there were more than 621,000 active CPLs in the Evergreen State, down 29,000 in the past year possibly due to the inability of citizens to renew, or a change in the law that no longer allows possession of a valid a CPL to allow same-day-delivery of a handgun to a purchaser.
Ratcheting down on the rights of law-abiding firearms owners is typically the first reaction from Democrats from one Washington to the other, rights activists routinely complain.
The spike in violence and murder in Tacoma is not likely to be curbed by a modest program to create "work groups" that talk a lot about where to spend more money to prevent "gun violence." According to KCPQ, "City council says they expect to get answers from this research by the end of this year." That is a long time to wait while the problem is right here, right now.
"These dollars," says KCPQ, "will also be used to hire a research team to address gun and youth violence reductions."
How will this team "address" these issues, beyond calling for more restrictions on gun owners who have not harmed anyone? That was not explained.