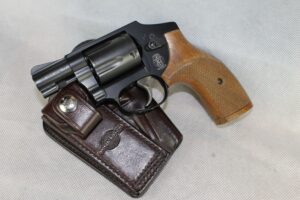 By Paul Lathrop
Contributing Editor
The Delaware Republic is reporting that bills that would create a permitting scheme to purchase a firearm and create a ban on standard capacity magazines moved quickly out of committee and to the Delaware Senate floor on Wednesday.
Senate Bill 3 would create a licensing system in which a person would have to submit fingerprints and get training before applying to get the permit to purchase a handgun.
Part of the synopsis of SB 3 explains:
"This Act does all of the following: (1) Creates an application process to obtain a handgun qualified purchaser card to authorize the purchase of a handgun. While an applicant will incur costs related to fingerprinting and required training, a fee will not be charged to obtain the permit. (2) Requires licensed importers, manufacturers, or dealers, as well as unlicensed persons, to require an individual to present the individual's handgun qualified purchaser card before selling or transferring a firearm to an individual. (3) Requires that an applicant complete a firearms training course within 5 years before the date of application, similar to what is required by Delaware's concealed carry permit law. An individual licensed to carry a concealed deadly weapon is exempt from this requirement as they must already complete a firearms training course to be licensed."
This bill would create a considerable expense for poor people who want to buy a handgun to defend their homes and families, according to critics. To acquire a permit, the person requesting the permit must pay for fingerprinting and for training similar to that required to get a concealed carry permit. That could easily add up to more than the cost of a budget-priced handgun.
Senate Bill 6 would outlaw any magazine with a capacity larger than 17 rounds. Delaware residents would have until June 30, 2022 to sell their "large" capacity magazines to the state if it passes.
The synopsis from the Delaware General Assembly states:
"This Act creates the Delaware Large Capacity Magazine Prohibition Act of 2021. The Act includes clear definitions for the term 'large-capacity magazine,' as an ammunition feeding device with a capacity to accept more than 17 rounds of ammunition. After enactment, possession of large-capacity magazine will be a class B misdemeanor for a first offense and a class E felony for any subsequent offense. Those who possess a prohibited large-capacity magazine when this Act takes effect must, by June 30, 2022 relinquish the large-capacity magazine to a law-enforcement agency in this State. This Act establishes a buyback program for large-capacity magazines, to be overseen by the Department of Safety and Homeland Security.
Notice that there is no exception for currently owned magazines and no option to move the presently owned magazines out of the state.
Governor John Carney has stated that he supports both bills.