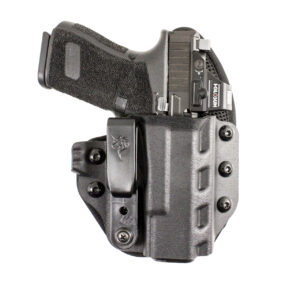 DeSantis Gunhide® has introduced a new fitment for the Uni-Tuk™ holster.
The Uni-Tuk™, #206, is the latest addition to the Pegasus® Kydex® line, according to a company news release. This IWB holster features a precision molded Kydex® front married to a back component which is an all synthetic and a "breathable" platform. This allows airflow for a "keep cool" IWB carry.
The Uni-Tuk™ features multiple points of tensioning for a customizable fit. It is equipped with the company's proprietary Tuckable 360 ® C Clip, which can be adjusted for both height and cant with 360° of rotation. The built-in Spur™ which acts as a "claw," is an integral part of the holster body, enhancing concealment.
MSRP is $89.99 This holster now comes in a size to accommodate the GLOCK 17, 17 GEN 5, 19, 19 GEN 5, 19X, 22, 23, 26, 26 GEN 5, 27, 31, 32, 33, 45, 47 with or without reflex sight.