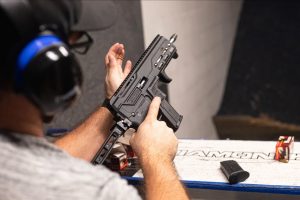 Diamondback Firearms, creator of high quality firearms and industry leading components, has introduced their latest offering, the DBX 5.7.
The DBX 5.7 is a one-of-a-kind semi-auto pistol chambered in 5.7x28mm with an 8″ barrel. It has a standard AR-15 mil-spec trigger and a Magpul MOE-K grip. Featuring a hard coat anodized 7075 aluminum frame and a 6061 aluminum handguard, the design includes a DBX muzzle device, a Magpul Handstop kit and a 20-round magazine. The DBX 5.7 also comes equipped with a rear Picatinny-mounted, side-folding brace. With the brace, it has an overall length of 25.4 inches versus a 16.1-inch length without the brace. It has a slim profile of just 1.25 inches and weighs 3 pounds unloaded without the brace.
Diamondback unveiled this highly anticipated new product at Range Day for SHOT Show 2020 in Las Vegas, NV where media attendees were able to handle and test the product at a live fire range in the desert. With overwhelming positive feedback, Diamondback will begin shipping the DBX 5.7 May 7.