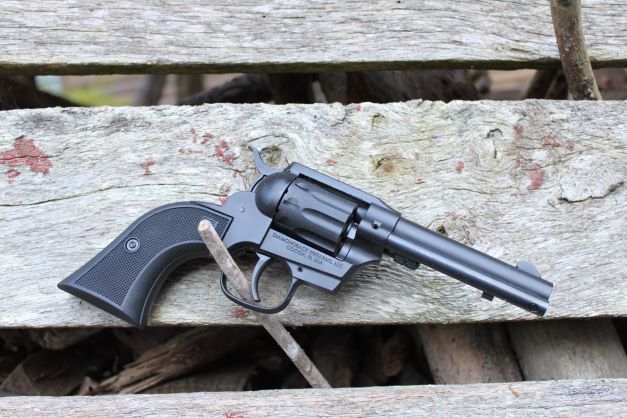 By Jim Dickson | Contributing Writer
The Diamondback Sidekick double-action .22-caliber revolver is the reincarnation of the long lamented High Standard Double Nine .22 wheelgun from a couple of generations ago.
It is a handgun that looks like a classic single action but is actually a double action with a swing-out nine shot cylinder.
The Diamondback comes with both a .22LR cylinder as well as a .22 magnum cylinder. It is the proper size for a .22 revolver at 32.5 ounces and 9.875 inches overall length with a 4 ½-inch barrel. It is finished with modern black Cerakote, which is exceptionally durable. There is a passive hammer block safety that prevents the gun from firing unless the trigger is pulled so you don't have to worry if the thumb slips off the hammer when cocking.
The swing out cylinder is locked in place by a projection from the star ejector that locks into the frame. It can be released to swing out the cylinder by either pulling the ejector rod forward or pushing the old single action style ejector tab forward. One of these must also be pulled out to close the cylinder as the locking projection will otherwise block closing.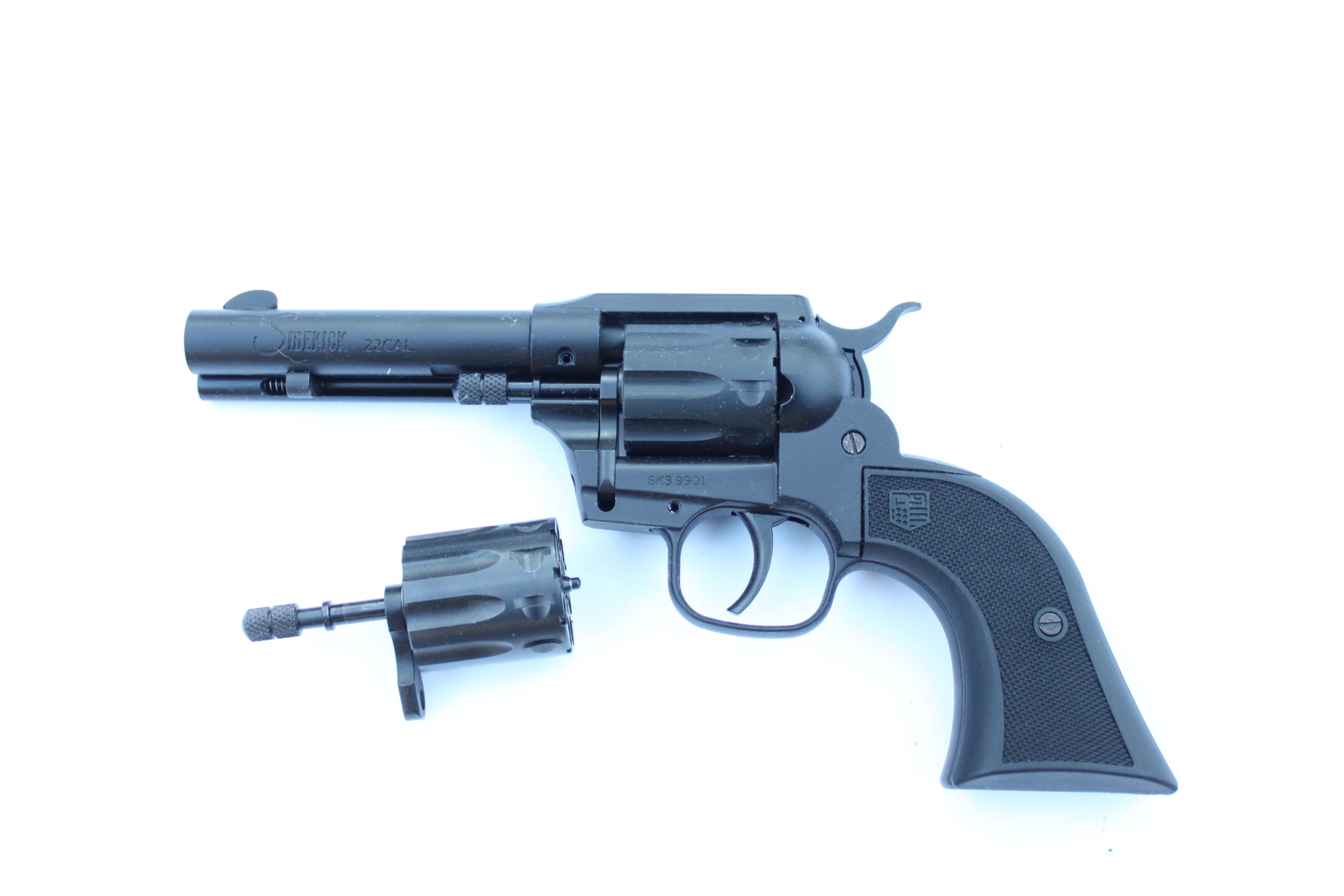 The cylinder and crane assembly may be changed by pushing in the hole in the front of the frame with a small punch while the cylinder is rotated out of the frame. Gently remove the cylinder and crank link assembly, taking care that the link pivot pin and it's spring don't fly out and get lost. At one point you will have to take the punch out as the crank link assembly will now hold the pivot pin in until it is free. The pivot pin and spring will then pop out so don't lose them.
If you are shooting a brick or two of .22's at a time you will really appreciate the high capacity 9 shot cylinder and the ease of ejecting the empties and reloading. Remember the Colt SAA with its side loading gate and push rod extractor has the same rate of sustained fire as a cap and ball Colt using paper cartridges. That's not very fast. You need to shoot a lot of ammunition to truly master the handgun and speed of reloading is important if you intend to shoot a lot at one time.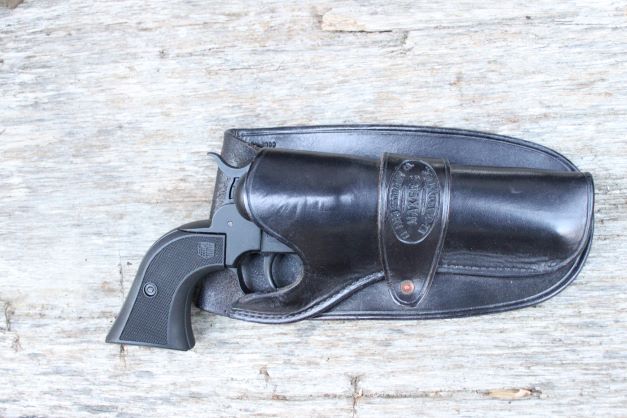 Most folks prefer to shoot a handgun single action and save double action for emergencies. This gun is perfect for that. It also makes an excellent double action pistol for those seeking to master double action shooting. If you have to defend yourself at close quarters with your .22 pistol, you will be really grateful for how fast you can empty those nine shots into your foe firing double action.
When I picked up the test pistol at Reeves Ace hardware in Clayton, Georgia, I was well pleased with how much gun it was for so little money. This is a very economical model with an MSRP of $320. The distributers demanded such a low wholesale price that the only way to meet their demands was to use zinc for the frame and grips. This is high strength Zamak 5 zinc and perfectly adequate for the stresses of .22 rimfire ammunition. The firing pin hole is steel lined for extra strength.
Anti-gun politicians are responsible for giving zinc a bad name. Zinc was used in cheaper guns because it was less expensive to make grips and frames from it. Anti-gun politicians called these "Saturday night specials" and "Cheap pot metal guns" in an attempt to prevent the poor from having a means of self-defense and make them clamor for more government protection.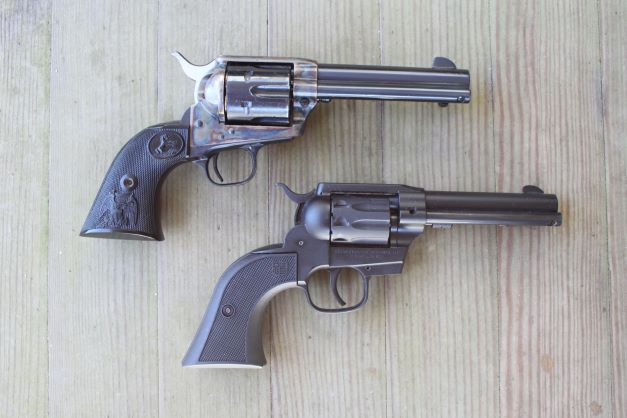 While not as large as the classic Colt SAA that inspired its creation the Diamondback does fit nicely in holsters for the Colt SAA as shown by the test revolver in an El Paso Saddlery Model 1890 holster for a Colt SAA .45. However, when I tried it in an El Paso Saddlery pancake holster for a Colt SAA the thumb break snap would not reach all the way over far enough to snap shut so there is a problem of dimensions. The bigger double action trigger guard makes them stick out of the holster just far enough that the snap won't reach.
While this is a service grade gun with fixed sights, the factory expects all of them to shoot 1-inch groups at 25 yards so they have more than adequate accuracy for their intended uses. If you need more accuracy than one inch at 25 yards then I suggest you shell out the money for a Marvel Precision LLC .22 conversion unit for a M1911A1 or a current production High Standard .22 match pistol. These will also serve you well at the National Matches at Camp Perry each year. Most folks can't shoot that good though.
The economical, hardworking .22-caliber revolvers fill most of the public's needs for a rimfire pistol quite adequately. Most of these guns are bought for plinking and that is how the greatest pistol shooters began. Trappers normally carry a .22 to dispatch game in their traps. This calls for precision shooting at ranges measured in feet, not yards. In both these cases the .22 often does double duty as a protection gun.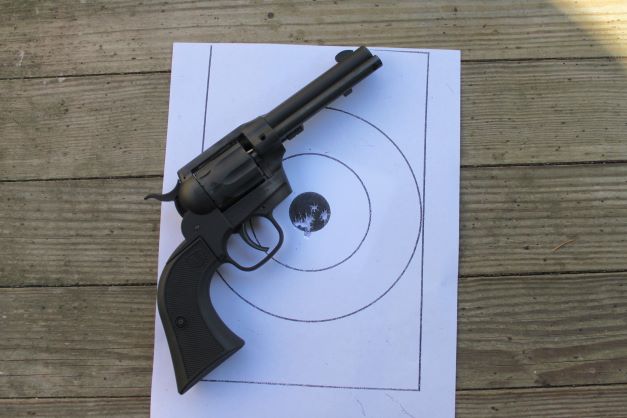 While no manstopper by any means, it should be noted that it takes a pretty determined assailant to keep coming after repeated hits from a smallbore sidearm. At least with this one you have a .22LR cylinder for more economical practice and a .22 magnum cylinder for a bit more power in a defensive situation.
The problem with a single action for the casual user as a home defense weapon is that they may forget to cock it in a panic situation. With this one you don't have to worry about that. Just aim and pull the trigger. Best of all this is a nine shooter so they can keep on pulling that trigger and getting more effect with each shot.
I had 1925 rounds for test firing. 1125 were .22LR and 800 were .22 magnum. They consisted of:
500 rounds Remington Thunderbolt .22LR
500 rounds of Remington .22 magnum
300 rounds of CCI .22LR HV Target Red Polycoat LRN
150 rounds of CCI .22 magnum Maximag TNT
150 rounds of CCI Maximag Varmint
350 rounds of Federal .22LR Automatch
The Diamondback should be gripped high for either single action or double action shooting. It is capable of some very precise paper punching but hitting a moving tin can as you keep it hopping is more fun for me and after getting some good paper target groups I set out to have fun with this gun. You just can't beat hitting a moving target with rapid-fire from a pistol using either single action or double action shooting.
This is a well-made, dependable, fun gun that will give years of service and pleasure for a very small price.