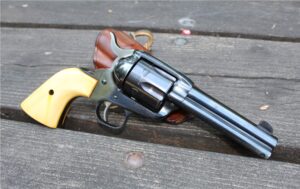 By Dave Workman
Editor-in-Chief
Since before the Civil War, single-action revolvers have been carried by men and women on both sides of the law, they have played a major role in the nation's settlement, often provided food for the table and sent more desperadoes to the hereafter than can probably be counted.
Technology and time being what they are, the single-action sixgun has been surpassed by double-action revolvers and semi-automatic pistols, but does that make it any less viable a choice for personal protection outside the home?
Chambered these days for a variety of potent cartridges including the .357 Magnum, .41 Magnum, .44 Special, .44 Magnum and the .45 Colt—all of them proven fight-stoppers—the traditional single-action revolver most identified for its role in helping to tame the frontier could still be considered a formidable defensive firearm in the hands of someone skilled in its use.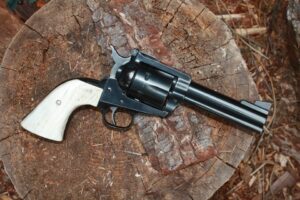 I carry one occasionally, usually out in the wilds, in either .41 Magnum or .45 Colt, both with 4 5/8-inch barrels. Both are Rugers, one a Blackhawk and the other a New Vaquero, and they have very good actions with which I've never tinkered. With handloads, I can hit what I'm shooting at consistently. My pet load in .41 Magnum is 20 grains of H110 pushing a 210-grain Nosler JHP with a magnum primer, while the .45 likes a Hornady RNFP 250-grain lead bullet pushed by 6.9 grains of HP-38, ignited by a standard primer.
I also occasionally have carried a small Ruger Single-Six with fixed sights. Chambered for the .32 H&R Magnum, a cartridge I believe is unfairly under-rated as a defensive caliber, this little sixgun is both fast and accurate. The cartridge is capable of impressive ballistics, pushing 100-grain bullets out of a 5-inch barrel at more than 1,000 fps with the right propellant,andI've shot some factory loads that delivered a punch as well. For example, Federal offers a load in its Personal Defense ammunition family with an 85-grain JHP bullet that clocks an advertised muzzle velocity of 1,120 fps.
While these guns and loads are more at home in the wilds, under a winter parka they carry quite well in high-ride concealment rigs I personally built.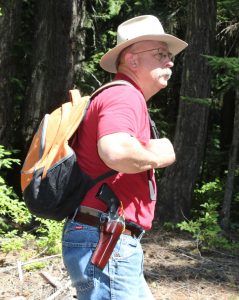 But others carry single-action rigs with more frequency. One guy I've known for years who has done that is retired Cincinnati Police Lt. Harry Thomas. A Cowboy Action shooter for many years, Thomas chatted with TGM via telephone about his guns and gear.
One of the reasons he started carrying single-action sixguns was a matter of style, he acknowledged.
"I've always been a fan of those things," he said. "One caveat is that when I do it, I carry two of them. For a lot of people, that's not going to be an option, but on the job I carried 25 pounds of equipment, so for me, carrying two sixguns is not a burden."
Harry is pragmatic about his anachronistic choice of sidearms.
"For a lot of people," he observed, "they want what's the lightest, fastest and most compact. But, I think (single-actions) are probably about as good for an accurate first shot as anything out there."
He has a pair of Colt Single Actions, both with 5 ½-inch barrels, and he has a pair of Cimarron Thunderers, both with birdshead grips and 3 ½-inch barrels. All of these guns are chambered for the .45 Colt cartridge, and on the street, he loads up with factory full-house ammunition, while he uses lighter "cowboy" loads when he is competing. He has slicked up the actions in his guns, replacing the flat mainsprings with coil springs, and he replaced the base (cylinder) pins with after-market models from Belt Mountain.
He has two setups for carry. For belt wear, he carries the sixguns—each loaded normally with five rounds and an empty chamber under the hammer, just like they did in the Old West—in a pair of Mernickle holsters. He also has a double shoulder holster rig made by El Paso Saddlery.
"If you want to choose (a single-action) as a defense gun," he said, "the little 3 ½-inch guns are good choices."
The .45 Colt cartridge is no slouch when it comes to stopping unpleasantness immediately. Western cemeteries provide ample evidence, and in those days, the .45 was a black powder cartridge and the bullets were all lead. Today's .45 Colt ammunition uses smokeless propellant, and the rounds are often a bit friskier in terms of performance. Federal, Remington, Winchester and others manufacture loads with modern jacketed bullets as well as lighter "cowboy loads" so there is a good selection available, provided one can find ammunition.
For handloading, there are all kinds of bullet and powder combinations, so consult a loading manual and find out just how much horsepower you can unleash without damaging the gun. I've found one recommended load using a 250-grain Hornady XTP hollowpoint over 8.8 grains of CFE Pistol propellant that reportedly launches out of a 7.25-inch barrel at 915 fps.
There's a load using 9.2 grains of CFE Pistol behind a 250-grain LRNFP bullet that leaves the muzzle at 1,014 fps, and since I happen to have both bullets and that specific powder, the winter months ahead will provide opportunities to try them both, prudently working up to the maximum loads.
"For someone who is competent," said retired cop Thomas, "there is no reason why a single-action isn't a perfectly good option."