By Joseph P. Tartaro | Executive Editor
Americans are concerned enough about the violence criminally committed with guns that they believe the government should adopt policies and create laws to reduce the numbers of those incidents which garner front page newspapers headlines and "breaking news" screamers on television. The problem is there appears to be no consensus on what should be done.
Some politicians and much of the media seem to be fixated on recreating President Bill Clinton's 1994 ban on so-called semi-automatic firearms and full capacity feeding devices.
But the American public isn't on the same wavelength as headline grabbers like Nancy Pelosi, Charles Schumer and Dianne Feinstein. As a result of a public opinion poll conducted in early October, Gallup Polls found that the fewest Americans in 20 years favor making it illegal to manufacture, sell or possess semi-automatic guns commonly labeled "assault rifles." Thirty-six percent now want an assault weapons ban, down from 44% in 2012 and 57% when Gallup first asked the question in 1996.
Gallup reported two years after President Bill Clinton signed his federal "assault weapons" ban that a solid majority of Americans favored such a ban. By the time the 10-year ban expired in 2004 however, Americans were evenly divided. And by 2011, public opinion had tilted against the gun ban, with 53% opposed and 43% in favor. In Gallup's latest poll, opposition now exceeds support by 25 percentage points, 61% to 36%.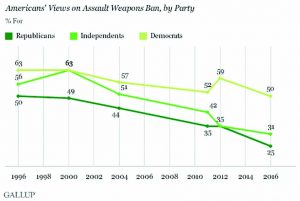 Currently, Gallup reported, 50% of Democrats and 25% of Republicans favor a ban; in 1996, 63% of Democrats and 50% of Republicans did so. The partisan gap in support has doubled, from 13 points in 1996 to 25 points today.
Independents also have grown less inclined to back such a ban, dropping from a peak of 63% in favor of a ban in 2000 to 31% in the latest poll. From 2004 to 2011, support among independents plunged from 51% to 42%, echoing the nine-point drop among Republicans during that period.
Support for a ban has declined among both those with and those without a gun in the home. In 2004, 55% of those in non-gun households supported a ban; this year, 45% do. Likewise, while those with a gun in the home have never favored a ban on assault weapons, support is now at an all-time low of 26%.
Gallup found that in an era of ongoing terrorist attacks and mass shootings in the US, Americans are now more likely to oppose an "assault weapons" ban than they have been in two decades. One reason may be the large increase in opposition to such a ban among Republicans. Whereas 20 years ago half of Republicans were open to such legislation, now only one in four are. But politics alone do not explain the declining support, since it has dropped among independents and Democrats as well, although on a smaller scale.
It is possible, Gallup reported, this represents a backlash against calls by some in the national media and the federal government to ban certain weapons after mass shootings occur. This backlash may reflect growing apprehension that the government may infringe upon particular civil and personal liberties. Gallup finds even lower levels of support for other potential bans, such as those on handguns and cigarettes.
It is striking—and unusual—that fewer Democrats than ever support an assault weapons ban, since the Democratic Party has been instrumental in pushing for stricter gun laws and has made the issue of gun control a key component of its national presidential plank. Support for a ban on semi-autos in particular and other gun control measures has become an article of faith among Democrats, especially at the federal level.
Results for this Gallup poll reported are based on telephone interviews conducted Oct. 5-9, 2016, with a random sample of 1,017 adults, aged 18 and older, living in all 50 U.S. states and the District of Columbia. For results based on the total sample of national adults, the margin of sampling error is ±4 percentage points at the 95% confidence level. All reported margins of sampling error include computed design effects for weighting.
Each sample of national adults includes a minimum quota of 60% cellphone respondents and 40% landline respondents, with additional minimum quotas by time zone within region. Landline and cellular telephone numbers are selected using random-digit-dial methods.
Polls conducted by Gallup and other public opinion researchers clearly indicate support for the government to do something,
But there seems to be no clear road signs to a particular course of action.
When the Democrats take over the House of Representatives in January, you can bet gun control will be high on their to-do list. But will the public support what they want to enact. Clearly there is no consensus.