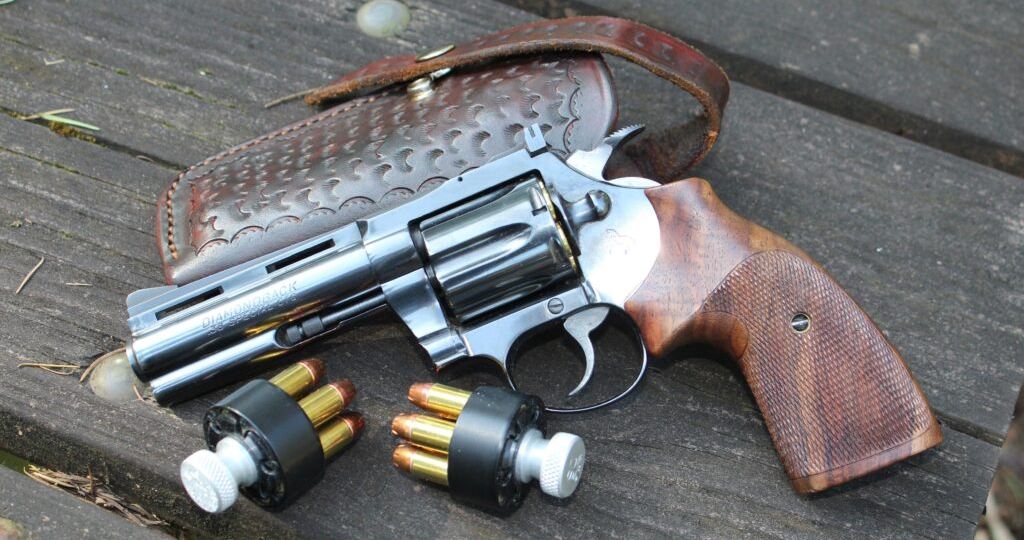 By Dave Workman
Editor-in-Chief
One of my prized possessions is a Colt Diamondback six-shot revolver, acquired in late summer 2010 from an estate sale for probably much less than it was worth, and it has served quite well over the past 13 years primarily because it has not been abused with pushing-the-edge handloads.
Chambered for the reliable .38 Special cartridge, the Diamondback—which I've always considered a beefed-up Detective Special with adjustable sights and that unmistakable full underlug barrel with the Python-type vent rib on top—is a versatile little handgun.
Mine has a 4-inch barrel, and it has served as a concealed carry sidearm, trail gun and for home defense. It's also not too shabby as a target gun when used with quality target-grade ammunition (my personal loads are a 158-grain lead SWC ahead of 3.5 grains of Hodgdon HP-38 or a 125-grain JHP over 4.7 grains of HP-38, the latter which doubles as a small game load*).
Originally introduced in 1898, making this the 125th anniversary of this cartridge, the .38 Special actually launches a .357-caliber projectile, same as the more powerful .357 Magnum, which came along in about 1935. For decades, the .38 was the standard law enforcement cartridge from coast to coast. While the original loads might be considered somewhat anemic these days, and bullets primarily being round nose lead pills which didn't expand well, if at all, the .38 Special is a cartridge which can truly claim to have "come a long way, baby."
As a defensive round, the .38 Special is no slouch, especially with advances over the past couple of decades in propellants and bullet designs. When one gets into the realm of the +P loads, you're talking about fight-stopping rounds which clearly work well in home defense situations and on the street.
Of course, one will invariably hear arguments from semi-auto devotees who pride themselves on carrying handguns with double-stack magazines holding anywhere from 12 to 17 cartridges, but the most diplomatic response to such arguments is: "I don't plan to miss as lot."
Crack open any good reloading manual and you will find just how versatile the .38 Special can be, using loads topped with bullets weighing between 110 and 125 grains, and even getting up into heavier projectiles in the 140- and 146-grain realms, there are plenty of potent loads available.
The wide range of modern reloading propellants has created essentially a wide-open field for people who enjoy spending time at the reloading bench, experimenting with different bullet/powder combinations to see what works best for their specific situations.
When I carry my Diamondback, or a Model 442 Smith & Wesson five-shot snub gun, there are always a couple of HKS speedloaders in my pocket and sometimes six spare cartridges on a belt slide carrier. It is not that difficult to quickly reload a revolver. All it takes is a bit of practice.
There are so many good .38 Special revolvers available today it would be impossible to name them all, and the good news is that in a world filled with .357 Magnum wheelguns, the .38 Special cartridge will work in all of them. I've got a couple of .357 Magnum sixguns that often are stoked with +P rounds, which have worked just fine for several years.
Where the .38 Special may have lost its allure over the past few years—at least in some circles—is that it is definitely not the newest whiz bang cover story cartridge, and it has taken something of a back seat to the newest generation of armed citizens because it is not the caliber for which the handguns appearing on those glossy magazine covers are chambered.
Instead, the .38 Special is a reliable workhorse cartridge with a fairly reputable history dating back more than 120 years. Certainly, better loads have come along and overshadowed the round, but it has hardly gone by the wayside.
Today, most of the big-name handgun manufacturers that are not solely devoted to semi-auto production offer round guns in .38 Special. The list would have to include Smith & Wesson, Colt, Ruger, Taurus, Rossi and Charter Arms. I have had the chance to fire revolvers chambered for the .38 Special made by all of these companies, and I have yet to find one that didn't go "BANG!" when the trigger was pulled. Some performed better than others, but they all performed.
That's the way it is with the .38 Special. It has survived because it delivers.
*Always consult data in a reloading manual and NEVER exceed maximum recommended loads in any such book.