By Timothy W. Wheeler, MD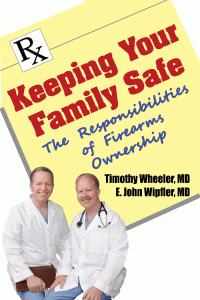 DRGO's latest agenda item was my appearance as a guest speaker and panelist at the Kansas State Rifle Association's annual meeting in Wichita, Kansas on June 2. The KSRA is the Kansas NRA state affiliate, and appropriately, NRA Executive Vice President Wayne LaPierre was the keynote speaker. KSRA President Patricia Stoneking, VP Leah Herron, and Judge Phillip Journey were my generous hosts for the weekend. My friends and fellow gun rights activists David Kopel and Alan Korwin were my co-panelists.
My presentation topic was Florida's Firearm Owners' Privacy Act, also known as the Docs v. Glocks law. The Florida legislature and Governor Scott passed this law last year in response to the problem of doctors misusing the doctor-patient relationship to push anti-gun politics in the doctor's office. Below is a version of my speech edited for easier reading.
Watch for further developments as this case proceeds through the courts. As a side note, our good friends at the Claremont Institute's Center for Constitutional Jurisprudence will be submitting an amicus curiae brief in this case at some point during the appeals process. See their amicus brief in Peruta v. County of San Diego, in which DRGO was an amicus.
Thanks to the new people who have contacted me for more information about DRGO in the three days since our web site launched. Let's stay in touch!
Timothy W. Wheeler, MD
Director
Doctors for Responsible Gun Ownership (DRGO)
A Project of the Second Amendment Foundation