Review by Larry S. Sterett | Contributing Editor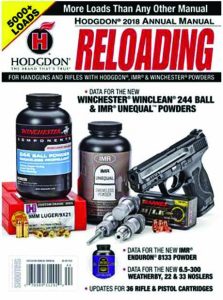 HODGDON 2018 ANNUAL RELOADING MANUAL, by Hodgdon Powder Company. ©2018. Published by Outdoor Sportsman Group, Dept. TGM, New York, NY. Price: $9.99. Available at most bookstores, and many gun shops.
This 168-page magazine-style manual features more than 5,000 loads for handgun and rifle cartridges using Hodgdon, IMR and Winchester powders. There are over100 rifle cartridges for which loads are provided, ranging from the 17 Ackley Hornet to the 50 BMG. There are 70 pages of loads for some new rounds, some old rounds, 17 rounds of over 40 caliber, and two dozen of the more popular metric calibers. Many of the older cartridges were once military calibers, including the 6.5x55mm, 7x57mm, and 8mm Mauser rounds and the .45-70 Government, to mention a few. (This last cartridge is provided with three load sub-categories—Trapdoor, Lever Action, and Modern Rifles—for different action strengths. Great idea!)
There are load recipes provided for nearly four dozen handgun cartridges, ranging from the 22 Hornet to the 500 S&W Magnum, and including handgun loads for the 45-70 Government cartridge. There are two varieties of loads for the 45 Colt (Not Long Colt, as there was never a Short Colt.) and the 38 Special; the original revolvers, and replicas designed for lower pressures and the more modern handguns capable of handling +P loads.
For each of the cartridges the loading data provided includes the bullet used—weight, brand, type, diameter, and the overall loaded cartridge length. Additional information includes case brand used, trimmed length, test barrel length and rifling twist, plus primer brand and size, such as Federal 205M, Small Rifle Match. This information is followed by numerous suitable powders for each bullet tested. For the .223 Remington cartridge, with bullet weights from the 35 grain to the 90 grain, there are nearly 400 different loads using the different powder brands. For each load the powder brand and type is listed with a starting charge in grains, followed by the achieved velocity in feet/second and the pressure in CUP or PSI units. This data is followed by listing maximum loads which should never be exceeded. As an example, loading the Hornady 60-grain V-MAX bullet in a Winchester case ahead of 24.0 grains of H4895 powder using a Winchester small rifle primer is listed as a safe load. It has velocity of 2,918 feet/second and a pressure of 37,600 CUP. Two extra grains (to 26.0) results in a compressed powder charge and a pressure jump of 12,500 CUP.
In addition to the more than 5,000 loads provided in this manual there are eight feature articles, plus other useful information for handloaders. Among the articles, three of this shooter's favorites were Loads for the Army's New Service Pistol (SIG P320), Handloading the 22 Nosler, and The 44 Special: A Reappraisal. The other information serves as a lead-in to the actual cartridge reloading data. It consists of descriptions of each of the powders, a chart of the Relative Burn Rates, from fastest to slowest of 150 different powders (The fastest burning is Norma R1 and the slowest burning is VihtaVuori 20N29. (This chart needs to be photocopied, laminated, and posted above every reloading bench.) Another useful chart is the one devoted to suitable uses of the various powders; this chart includes powders suitable for reloading shotshells—12, 16, 20 and 28 gauged, plus 410-bore—although the manual contains no data for reloading shotshells. Last, but definitely not least, is a WARNING, or don't do section. (Reducing a recommended powder charge with some powders can actually be dangerous. Think!)
Hodgdon's 2018 Manual is probably the best value on the market for timely handgun and rifle cartridge reloading data—no shotshells. It doesn't cover every cartridge available, nor data for every available powder, but it's still an excellent source for data.