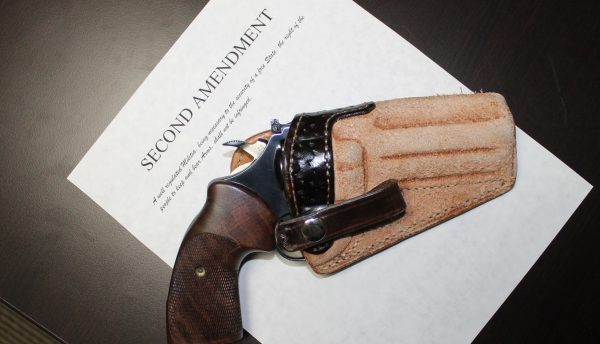 By Dave Workman
Editor-in-Chief
ABC News is reporting that Everytown for Gun Safety's subsidiary "Students Demand Action" is launching an effort aimed at pushing universities and colleges to "divest from the gun industry."
According to the report, students at nearly 30 colleges and universities have joined the effort, which is dubbed #KillerBusiness. They want their schools to cut ties with the firearms industry "until these companies take accountability for their actions."
A visit to their website reveals SDA takes the "demand" part of its title to heart. Clicking on a link to read their demands takes visitors to the Everytown website, where one finds this list:
STOP marketing to kids and teens.
STOP using fear-based ads to sell guns.
STOP marketing weapons of war to civilians and using military imagery to sell guns.
STOP making AR-15s and other assault weapons that use high-capacity magazines.
STOP working to get guns into movies, TV shows and video games.
STOP making DIY kits that allow anyone to build untraceable ghost guns, no questions asked.
STOP producing weapons that are easily modified to make them shoot more rounds more quickly.
STOP working with dealers who sell guns without a background check, including at gun shows and online.
CALL OUT bad actors in the gun industry and refuse to work with them.
INNOVATE to make safer guns, from low-tech solutions that prevent accidental discharges to high-tech smart guns that can only be used by authorized people.
PRODUCE gun locks that are harder to crack and offer discounts or rebates on strong gun safes.
ENCOURAGE gun owners to always lock up their firearms, even if the gun is for self-defense.
FUND PSAs that teach gun owners how to be safer and more responsible — and call out extremists who use guns to intimidate, threaten and harass others.
LABEL products to remind people that owning and carrying a gun comes with a lot of risks. (Like the surgeon general's warnings on tobacco products.)
ESTABLISH a code of conduct that requires gun dealers to secure their inventories, flag repeat customers and refuse to sell to questionable buyers, including people who just turned 18 and aren't accompanied by a parent.
KNOW who their customers are by requiring that distributors and dealers disclose when their guns are recovered in crimes, when the ATF finds infractions, and when firearms are lost or stolen.
ONLY work with social media influencers who disclose their financial relationships with the gun industry and promote gun safety practices.
The student group launched this campaign in the aftermath of two highly-publicized mass shootings in California, a state with some of the strongest gun control laws in the country, all of which were previously demanded and supported by Everytown and other gun prohibition lobbying groups. Instead of acknowledging these laws did not prevent the two older killers from committing mayhem, Gov. Gavin Newsom and other Democrats are pushing even more gun controls.
ABC News noted in its coverage, "Less than a month into the year, 3,130 people have died due to gun violence, including 1,782 people who died by suicide, according to the nonprofit." The report identified some of the schools being targeted: University of Chicago, Yale University, Miami University and University of California, Davis.